Interviews with UTokyo students from all over the world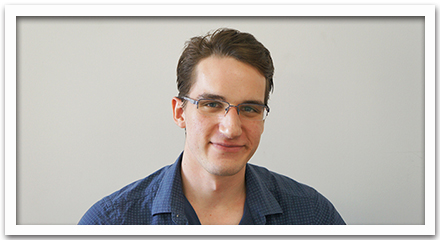 Michal Gryko
---
Research student, Graduate School of Engineering
---
From London. He just came to Japan this spring, but he is already adapting well to life here with the help of the latest apps and the Internet. His hobbies include drawing plants and playing the piano.
Q. Why did you come to Japan/UTokyo?

I studied architecture at my university, where I became particularly interested in wood construction. While I was studying wood construction in Finland, I decided to study abroad in Japan, since the application of traditional wood construction techniques to modern architecture is becoming popular in Japan. A major reason that I chose UTokyo was because of Professor Kengo Kuma. I also had to choose between UTokyo and Kyoto University. I chose UTokyo because I felt that I could learn more in future-oriented Tokyo than Kyoto, which is more traditional.
Q. What are you currently studying/researching?

Since I am a research student, I am studying Japanese at the Center for Japanese Language while I prepare for the Department of Architecture's entrance exams. Once I enter the Department of Architecture, I plan to research architectural designs using wood that combine traditional styles with new and innovative building techniques. As for the future, I want to either get a PhD or an architect license and work in Japan. Of course, I'm only on my third month here, so I'm not that sure about what I'm going to do yet.
Q. What have you found the most difficult in Japan/UTokyo?

It was challenging for me to cheaply furnish my apartment. I bought used furniture from people on online message boards and carried it back to my apartment myself. Another thing that's difficult for me at UTokyo is that the number of entrance exams I need to take to get into the Department has increased to four starting this year.
Q. What do you like about Japan/UTokyo?

I like how convenient Tokyo is. You can find anything you want near the stations, and you can go anywhere you want to by train. I also like all of the freedom that the students and researchers enjoy at UTokyo. It's great that UTokyo gives me opportunities to get to know people from throughout Japan and everywhere around the world. Also, everyone around me can speak English, and they are all helpful.
Q. Please tell us something about the UK!
Lake District

Cottages in the Lake District

Christmas market along the River Thames
The scenery of the beautiful Lake District is artistically inspiring. The left picture is of me on the top of a hill after trekking in this area, taking in a beautiful lake enveloped in mysterious fog.
* The content of this page was translated from the
Ryuugakusei-san Irasshai!
article printed in
Gakunai Kouhou No. 1471
. (Japanese language only)