Interviews with UTokyo students from all over the world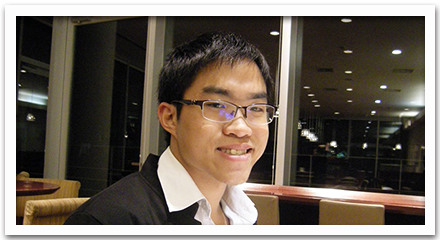 Austin Zeng
---
Third-year undergraduate student, Course in Interdisciplinary Social Sciences, Department of Humanities and Social Sciences, College of Arts and Sciences
---
From Singapore. Came to Japan in 2012 and passed through a one-year intensive course in Japanese before entering UTokyo in 2013. Member of the University's officially-recognized LGBT club UT-Topos. He goes to the gym three times a week to do weight training, showing his self-discipline!
Q. Why did you come to Japan?

It all started when I saw my first anime, Inuyasha, at the age of 14. I then became captivated with other works made in Japan, including Gundam SEED, Ghost in the Shell, and Mushishi. I wanted to be able to watch anime without having to rely on subtitles, which is what got me to start learning Japanese over the Internet.
Q. What are you currently studying?

Mainly political science and sociology. In the area of political science, I am interested in Japanese domestic politics, while with social science I am focused on gender and particularly current issues concerning sexual minorities. For instance, in Singapore, male homosexual relationships are forbidden by law but people are relatively free and open about their sexualities in practice. Meanwhile, in Japan, homosexuality is not forbidden but many LGBT people hide their identities. This difference in how sexual minorities are treated is something I would like to think more about.
Q. What do you like about Japan/UTokyo?

I like how there are a lot of small classes at Komaba. Sometimes there are only 4-5 students in a class, so we can get close to the teachers. As for Japan, I like the seasons in Japan. The avenue of ginkgo trees in Komaba is especially beautiful in autumn!
Q. What do you find difficult about Japan/UTokyo?

At UTokyo, language study is centered on grammar and translating things into Japanese. I think that listening to actual languages is the most natural way of learning them. Also, the gym equipment at Komaba is kind of disappointing. Some of the seats on the bench presses are torn, for example… As for Japan, when compared to Singapore, I guess that there are fewer trash cans on the street corners here. Also, Japanese curry isn't spicy, so it's hard for me to call it curry. (laughs)
Q. Please tell us something about Singapore!
Singapore is a multiethnic country where everyone has experience talking to foreigners, and foods from many countries are available here. The picture is of me at a cafeteria in Singapore with my Japanese friend. The food on the table is Chinese, Malay and Costa Rican.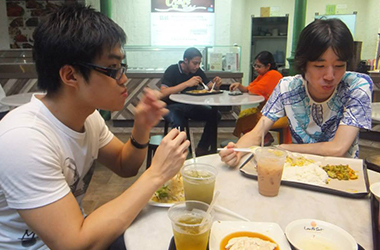 * The content of this page was translated from the
Ryuugakusei-san Irasshai!
article printed in
Gakunai Kouhou No. 1476
. (Japanese language only)