Interviews with UTokyo students from all over the world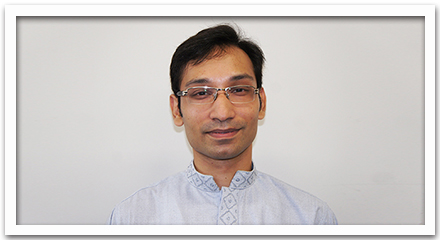 Atta E Mustafa
---
First-year Master's degree student, Department of Civil Engineering, Graduate School of Engineering
---
From Lahore, Pakistan. Atta E Mustafa seems quiet and reserved, but he is actually active in sports and enjoys practicing karate and playing badminton. He is also the president of the UTokyo Pakistan Student Association (PSA-Todai). He says that he likes traveling around Japan with his friends.
Q. Why did you come to Japan/UTokyo?

I had studied and worked in the civil engineering field back in my home country, and I became interested in studying abroad in Japan because this country offers a practical approach to civil engineering education. Pakistan and Japan have a lot in common, including the fact that both countries experience many earthquakes. Several of my teachers and mentors graduated from UTokyo, and I was confident that I could carry out the research I wanted to at this university. I received a scholarship from the Asian Development Bank and was able to come to Japan.
Q. What are you currently researching?

In the Bridge and Structures Lab, I am researching the use of active mass dampers to control the vibrations of Shinkansen (bullet train) viaducts. Currently, if the Shinkansen were to pass over the viaducts at full speed, the resulting vibrations would likely cause structural serviceability problems. However, active mass dampers can counter excessive vibrations caused by the speeding Shinkansen, allowing the train to pass over viaducts without having to slow down. I have already taken all of my required courses, so I can begin to focus fully on my research now. As for the future, I would like to get my Doctoral degree in Japan and work at a Japanese company.
Q. What have you found difficult in Japan/UTokyo?

I'm used to it now, but when I first came to Japan, I found the train system to be complicated and confusing. I couldn't speak any Japanese at all when I came, so that was a major problem for me, too. I didn't even understand the word "konnichiwa"! (laughs) I am taking Japanese classes in my department (the Department of Civil Engineering), so my Japanese has gotten a lot better. I'm very grateful to the JLC (Japanese Language Class) team!
Q. What do you like about Japan/UTokyo?

I like how UTokyo's Department of Civil Engineering is one of the most highly-ranked civil engineering departments in the world. I also like the fact that Japan, and especially the Japanese countryside, is full of natural beauty. By the way, I am going to visit Hokkaido soon with my friends!
Q. Please tell us something about Pakistan!
Pakistan is beautiful. For instance, the 4,000 meter-high Deosai Plain is called the "roof of the world," and from there you can see stunning views. Here are pictures of when I visited the Plain.
* The content of this page was translated from the
Ryuugakusei-san Irasshai!
article printed in
Gakunai Kouhou No. 1485
. (Japanese language only)