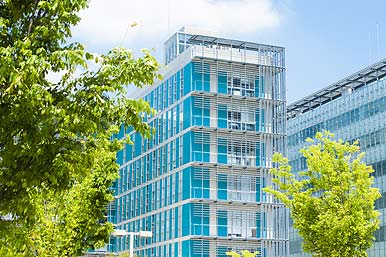 In these modern times when tackling earth and environmental issues has become an urgent priority, it makes sense that a building for environmental science research would be constructed with environmentally-friendly principles in mind. Through the use of public-private partnership funds, costs for constructing the Graduate School of Frontier Sciences' Environmental Studies Building were kept lower than the amount that a university facility of this kind would normally cost to build. This building also incorporates many other substantial energy- and cost-saving measures.

For instance, the louvers accentuating the outside of the building are not only design elements; they also work efficiently to help prevent direct sunlight from coming into the building. The heating and air conditioning system was also designed to save as much energy as possible while keeping the environment inside the building comfortable. With regards to lighting, windows have been placed at the end of every hallway, lowering electricity usage during the daytime. In addition, the hallways and restrooms have been fitted with motion sensors, keeping lights from staying on when not in use. Also, the graduate student rooms and other rooms whose electricity is controlled by students are generally set to automatically shut off electricity after two hours. This system prevents energy from going to waste even if students leave after forgetting to turn the lights or the air conditioning off.

Another special characteristic of this building is that it was constructed while making full use of UTokyo's intellectual resources, such as by bringing in academic staff from both the Graduate School of Frontier Sciences and the Institute of Industrial Science to actively participate in the design stages of the building. The Environmental Studies Building is also regarded highly in the architectural world, being featured in professional publications and receiving the Sustainable Architecture Award from the Japan Institute of Architects.