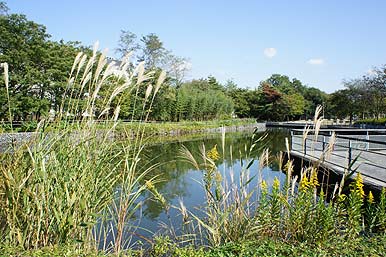 There is a pond on the east side of the Kashiwa Campus across from the National Cancer Center Hospital East. Spot-billed ducks and koi fish swim about in this pond surrounded by natural beauty. Older maps of the Kashiwa Campus area labeled this pond
Usui Choryuu Ike
("Rainwater Reservoir Pond"). Seeking to raise awareness of the pond and to help make it a spot that people from both inside and outside of the University would want to visit to relax, the University decided to ask the public for suggestions to replace its decidedly utilitarian name. As the pond on the Komaba Campus is named Ichiniro (One and Two) Pond and the one on the Hongo Campus is known as Sanshiro (Three and Four) Pond (its official name is
Ikutokuen Shinji-ike
), the name Gorokuro (Five and Six) Pond was chosen for the pond on Kashiwa Campus.
At first glance, Gorokuro Pond appears to be two separate ponds, but its two sections are actually connected to each other underground. There is a walkway along the edges of the pond, making it the perfect area for taking a refreshing walk. Some say that a
kappa
(Japanese monster) by the name of Gorokuroh lives in the pond. You might just spot him there if you're lucky!