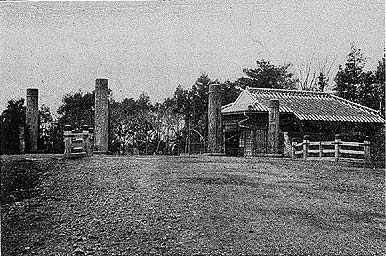 Traditionally referred to as "Komabano," the Komaba Campus area had been used as a hunting preserve for the shogun clan since the time of the 8th Tokugawa Shogun, Yoshimune (the beginning of the 18th century). Part of this area also appears to have been an herb garden during that period. The hunting preserve spanned a spacious 50 hectares, occupying the sites of the current Komaba Park and the Research Center for Advanced Science and Technology, amongst others. The gentle trickling sounds of the natural spring water here evoke the scenery of old Musashino (western Tokyo).

After entering the Meiji period, the Komaba School of Agriculture opened on this site in 1878 (Meiji 11). The Komaba School of Agriculture was the predecessor to the University of Tokyo's Faculty of Agriculture and other agricultural programs. This school was later renamed to the Faculty of Agriculture at Tokyo Imperial University.

Some of the buildings used by the Faculty during this period were lost to fire during World War II, while the rest were later torn down. None of the Faculty's buildings from this time still exist. However, the Komaba Campus owes its lush greenery and sylvan landscape dotted with many rare trees to this history.

In 1935 (Showa 10), Tokyo Imperial University and the First Higher School of Japan, whose site was adjacent to the Hongo Campus, reached an agreement to conduct a land exchange. As a result, the Faculty of Agriculture was transferred to its current location, with the First Higher School of Japan moving to the present site of the Komaba Campus.

As the First Higher School of Japan was incorporated into the University of Tokyo after the war, this campus came to belong to the University, and the College of Arts and Sciences and other programs were then established here.