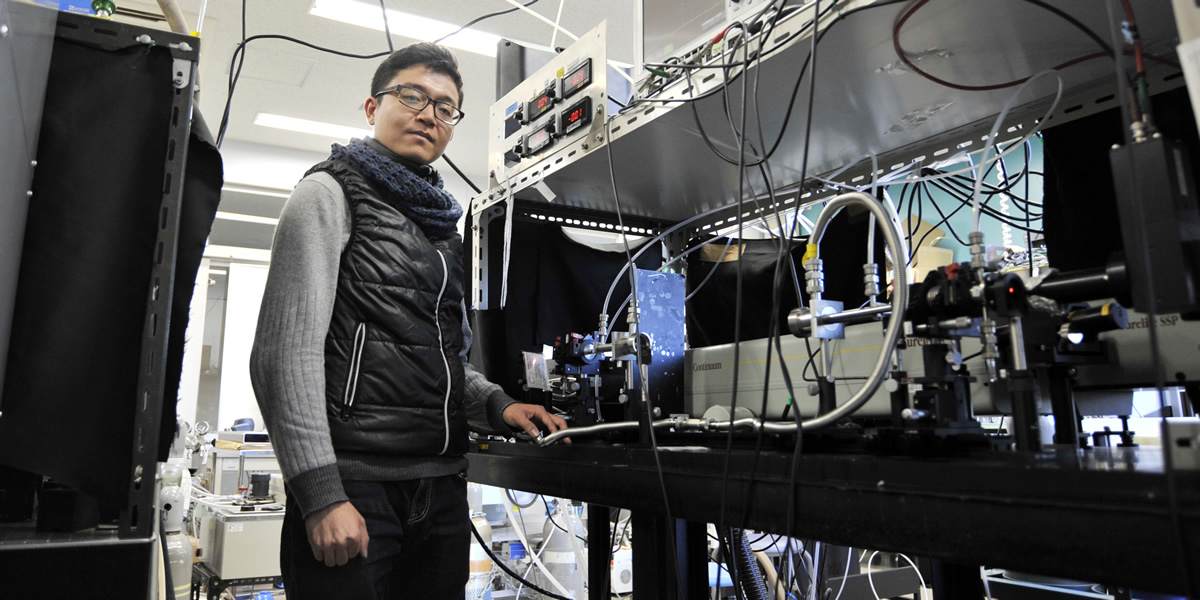 March 2, 2015
The Joy of Researching Unexplored Themes with the World's Most Advanced Devices

Long Ren

Master's degree student, Graduate School of Frontier Sciences
Area of Study: Environment Systems
Country/Region of Origin: China
Chinese College Education and Job Skills Bring Big Opportunity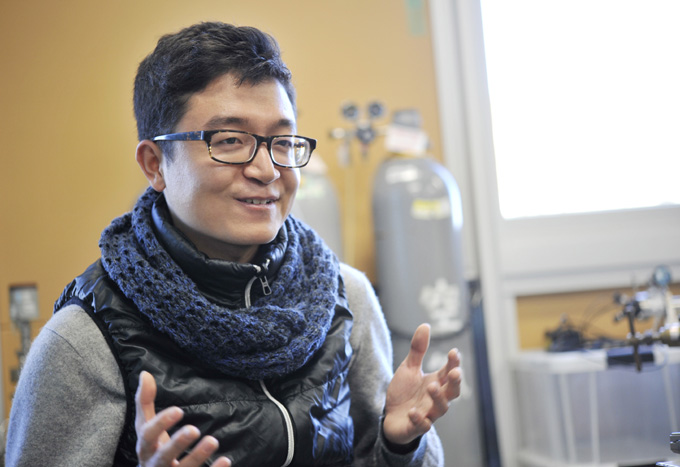 I majored in chemistry at university in Xi'an. After graduating, I went to work at a Chinese oil company in Dalian, where I served as an engineer for two years. Then, after making the necessary preparations, I came overseas to study in Japan.
Chemistry has many branches such as physical chemistry, organic chemistry, analytical chemistry and inorganic chemistry. Among them, my area of choice is organic. I came to Japan, and specifically to Tonokura Laboratory, hoping to further my knowledge in this field in a lab that boasts the most advanced devices in the discipline.

Links with Japan
My grandfather's job actually involved cultural exchanges with Japan, and some 30 years ago, work brought him here.
He had a big effect on me. I became interested in Japan at a very young age and started studying Japanese in school. As I learned the language, my interest in Japan's history and culture grew. I felt I wanted to experience the culture firsthand and decided to come study here. But the opportunity didn't come up while I was a student.

When I was working, there were several specialists from Japan in the office, so I took the opportunity to study technical terms and so forth in Japanese with them. That worked out well for me.
Research in trace substances in the atmosphere for solutions to city air pollution
I left my job, and after six months of email exchanges with a UTokyo professor, I prepared what I needed to study overseas and came to Japan.
When I finally arrived, it was March 2013, just as the cherry blossoms were starting to bloom that year.
For the first six months after my arrival until September, I stayed at UTokyo as a research student. In August of that year, I passed the entrance exams for a Master's program and enrolled in October. I am now in my second year.

My major is with the Department of Environment Systems at the Graduate School of Frontier Sciences. My lab specializes in atmospheric chemistry.
Within that field, I am researching the atmospheric reaction of phenyl peroxy radicals and nitric oxide. Minute substances in the air, phenyl peroxy radicals are found in things like a car's exhaust fumes or paint and can be rendered toxic depending on the reaction. I believe that phenyl peroxy radicals are one of the causes of air pollution. Fundamentally, I don't think Japan has serious problems with paint-related air pollution, but in this age of urbanization, it is a concern in many developing countries.

Research in this particular chemical reaction is expected to lead to discoveries in causes of atmospheric pollution. I also believe no other researcher is studying this. There may be studies about similar pollution-causing chemical reactions in the atmosphere, but I think I am the only one looking at this reaction itself.
So this could be a big break for me.

The first time I came to this lab, I was surprised by the selection of devices available. The most advanced equipment in the world was right here. How exciting that was! I was selected to study here. I felt honored. My arrival meant it was time to start thinking about how to proceed with my research on that chemical reaction. I wanted to develop new devices to further my study.
My top priority was and is to complete my research. Then, if I can afford the time, I would like to take part in other similar studies as well.
Japan is Beautiful, But...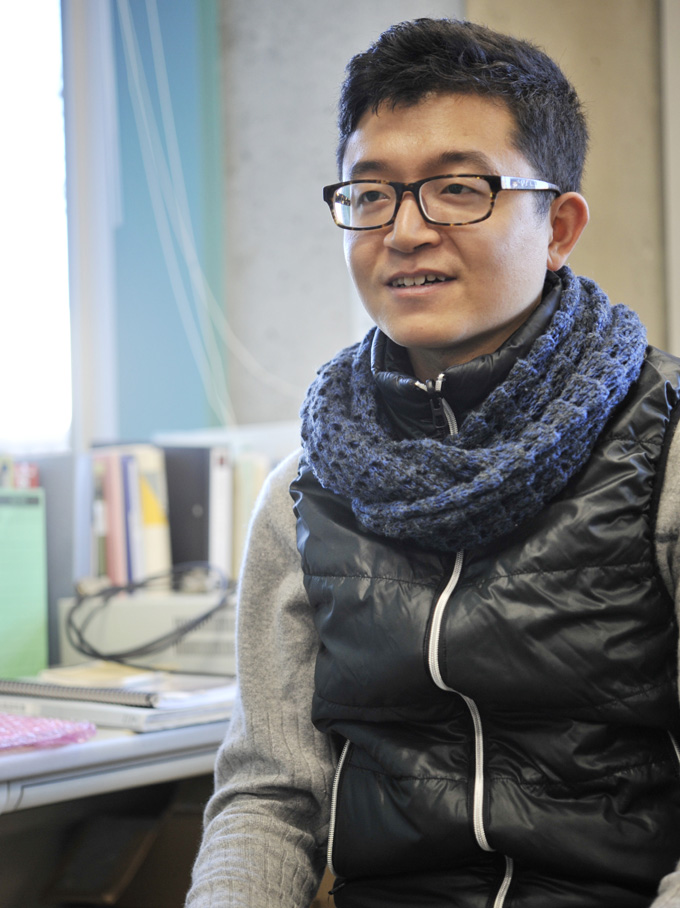 I stayed in Ueno when I first came to Japan. The cherry blossoms were in bloom then. I went to Ueno Park (Ueno Park is one of Japan's most popular cherry blossom sites). The park was so beautiful, as beautiful as it looks in the old pictures.

I love to travel. In Japan, I have been to many places. The other day, I went to Miyajima to see Itsukushima Shrine, a World Heritage Site. It was simply stunning.

Japan's environment is clean. It has very efficient and well-maintained public facilities.
The education standard is high. There are many in China who wish to study here. They want a good education, and Japan is a comfortable place to live. These thoughts lead them here.
But it's not perfect. There are some downsides to being in Japan, too. You'll have to forgive me for feeling that way.
For one thing, there's the high cost of living compared to China, including the cost of transportation. It's expensive, so it's hard if you don't have a part-time job. I work as a lecturer at a cram school. I teach chemistry, physics and English to students from China.


I still find Japanese difficult
And you know—this is quite obvious, but—the cultures do clash. The culture shock is real.
There's a gap between what you were taught and the language you hear on campus. When we're in a group and Japanese people converse with each other, I can't always follow what's being said. The spoken and written languages are a little different from the Japanese I studied. And different speech habits take some getting used to, too. You really have to live here to understand.

My English is better than my Japanese. There is one researcher from Indonesia and I speak English with her. During seminars and presentations, I speak half of the time in English and half of the time in Japanese.
Captivated by the Hongo Campus
Right now, I live near the Hongo Campus.
For the first year and a half, I lived at Kashiwa Lodge (accommodations for international students and research students engaged in education or research at UTokyo), near the Kashiwa Campus, where the lab is. But I wanted to change my living environment and I needed a change of atmosphere, so I moved near the Hongo Campus, an area which I liked very much.
I am very fond of Hongo Campus. Particularly in December, when the street is lined with ginkgo trees wrapped in layers of golden leaves. It's striking. I love it. And there's Yasuda Auditorium, too. I think it is the essence of UTokyo itself, and is one of my favorite UTokyo sites. I take lots of pictures on campus. And I take a lot of friends from home, who now live here, to see the campus.
I am so happy to be living in an area that I like so much.
I commute to the lab everyday by train. I don't think it's a difficult commute, but it is a new experience for me. You have to try it yourself to appreciate what I mean.

Important Things to Remember as a Student Overseas: My Advice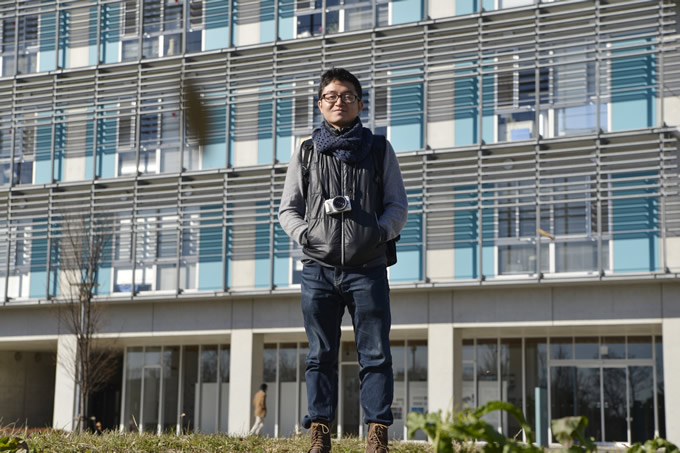 Let me list what I think are the most important things to remember when studying abroad. Future students studying overseas can use this as advice from me.

1. Language ability
Language ability is the most important tool you can have. That includes both Japanese and English ability. You have to study. You need knowledge. In particular, you need to be able to communicate.

2. Your major
Become a real specialist. Study all the technical terms for your own research and all related areas in both Japanese and English.

3. Your ability to survive
Be able to fit in quickly, even in a foreign country. If you can do that, you can go anywhere.


Learn to appreciate other cultures as you pursue your own personal growth
And finally, I'd like to add one more:
4. Communication with people from other cultures
This is very important. You need to mingle with all sorts of people from other countries and learn about different cultures from them. For example, I have lunch most days now with a post doctorate student from South Korea. We speak in English, but our meals are lessons in Korean and Chinese. It's like participating in a language exchange program. We enjoy talking about all sorts of things like what's going on with our private lives and our taste in things. The topics are not limited to our studies.

My dream right now is to take a trip around the world. I'd like to visit Germany and France. And maybe Australia, too.
But I have to get a job in Japan first. I need experience to help me grow. I want to work for a chemical manufacturer and am working toward that goal every day.

Finally, I'd like to say that I am here today thanks to all of my family back in China. I am so indebted to them.
I will continue to dedicate myself to my research and enjoy the exchanges with different cultures as I pursue my dream.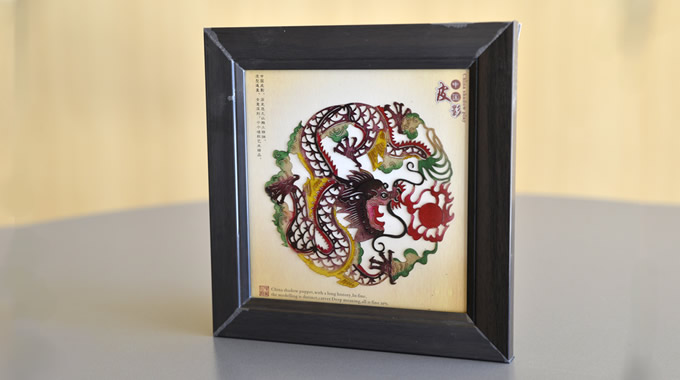 Long's Memento from Home
from Xi'an
Long brought a little gift to the interview.
"This is a popular souvenir from Xi'an called Piying," he explained.
It is an art piece cut out of cowhide and colored. Long said it is used in shadow picture plays called Piying Xi and that his father makes them in his job at a private arts organization in Shanxi Province.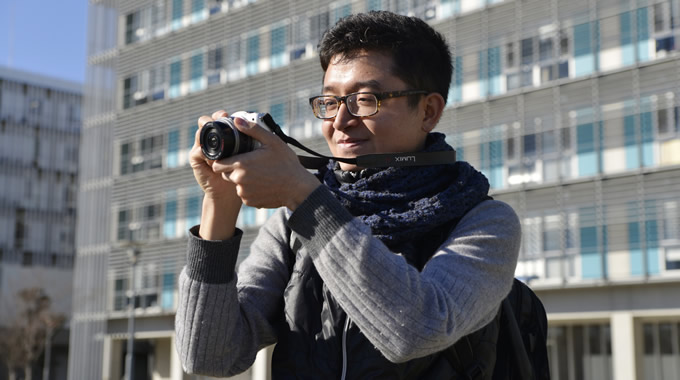 Faithful Companion
Digital Camera
"I love to travel," Long said. His ever-present partner on trips is his digital camera that he was able to buy at a bargain from a friend, who couldn't read the directions in Japanese. Long has traveled with his camera to Kyoto, Osaka, Kobe, Himeji, Miyajima, Sendai and, of course, his beloved Mt. Fuji. The two have also been through most of the Kanto Plain together, although they have yet to try Gunma Prefecture.
On a clear day, he can see he can see his favorite mountain, the majestic Mt. Fuji, from here on Kashiwa Campus.
Interview: December 18, 2014