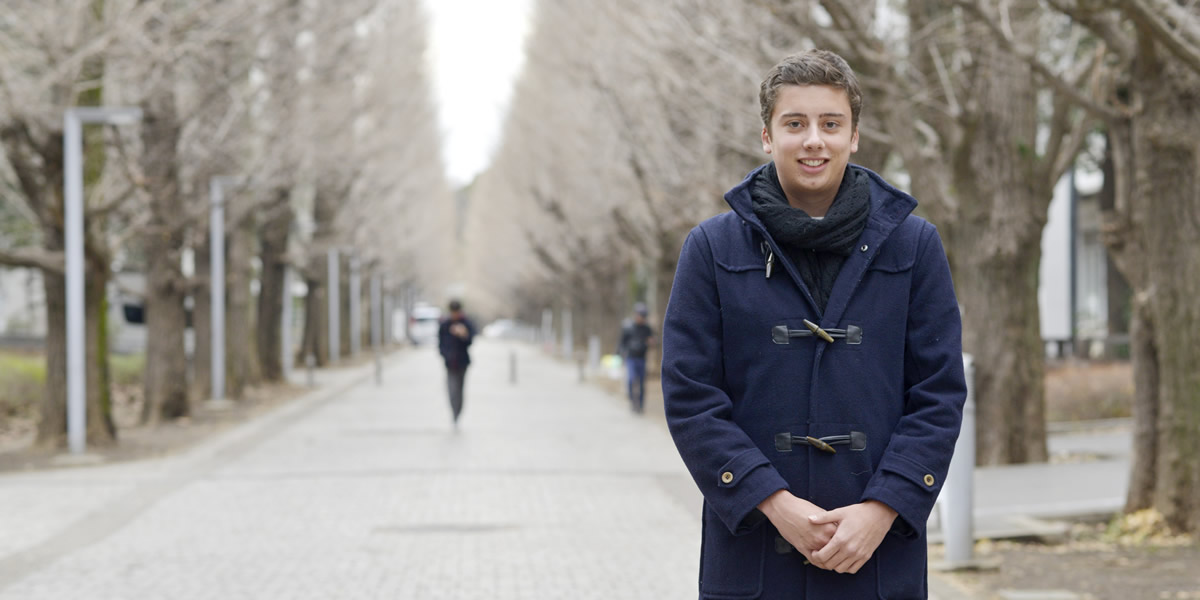 March 2, 2015
Pursuing Political Science and East Asian Studies through PEAK

Samuel Alf Brustad

Undergraduate student, College of Arts and Sciences,
Programs in English at Komaba (PEAK)
International Program on Japan in East Asia
Country/Region of Origin: New Zealand
From New Zealand to Japan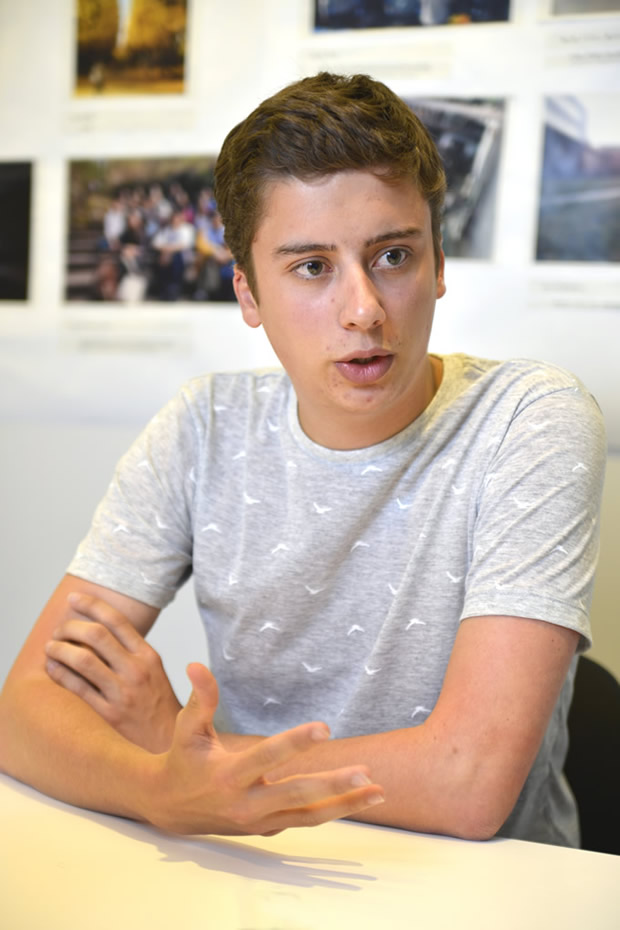 I studied Japanese in high school, so I've always had an interest. I'd been to Japan before on exchanges. When I first visited, I went for an exchange in Akita. This was when I was quite young. It was my first time overseas and I was very nervous. I thought Japan was very different. Everyone seemed very welcoming and friendly, but I originally never thought that I'd study outside of New Zealand.

Then when I was in high school, a representative from UTokyo came to my school and explained about the PEAK Program to me. It sounded fascinating because I was really interested in political science and the history of East Asia. I'm very interested in East Asia and studying it and being able to live in Japan and experience life overseas. It all seemed very exciting. I was not expecting it.

The application process took about six months. I didn't think I was good enough to get in. I could only hope.
For the application process, we had to submit essays, and get high school references and submit grades. After this round of selection, we were chosen for interviews.
They flew out two professors to NZ to interview me, and then they had three interview me on Skype. The interview took about an hour and a half. They asked me a lot of academic questions, and they wanted to get to know me better. From that interview round, they selected the PEAK students.
I was very nervous; I didn't know what to expect.
I still remember when I got the email to say that I was selected. I was very, very happy. I couldn't believe it!
My parents were a little worried. I was already at university and I was enjoying what I was doing there. They didn't want me to risk going overseas, but afterwards I convinced them. Obviously, because I was receiving a scholarship, they saw it was a really good opportunity. They're very supportive.
The wonders of PEAK
PEAK is split into two programs. The PEAK program I chose is the Japan and East Asia Program, which is humanities and social science, where you look at East Asian history, culture, politics, and international relations. The curriculum can be put together with courses only in English. The other program is the Environmental Sciences Program, where they focus more on chemistry and biology and all that. So you do your two-year liberal arts course and you also have to take Japanese language classes. And then after that, you specialize. In your senior year, it's like a traditional UTokyo degree; you specialize and write a thesis.

I'm really interested in the international relations of East Asian countries and how they have been changing historically. I'm interested in political science and political philosophy. It's not so much literature or the more artistic side of humanities, but more the cultural, anthropological side.
One thing that I found quite interesting when I first came—it was quite a big issue—was the territorial disputes among countries in East Asia.

Another thing I like about this university is the opportunity it gives students to go overseas. So, for instance, next month I am going to Princeton University in the United States to audit some classes in East Asian studies. I'll be able to meet people who study the same thing as I do, but in America. So it'll be very interesting.
I'm going for two months. I've never been to America, so I'm very excited.

It's very different here from my home university in that everyone seems very serious and a little bit more subdued, whereas back at my own university you'd see all sorts of things on campus. And also there are so many young people here, whereas in my country, you can see so many different age groups at university. Even adults or people with their children studying.
PEAK is a small program. There are only about 25 people in a year and all the classes are very small, so you get to know each other very well. It's very close-knit. I like that a lot.
The atmosphere feels like a high school campus, and there are a lot of old buildings here. It's very different from my home university, which had a much smaller campus and was spread out across the city.

But maybe UTokyo is quite distinctive from other universities because it's so old. There's a lot of space and that space has helped the University to develop some different characteristics.
Expand Your Outlook, Communicate, Encourage Your Personal Growth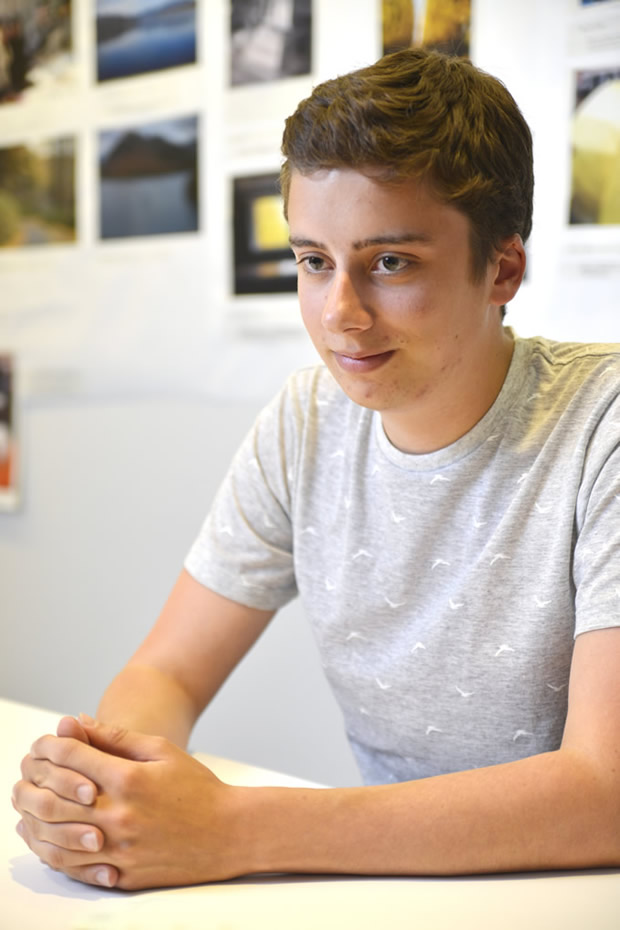 Regular Japanese students, not in PEAK, are allowed to take PEAK courses. A lot of them do. I belong to an international club, where they have lunches every week and host lots of activities and parties. So there are a lot of opportunities if you want to meet Japanese students.
There's also the debate club, but there, I speak English with my Japanese friends.

The cultural experience is immense. One of my friends really likes the music group Morning Musume, for instance. But for me, I'm not so into anime or manga. I just like to observe and talk to my friends about it. Of course, I like being able to do things you can't do in New Zealand like karaoke. I mean, we do have karaoke in New Zealand, but it's really different, and here we're able to do what Japanese teenagers like to do.
Significant growth
Before I came, I thought my Japanese ability was better than it was. When I got here, I realized I still had a lot to learn. But now, I think my Japanese has gotten better. And it's not just improvements in my language ability.
I also see changes in my personal life; I cope with different kinds of stress better. I'm more self-reliant. I feel a lot more confident in myself. I can relate to all sorts of people. I've met so many different people. I've realized that there's always something you can talk to someone about. Even if you don't think you have much in common, there are always things to talk about. Like Tokyo or food or just general conversation. And from that you can get to know people quite well. I've made a lot of really good friends and I've been able to travel to a lot of great places. It's been a good growing experience.

I live in Komaba Lodge, a very international dormitory about a five-minute walk away. I have a basic bedroom. My dorm has three floors and each floor has about 15 people and everyone shares a kitchen and bathroom facilities. I've got a lot of good friends on my floor. It's very quiet and cheap and close to Shibuya and Shimokitazawa.

Also, because everyone—well, nearly everyone—in my program lives at the dorm as well, it's a very family-like environment. We can always get together and have game nights or do dinners together. It's really good for being able to get to know people better instead of living alone.
So I usually get lunch on campus and try to cook dinner myself. There's a really good supermarket in Shimokitazawa. I go there all the time. Usually, I try and cook enough food for three nights and just have leftovers.
It was quite difficult just to get used to living here. Before I came to Japan, I'd never really cooked for myself!

When I cook, it's usually food I used to have as a child. My mum sends me recipes. There's a rice salad that I really like. Rice with soy sauce, green peppers, peanuts and raisins, spring onions and lemon juice. It's really nice.
I've noticed Japan is quite seasonal. All the ingredients in the supermarket change with the seasons. I try to cook what is cheapest at the time.
Enjoying my free time
Shibuya is very close, so I'm quite often in Shibuya. During holidays, I like to travel around Japan. When my family came, I was able to take them to Hiroshima and Kyoto. That was really fun. I have a Japanese driver's license so I was able to rent a car, and we went for a drive around towards the island of Naoshima.

I think Tokyo is a city with a lot of culture. There are a lot of artists, so I like to go to art museums and look around at galleries. There are a lot of cool things you can see in Tokyo.

I really like Mori Tower and the Mori Art Museum. They often have new exhibitions. The museum's on the 52nd floor and they have an amazing view of the city and you're right in the center.
One More Step toward My Dream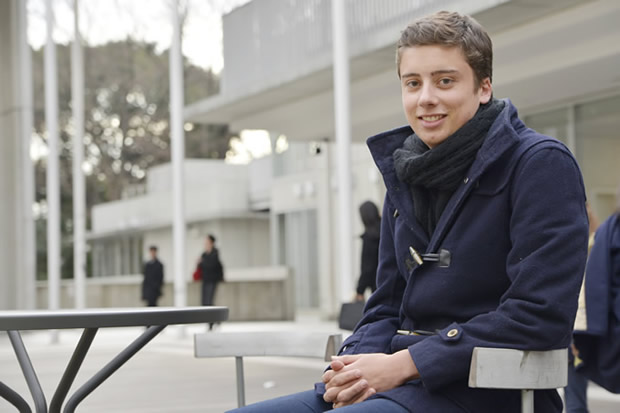 I'm looking at doing an exchange in my third year. At least for six months. I'd very much like to do that.
I recently applied for the University-wide Student Exchange Program (USTEP), and got into an exchange at the University of Copenhagen in Denmark, so that would probably be where I would go. I got into the Department of Political Science, so I'd be pursuing that. I'm very interested in the structure of the European Union because my own country of New Zealand faces a lot of similar issues with the Trans-Pacific Partnership agreement and the smaller Pacific islands. New Zealand does a lot to help them keep political autonomy. I'm just really interested in that. But, of course, Copenhagen is such a historic city and to be able to explore more of Europe would be great.

I want to get to know more people at the university. I want to improve on my Japanese ability. Some friends and I recently started this—it's kind of like a club, where we bring in artists from around Tokyo to give lectures to students. So I want to work on that more. Hopefully, I get to try every good restaurant in Tokyo.

When I first came here, I thought I would go straight back to NZ when I was done, but since being here, I don't know. I'm looking at maybe post-graduate work, but I'd really like to get a career in foreign policy, so maybe diplomacy.
More important than grades
I think if I want to work as a diplomat, I need to learn more about the world and, obviously, pursue my interests in political science and political philosophy. I think being here is really good, because it's teaching me to live in an international setting and deal with international people and convey my ideas accurately. In all my classes I not only learn things, I study how to present my ideas, which is always good.

Don't try and expect too much because it will be very different from what you expect. To know some Japanese is a good idea. From my program, the professors weren't so interested—I mean they were obviously interested in my grades but—they wanted more to know the things I liked to do and the clubs and activities that I was involved in just to see that I was taking on leadership roles and being quite confident in what I wanted.
Coming here was one step toward pursuing my dream. Now I have to think about what I need to do next.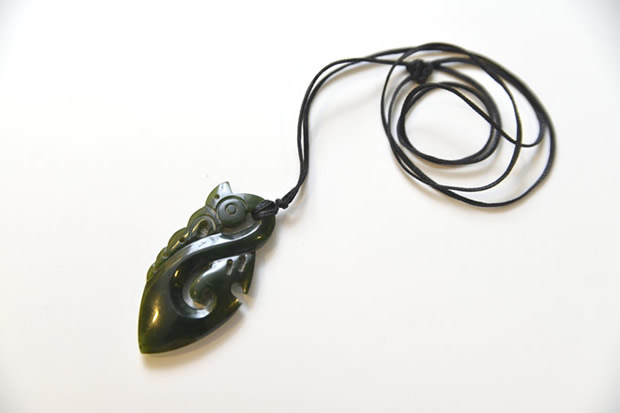 When the Going Gets Tough
Greenstone
Even in Japan, Sam's positive attitude prevails through the hardships and frustrations of life in a foreign country, helping him move forward. Seeing him through thick and thin is his precious greenstone carving, a traditional lucky charm from his home. "This was given to me by a very good friend before I came to Japan," Sam reminisces. "It's greenstone from New Zealand. The fish hook is meant to symbolize protection for when you travel. I keep it with me all the time."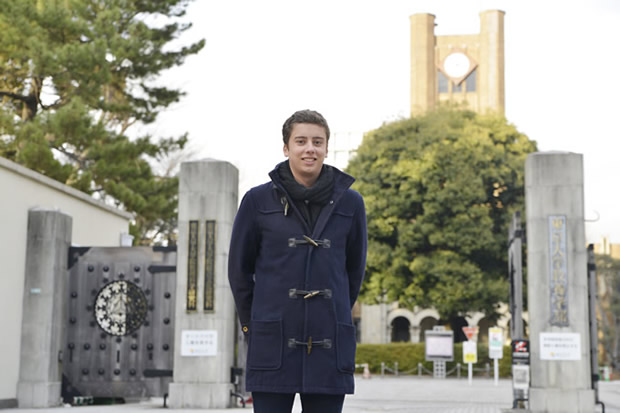 Sam's Favorite Site
Main Gate, Komaba Campus
At the suggestion of taking some photographs at his favorite sites on campus, Sam excitedly led us first to the stunning ginkgo tree-lined avenue (the first image on our top page), then to the terrace in front of Cafeteria Wakaba, followed by other camera-friendly spots on the University grounds. Lastly, he posed for us in front of the Main Gate (Seimon) at Komaba Campus, a well-known landmark. Sam laments that in New Zealand, autumn is not as brilliantly colorful as in Japan. Japan's seasons are beautiful, he adds, but the summer heat is simply "extreme!"
Interview: January 16, 2015