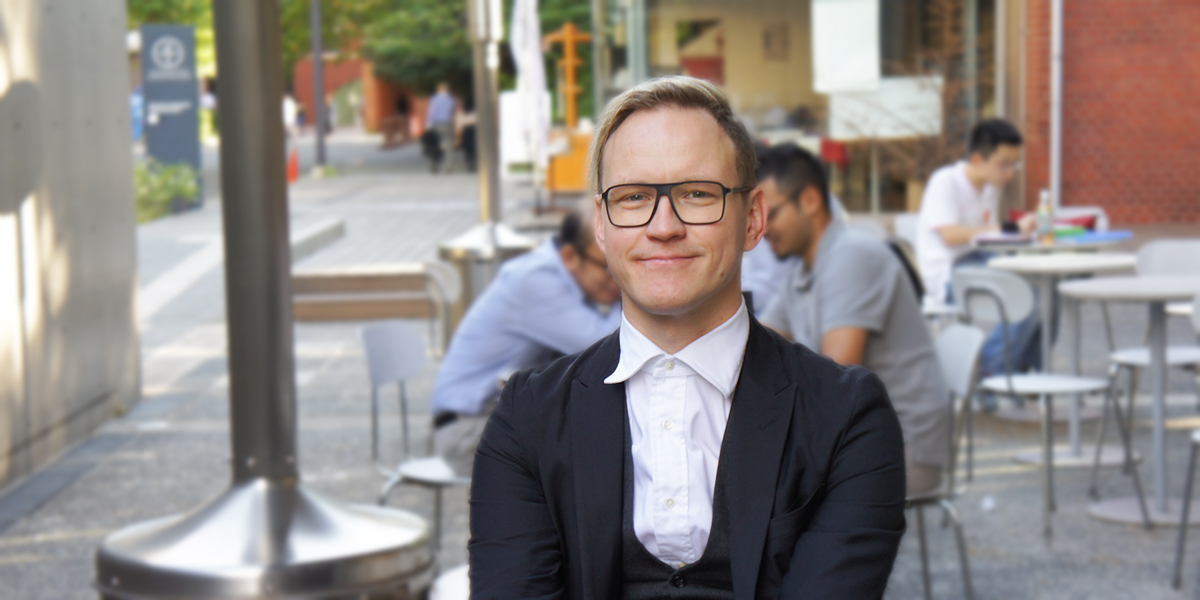 November 12, 2015
Fulfilling My Mission in Japan through ITASIA

Sten-Kristian Saluveer

Doctoral degree student, Graduate School of Interdisciplinary Information Studies (ITASIA Program)
Area of research: East Asian cinema
Country/Region of Origin: Estonia
Inspired by Japanese cinema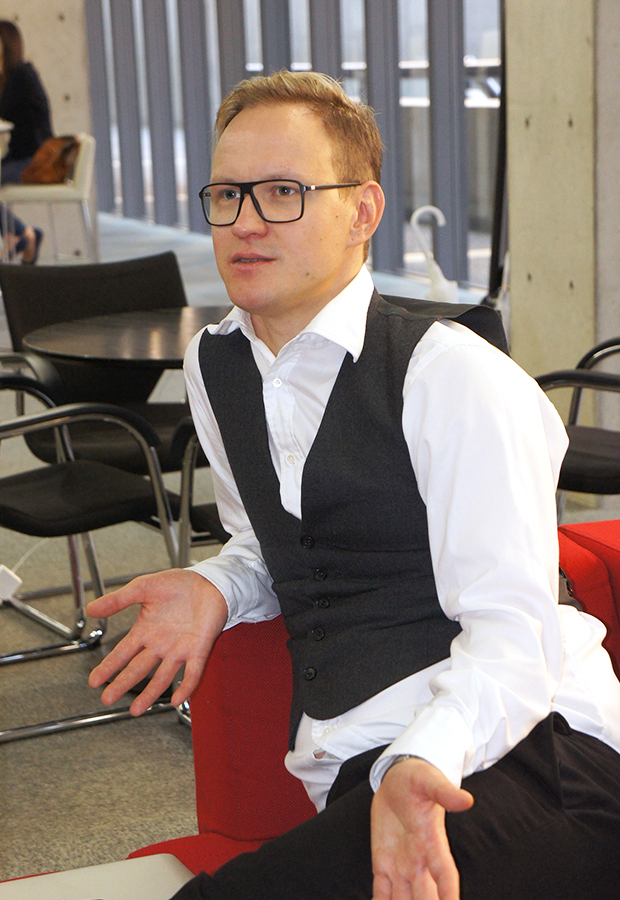 I was interested in Japanese culture from quite early on. I had been a film buff since childhood, and as some Japanese and anime films weren't banned in Soviet Estonia, I was able to be exposed to Japanese films at a young age. I was profoundly influenced by Kagemusha by Akira Kurosawa, which I saw when I was eight years old. Later, I was shocked and amazed when I saw the film Tetsuo by Shinya Tsukamoto. I would say that since then I have been an avid fan of Japanese cinema.

After I had just graduated with my first degree in media production in the early 2000s, an organizer of the Black Nights Film Festival, the largest film festival in Estonia, proposed that I work there as a volunteer, and later as a film programmer and production manager. I eventually became the key programmer of Japanese and Asian cinema for the festival. Being in this position allowed me to meet with filmmakers and others in the Asian film industries, which is something I had always wanted to do. Through this job, I increasingly found out more and more about the film industry in Japan in particular, and discovered that perhaps only some 15 foreigners outside of Japan are considered experts on the Japanese film industry. I figured that I could become the 16th.
Close to going to the moon
My first time visiting Japan was in 2005 with my partner. We stayed here for about a month, traveling to various places around the country, like Kyoto and Mt. Koya. At that time, coming to Japan from a small northeastern European country was close to going to the moon. It was like a dream come true. During my first time here, I realized that Japan has a spell on me, and it was cemented in my mind that I had to come back. So, after I returned to Estonia, it took a while but I started to seriously learn Japanese.
You have to have a purpose for coming
Over the years I have become a board member for the Estonian film festival that I had volunteered for before, which means that I have to communicate with film industry people in Japan. Language and cultural differences make this part of my job challenging to do. That's why although I already had a Master's degree in cultural management, I decided to go get another Master's in Japan Studies at Tallinn University. I took two to three years to learn the basics of Japanese language and culture at that University, which has one of the best Japanese departments in northern Europe.

One event that really motivated me to learn Japanese was the Japanese Emperor's visit to Estonia in 2007. There was a documentary by Estonian National Broadcasting made about the visit, which featured a Japanese woman named Yumi Nakata who spoke Estonian very well. I figured that if she could learn Estonian, then I could learn Japanese! Interestingly enough, I actually met Nakata-sensei afterwards, and she became one of my Japanese teachers.

Around this time, people I had worked with began to recommend that I study in Japan, and some people I knew from the Japanese embassy in Estonia encouraged me to apply for the MEXT scholarship. The application process was difficult and took a lot of determination to get through. In my case, four people were applying for two spots, so the competition was intense.

Miraculously, I managed to get accepted! My Japanese test scores weren't very good at the time, so I believe what was important was my purpose. You have to have a purpose for coming to Japan, and mine was to connect Japan with the rest of the world and promote artistic collaboration between Japan and Europe. To carry out this mission, I felt that getting into UTokyo was a top priority.

I heard about Professor Shunya Yoshimi, who teaches at UTokyo, from a friend, and decided that I wanted to study under him. I applied to UTokyo, and the letter of admission came just one day before the MEXT scholarship deadline, which was a huge miracle for me.

I had planned to enter the University in April 2011, but the Great East Japan Earthquake happened the month before, so everything kind of came to a standstill. The nuclear plant disaster at Fukushima was a major concern for my relatives, and it had influenced some of my close friends and business associates in Japan, too.

Ultimately, I came to Japan about one week after the earthquake. The flight over was surreal because there were only around eight passengers on the entire plane! I had a lot of anxiety over whether I would still be able to come to Japan or not, but it took 10 years' worth of investment and sacrifice to come here, and I was determined to make the best use of this chance provided to me. I was so grateful to the University of Tokyo and to Professor Yoshimi for the opportunity to come to Japan.
Learning at ITASIA Connects Me with the World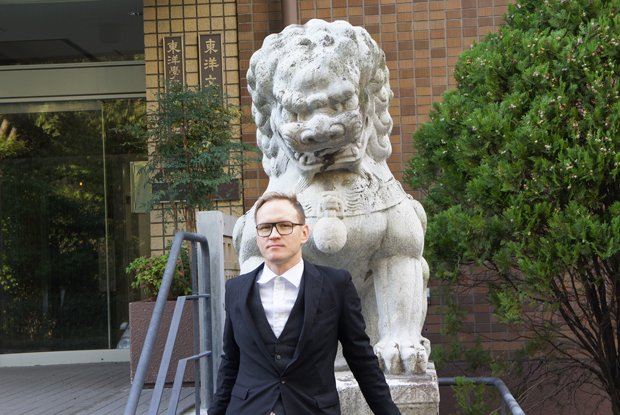 Here at UTokyo, I am in a program in the Graduate School of Interdisciplinary Information Studies called ITASIA (Information, Technology and Society in Asia). ITASIA is a unique interdisciplinary program offered in English that combines technology, sociology, media and other areas of study. Students from all over the world study at ITASIA, with people in my classes coming from countries like Indonesia, Turkey, Israel, Nepal, South Korea, China and the US. They are well-motivated and are here to carry out specific goals, so we all feel a strong sense of camaraderie. The professors in the program are open and supportive. Classes are very interactive and allow for spirited discussion between students, as well as students and professors.
Zemi (seminar groups) are an interesting necessity
My actual classes at ITASIA are all taught in English. Meanwhile, I and the other 30 or so students in my zemi (seminar group) speak in mostly English and Japanese. Zemi is a teaching format unique to Japan, and it gives me and my colleagues a great forum in which we can test ideas, receive feedback and know what other students are studying. Some students consider participation in zemi to be an obligation, but for me it is an "interesting necessity." Writing a Master's thesis is a winding process with many ups and downs, but I was able to finish my thesis thanks to the support and feedback I received from Yoshimi-sensei and the other students in my zemi.

In the ITASIA program, you have to make active contributions; you are occasionally required to do quite a lot of homework and have energetic discussions with other students and teachers. The more contributions you make, the more you can learn. This is a bi-directional program in which students and teachers actively contribute to discussions to deepen their academic understanding. For instance, one of Professor Yoshimi's favorite things to say is "attack me!" because he wants others to challenge his ideas. (laughs)
My work and my research are inseparable
Many people in film business around the world are fascinated with the idea of collaborating with the Japanese film industry. However, when trying to do so, they often encounter various obstacles, including business and cultural barriers as well as working manners and traditions. Such barriers can even be observed in academic materials on the subject. For example, the literature on Japanese films extensively covers famous Japanese film directors, such as Akira Kurosawa, but almost nothing is written about the reality and practicalities of today's Japanese film industry. Thus, I felt that my mission was to bring academia and the film business closer together. Professor Yoshimi expressed interest in my goal and invited me to study in the Master's program under his supervision. Thanks to the open environment of ITASIA that allows for interactive learning and discussion, I was able to pursue fulfilling research activities and complete my thesis with Professor Yoshimi's support. Actually, my Master's thesis, East Asia in Production: Media Space, Film Markets & Co-Productions in Japan, Hong Kong, and South Korea was so well-received that it was nominated for a UTokyo President's Award!

The time you have on earth is limited. If you have an opportunity to do something extraordinary, like I did with the opportunity to study at UTokyo, you should make good use of it and broaden your horizons.
Exploring the conditions for collaboration in the East Asian film industries
The experiences I have had so far helped me make the joint decision with Professor Yoshimi to continue on at ITASIA in the Doctoral program. I am also planning to publish my research as a book. For my Doctoral thesis, I want to deepen my understanding of the film industry in Asia. In the past 20 years, the entertainment industry in East Asia has experienced a dramatic shift from a film culture to a content culture. I have researched the film industries in Japan, South Korea and Hong Kong so far, and this time I am planning to also explore the film industry in Taiwan and China. Recently, there has been an increasing drive in East Asia to develop collaborative projects within the region. For example, some Hong Kong films use Japanese actors, and some Taiwanese films feature South Korean actors with the goal of appealing to audiences in both countries. With these circumstances in mind, I am researching how countries in East Asia cooperate with one another, what are the potential areas of collaboration and limitations, and what makes interaction difficult. It is easy to conclude that difficulties arise because of political issues, but I think differences in cultures and ways of thinking and work culture also matter a lot. For example, popular Japanese boy bands do not do so well in South Korea because Koreans think those boy bands are too feminine. These kinds of small differences sometimes end up creating large obstacles to collaboration. I want to sum up my findings in my Doctoral thesis and publish it by the autumn of 2016. For this purpose, I am now trying to gain access to the right people in the film industry with whom I can talk about these issues. I believe investment and sacrifice are paramount to writing any thesis. You should be prepared to make sacrifices and be willing to invest your time, money and effort in order to accomplish your goals.
The Ups and Downs of being "Married" to Japan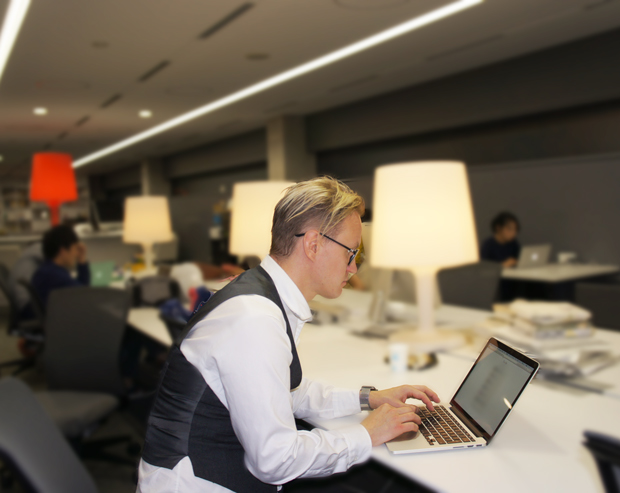 You could say that coming to Japan is like getting married. Your relationship with Japan is a journey with ups and downs.

When you come to Japan, you have to be ready to face not only the enjoyable sides of Japan, but also the difficult sides of Japan. This country can be extremely kind and challenging at the same time.

During your first two to three years here, you'll feel a sense of awe and wonder at everything, but of course some everyday difficulties set in after that and that's when you mature.

Some foreigners who come to Japan tend to complain about how things are done differently here from their home countries, but I want to emphasize that that's just the way Japan is and that Japan should not be judged. People need to develop an understanding and appreciation of the differences between Japan and their own countries, just as Japanese need to understand the cultures of foreign students' home countries. It's also important to focus on the many positive aspects about Japan; for instance, Japan is one of the safest and cleanest countries in the world to live in. Sure, there are everyday annoyances, like old-fashioned bureaucracy (especially compared to my native Estonia), but Japan feels like a second home to me now. In fact, whenever I come back to Japan, the moment I land at Narita Airport I say "tadaima" ("I'm home")!
Giving back
I've changed a lot since coming to Japan. First I came here as a fan of Japanese culture and cinema, but I feel that I have become more mature now. In my five years here, I have grown academically and personally and come to have a better understanding of what Japan "is" and who I "am." Also, I realized that I have been in school for 28 out of my 35 years. I've been learning so much that now I feel that I should start giving back to society.
Future plans
I'm not a very long-term planner, actually. (laughs) One of the things I know I'll need to do in the immediate future is finish my PhD thesis quickly, since the world of media and film moves fast; one ought to get the information out before it gets old. I've also been asked to consult for the curriculum for Tallinn University's revamped Asian Studies module, which should start in late 2016. I have a movie with famous Japanese actors Kaori Momoi and Issey Ogata I'm producing that is scheduled to come out next spring, so I am working on that, too. Also, in general, I want to invest more in film collaborations between Europe and Japan in the future.
Advice
I would like to offer some advice for those who are thinking about studying abroad at the University of Tokyo. First, you have to be well prepared both mentally and financially. After coming to a clear understanding about what it is that you want to do, you have to thoroughly prepare yourself to accomplish your goals. You should also know how you will support yourself, as Tokyo can be occasionally quite expensive. You can easily collect information on the University and its academic programs through the Internet, and you can also find the email addresses of teachers and professors as well as graduates so that you can directly ask them questions about studying, researching and living here. As airplane fares are not so expensive nowadays, I recommend that you visit Japan to actually experience what it is like. The world is much smaller than we think! If you start studying abroad, you have to be aware you're not simply coming here; you're being accepted by someone (at the University) to come. It is vital that you make the best of this opportunity to make contributions to your field and give back to the University and society. Of course, at the same time, you should enjoy your student life to the fullest! It is also important to develop an understanding and appreciation of Japan and its culture. Finally, I would like to recommend that you invest in learning Japanese if you are coming here to study. Lack of Japanese language ability is not necessarily an obstacle, but understanding Japanese will help you in your everyday life here.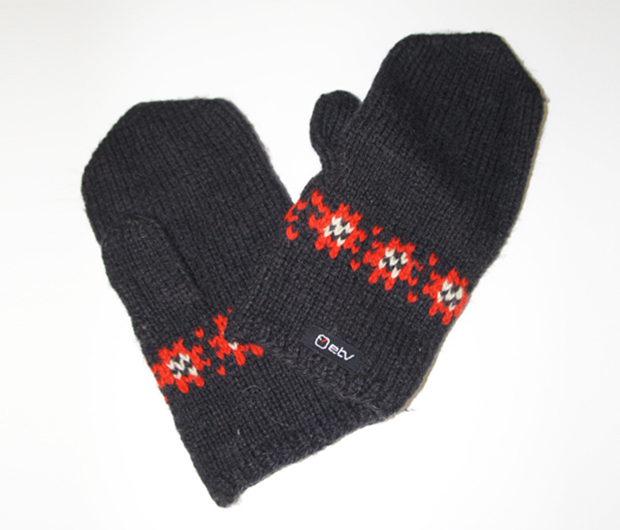 Traditional Clothing, the Pride of Estonia
Handwoven mittens and Estonian national costumes
Sten says that he does not particularly care about keeping mementos from his home country with him since he often goes back and forth between Europe and Japan, but he showed us his pair of handwoven mittens. Mittens are a necessity in Estonia where temperatures can go below minus 20 degrees Celsius in winter, and he uses them in Japan, too. When Estonia was under the jurisdiction of the Soviet Union, only basic necessities were available in stores, and people had to make other items by hand. Thus, the tradition of handicrafts is well preserved. Sten says that articles of clothing such as mittens tend to be woven by one's family members even today. The mittens Sten brings are handmade, and he says he always carries them with him. Patterns vary depending on the regions of Estonia in which they were made, so one can tell which region someone comes from by looking at the pattern of the mittens they are wearing.

Meanwhile, Sten says Estonian national costumes are made with high quality materials and passed down among family members for many generations, serving as a source of national pride. He tells us they are as much a symbol of Estonian spirit as sakura (cherry blossoms) are for the Japanese.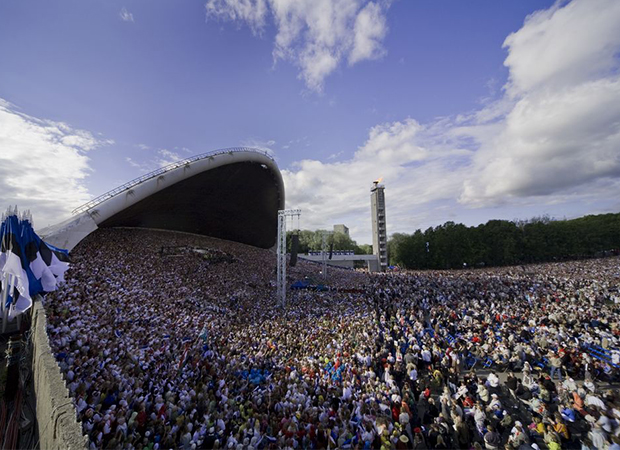 Singing as a Part of Estonian National Identity
The Estonian Song Festival
The Estonian Song Festival, which is held every five years, is a famous choral event that attracts about 100,000 participants and audience members from across Estonia. The event has great significance to Estonians. Sten explains that choirs have to fight their way through tough competitions to get the right to sing on stage. Selected choirs (approximately 20,000 people in total) wear traditional national costumes and sing in front of an audience of about 80,000. The Song Festival, which originated during the Estonian Age of Awakening in the 1860s, is tied deeply to Estonian identity. During the time Soviet Russia controlled Estonia, everything was Sovietized, but the Estonians used songs to communicate messages in code. In this sense, songs represent freedom and independence for the Estonians. Furthermore, the Estonians' song culture dates back to over 3,000 years ago when people communicated with one another using songs instead of written words. The tradition of valuing songs is still preserved in Estonia to this day. By the way, Sten comes from a musical family, and his father is the conductor for the Song Festival!
Interview: October 9, 2015