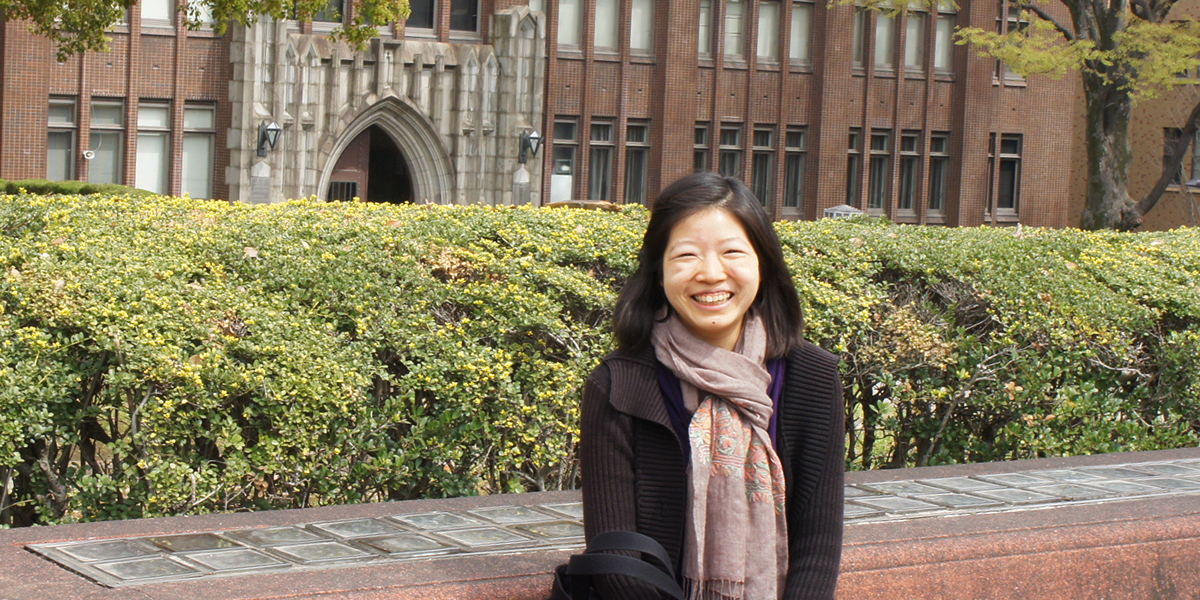 June 14, 2016
Acquiring More Data Points for a Varied Worldview

Joyce Lim

Master's degree student, Graduate School of Economics (International Program in Economics/UTIPE)
Area of research: Applied empirical microeconomics
Country/Region of Origin: Singapore
Attracted to Japan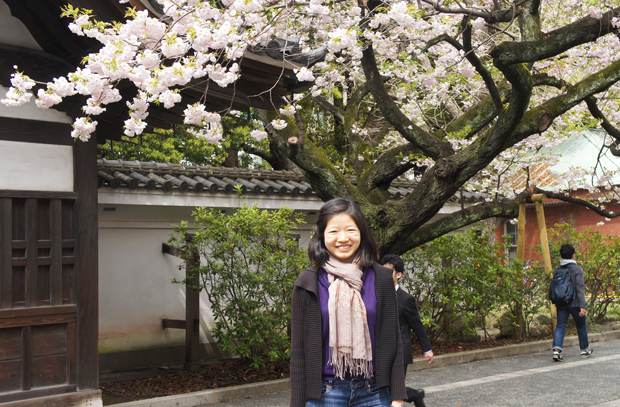 My first exposure to Japan was via a TV show in Singapore called Japan Hour. It featured ordinary people visiting local, everyday places all over Japan. I recall being very taken with the idea of roaming the Japanese countryside just like the folks on TV, and wanted to do the same someday.
Getting a Better Feel of Asia
Since 2008, I had been living outside of Singapore. I lived in Italy for two years (for the last two years of high school), and the United States for four years (where I got my undergraduate degree in economics). I had also done internships and short study-abroad programs in Russia, Mongolia, Vietnam and Japan. When it came time to decide where I would pursue my post-graduate education, I decided on Asia to get a better feel for the region – hopefully providing a nice balance to the six years I had spent in Europe and the US. Since I had studied the Japanese language throughout college, Japan was a natural choice.
UTokyo was an obvious choice
UTokyo has one of the best economics programs in Japan, if not Asia. I met a Japanese PhD student at my college in the US, who had earned his bachelor's and Master's degrees in economics from the University of Tokyo, and they highly recommended the program. I found that the University had an English-language degree program option called the University of Tokyo International Program in Economics (UTIPE). The degree you earn through UTIPE is the same as the one you would earn as a Japanese student, and you take the same classes together with the Japanese students—the only major difference is that the admissions process is in English. These aspects of the program appealed to me, so I applied and fortunately got accepted! I then came here to start working towards my Master's degree in October 2014.
Research Life at UTIPE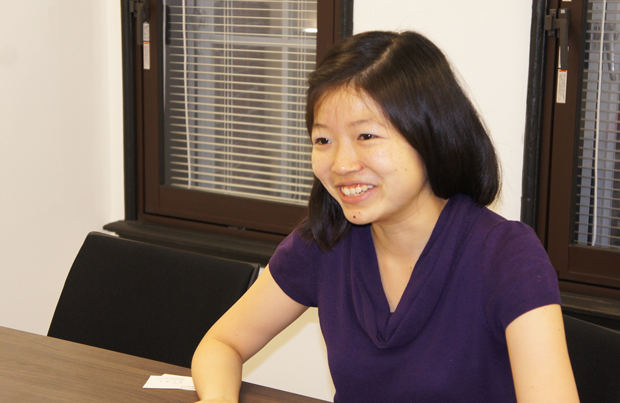 Settling into life in Japan can be a daunting experience at first, so UTIPE partners you with a Japanese student "tutor" in the Graduate School of Economics. The student can help you with getting an apartment, bank account, cell phone, insurance, going to your local ward/city office, and other similar procedures. The student who became my tutor introduced me to the area in and around the Hongo Campus, and became someone who I could go to if I had any questions about life in Japan. We took some of the same classes, so I was able to see him often.

The staff at UTIPE are also happy to help when students have questions for them. They even organize trips for UTIPE students to places in Japan like Kanazawa, Kyoto and Kamakura! One or two professors from the program also participate, so these trips are not only fun, they're also a great opportunity to get to know your professors and fellow students outside of class.

UTIPE offers a lot of room to choose classes based on research interests. There are also a variety of workshops available in which professionals in the economic sciences from all over the world join us to talk about their experiences. Listening to the presentations and discussions helps me look at issues from different angles. What I learn from these workshops influences how I conduct my research. UTIPE also has seminar-style classes, where a group of students and a professor get together to discuss certain topics, such as how economics relates to daily life. I took one such seminar, from which the idea for my thesis blossomed.

While most of my classes are located on the Hongo Campus, I also take Indonesian language classes in Komaba for fun. I've always wanted to learn Indonesian, since the country is close to Singapore!
Analyzing Japanese Supermarket Data to Understand the Effects of Tax Salience
For my Master's thesis, I am analyzing supermarket scanner data from across Japan. With the 2014 increase in the consumption tax, Japanese supermarkets have been given leeway in how they can display prices. Some choose to show prices with the tax included, some without tax, and others show both prices. I am interested in how the differences in the ways prices are displayed affect consumers' perceptions of the prices of items and, in turn, how these perceptions affect demand.

My interest in this topic, as I said earlier, stemmed from my seminar class in which we discussed how economics intersects with daily life. As I enjoy going to supermarkets, the different ways in which the prices were shown piqued my curiosity – I quickly found that this was a viable and interesting research topic.

One of my professors has access to supermarket scanner data, which he was kind enough to share with me. As the data is all in Japanese, my lexicon has been substantially broadened to include a great variety of supermarket items. I quickly found that there is huge variety in products sold – the tofu section, for example, is crazy! People in Japan also seem to buy a lot of hair and skin care products, pet food and items made specifically for the elderly. I think you can gain much understanding into the culture of a country by seeing what kinds of everyday products they buy.
Everyday Life in Tokyo is Fascinating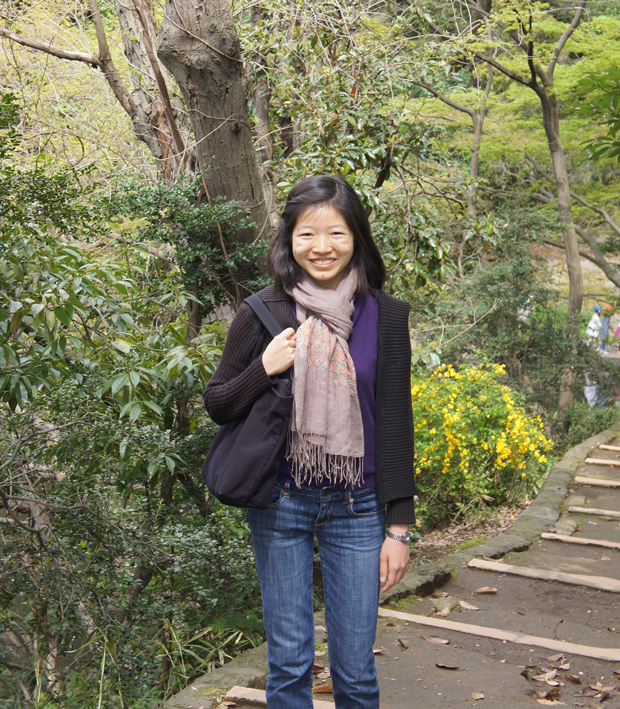 When I first came to Japan as an intern in 2012, I was surprised at how similar Tokyo and Singapore looked. Japan contributed significantly to Singapore's development in our early days of nation-building, so maybe that's part of the reason why. Having spent some time in Italy, I was very impressed at how trains in Japan are all usually on time, and the operators apologize if something happens to be just a minute late. I was also very taken with the rich history Japan enjoys.

I live in a large dorm in Odaiba, Tokyo, with many other international students who are studying at Japanese universities. Since some of the other residents are from countries with which I'm not very familiar, such as those in Central Asia, it's interesting to get to meet and know them! The dorm is managed by JASSO (the Japan Student Services Organization) and offers numerous cultural and recreational events. The building also has a common kitchen and lounges, making it easy to get together with others.

When I have free time, I enjoy exploring Tokyo. I like to experience the unsanitized version of the city, so I often get off at unfamiliar train stations just to see what those places are like. It's also nice to visit non-chain stores and restaurants in the shitamachi areas of the city and talk to the people who work there. One time when I went into a store, the old man running it offered to teach me how to make wagashi (traditional Japanese sweets). It was like a scene straight out of Japan Hour!

Sometimes instead of taking the train, I'll cycle from the Hongo Campus all the way back to Odaiba. I love watching the scenery gradually change from the traditional historic buildings in Hongo, to the modern, towering skyscrapers in Otemachi, and then finally to Tokyo Bay and the unique architecture in Odaiba. I also like cooking, though I don't think I'm very good at it! It's fun to make Japanese dishes like nimono and yakizakana.
Being in the Language Minority
I'm used to being in the language majority. People in Singapore and the United States speak English, and even when I was in Italy, we used English at my high school. Being in Japan, however, I'm now in the language minority. This has been an eye-opening experience that has given me deep respect and empathy for non native-speaking residents in any given country. Living in Japan has also given me a heightened sense of my surroundings and made me more "plugged-in" to my environment.
Returning to Singapore
When I tell people in Japan that I'm from Singapore, they generally either say "sugoi!" ("wow!"), or they mention the Merlion. I hope my Japanese friends now have a better understanding of the tiny city-state from which I hail. I pride myself on being something of a skilled tour guide; I have brought a number of friends around Singapore, and introduced them, probably most memorably, to the island's fantastic food culture.

I plan on graduating this September, after which I'll go back to Singapore to work in the public sector. I'm really looking forward to working, since I've been a student for so long!
Be Open and Know What You Want to Accomplish
My first piece of advice to those thinking of studying in Japan is to learn Japanese. Learning the local language where one lives is not only tremendously useful, but also shows respect and helps to better understand the culture. Also, it's beneficial to be open and willing to talk to people, not just those within the university but outside of it as well. It's surprising what one can learn this way – this stuff they never teach in the textbooks! Finally, with regards to studying or conducting research, I think you should know why you're coming here and have a clear idea of what you want to accomplish.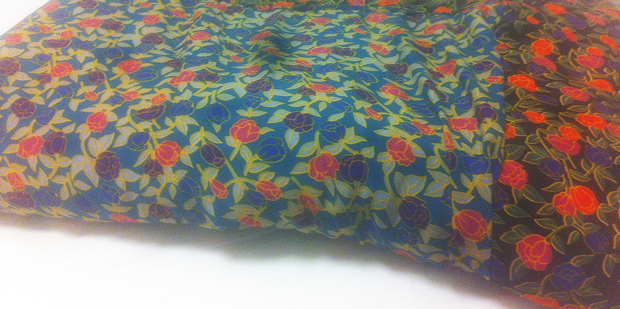 Handmade with Loving Care by Her Grandmother
A Flowery Blanket
The tropical city-state of Singapore may not seem to be a likely place to find quilts and blankets, but Joyce tells us a quilt fad hit the country some decades ago. It was during this time, when Joyce was very young, that her grandmother made this blanket for her. It's too thin and small to use as a regular blanket, and its flowery pattern seems out of place in her apartment, but Joyce takes it with her wherever she lives, from Singapore to Italy, the United States, and now Japan. Her love of this quilt-like blanket shows that Joyce treasures the memories of her grandmother.
Interview: April 08, 2016