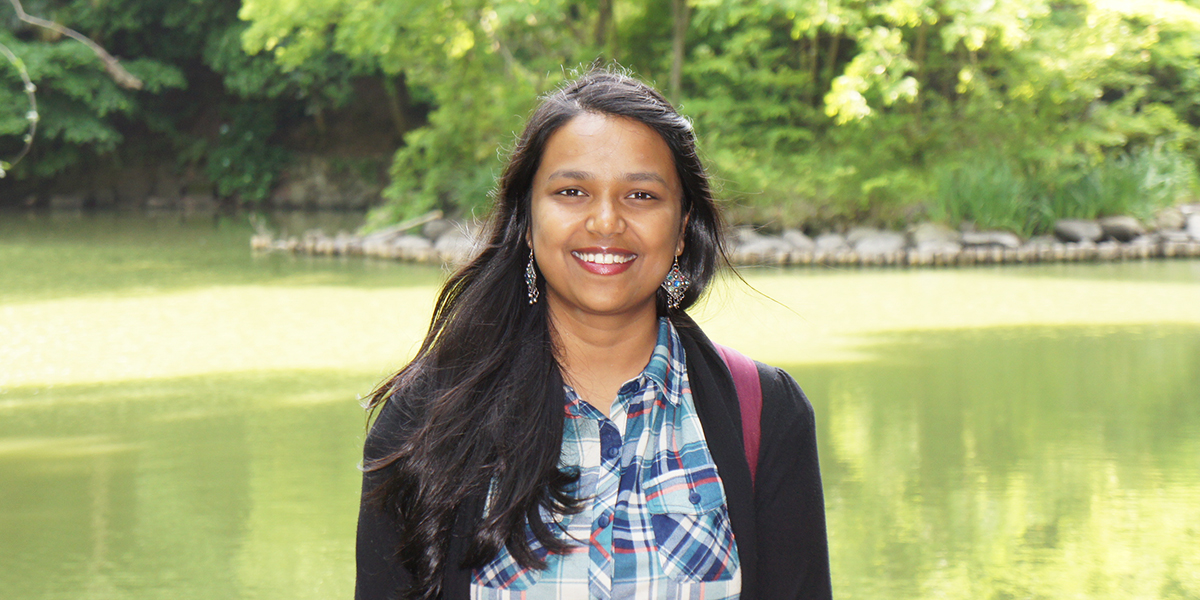 July 19, 2016
Being Surrounded by the Amazing People at UTokyo Inspires Me

Rachana Sah

Undergraduate student, Faculty of Law
Country/Region of Origin: Nepal
Rachana has Always Felt Close to Japan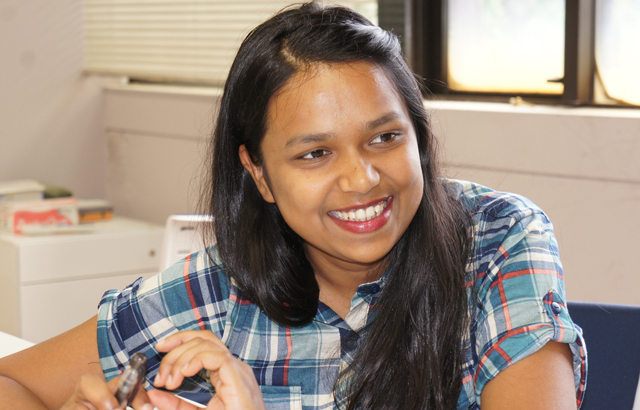 Rachana lived in Japan from the ages of 9 to 12 as her father worked at a Japanese company after receiving his PhD from the University of Tokyo's Graduate School of Engineering.
My Childhood in Japan
My elementary schooldays in Japan were so happy and fun that I did not want to return to Nepal. When I came to Japan for the first time, I was not able to speak Japanese well, but all my school friends were kind and helpful to me. I was able to make many friends, and I remember always playing outside with them. At that time, my family lived in Misato City, Saitama Prefecture, which has a Nepalese community. It was a nice place to live. Growing up there, I felt like Japan was my "home country." For instance, hardly any Nepalese athletes appeared in international sporting events such as the Olympics and FIFA World Cups, so I would cheer on Japanese athletes instead.
From Business to Law
After graduating from elementary school in Japan, I returned to Nepal and attended an international school there. Then, once I graduated from high school, I enrolled in an undergraduate business program (business administration) at a university in Nepal. The classes were interesting, but I came to feel that my personality wasn't really suited to business. I also began to doubt the legitimacy of business philosophies that prioritize profits over everything else. I consulted friends and relatives, and many of them suggested that law would be a good fit for me because I was good at debates. Listening to their advice, I began to think perhaps studying law could be useful. Although I was not sure what I wanted to do in the future, I thought that while studying law, I would become more convinced about what my goals should be, and that many opportunities would open up for me. Besides, becoming a lawyer appealed to me because many world-class politicians, including President Obama and President Putin, once worked as lawyers. So, I decided to change my major from business to law.
Becoming a UTokyo student thanks to my father's encouragement
At that time, I was taking ikebana lessons at the Japanese embassy in Nepal. I happened to learn about the Japanese Government (Monbukagakusho: MEXT) Scholarship there. I had been thinking of studying in Japan, but at a later time, perhaps to get my Master's or Doctoral degree. After learning about the MEXT Scholarship, however, I began to consider enrolling in an undergraduate law program in Japan. Because competition was very high for the MEXT Scholarship, I hesitated to apply, fearing that I would not receive the scholarship at all. But my father encouraged me to apply, and fortunately I was able to receive the scholarship! For one year after coming to Japan, I studied Japanese with other MEXT Scholarship students. I had little knowledge about undergraduate law programs in Japan and vaguely thought Hitotsubashi University would be good for me. When the time came to choose a university, however, I selected the University of Tokyo as my first choice because it is Japan's top university (laughs). Another reason I selected UTokyo was that it offers classes on a wide variety of subjects—not only law-related subjects but also economics and politics. Luckily, I was accepted to UTokyo, and my parents and older sister came to Japan with me to attend the Matriculation Ceremony in April 2013. My father was very happy, saying, "I was able to attend the University of Tokyo's Matriculation Ceremony because of you." I will never forget that wonderful day.
UTokyo is a Place Filled with Surprises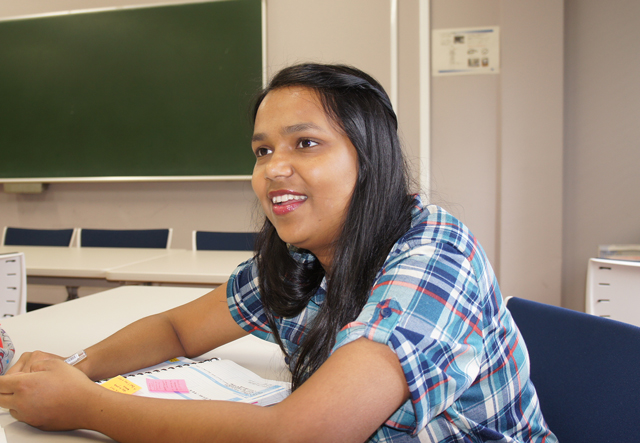 Entering UTokyo through the MEXT Scholarship, Rachana first studied at the Junior Division of the College of Arts and Sciences on the Komaba Campus and then advanced to the Faculty of Law on the Hongo Campus.
Studying Abroad while at Komaba
I had a good time studying at Komaba. My Japanese classmates were extremely intelligent, and they were often a source of inspiration for me. Before advancing to the Faculty of Law, I decided to study abroad for a short term in England and in the Netherlands, where I was able to make many friends of various nationalities. Although my grades were not that good at UTokyo, I received good grades in England, which restored my confidence. This experience gave me many good opportunities, so I think that giving myself one extra year to study abroad was very rewarding.
The Faculty of Law is a "Desert"?
I have been enrolled in the Faculty of Law since this April. At first, I was surprised to see almost all students in their first year specializing in law (about 400 students) taking the same classes at the same time, in which they just quietly listen to the professors' lectures. I had assumed that there would be more opportunity for discussion in Japanese classes, like there is in classes in the U.S. and the U.K. However, the students here are actually very quiet (laughs). Many Japanese students are smart but also appear to be somewhat distant, trying to handle everything by themselves without asking for help. Students say that the Faculty of Law is like a desert (laughs). There are no opportunities for all of the law students to converse with each other, and they feel like it's difficult to make friends because the class sizes are too large. Although small-scale seminar classes are also offered, members change every six months. I do think that everybody wants to talk with each other, though. I saw a post on social media by one of my Japanese classmates saying that he is lonely in the "desert" and wants anybody who comes to Hongo to contact him (laughs).

All of my teachers are excellent, and many of them are interesting. When I have questions, I talk to them after class, and they kindly take the time to help me understand things. Recently, however, I am not even sure what I do not understand, so I haven't been asking that many questions (laughs).

I have also joined a program named GLP-GEfIL (Global Education for Innovation & Leadership). It is a transdisciplinary leadership program that is taught entirely in English and open to students from all the Faculties who pass the selection process. Members discuss a variety of topics. Until recently, we were discussing the refugee crisis of the Rohingya people in Myanmar in groups. As many Japanese students from the Faculty of Law join this program, I am able to become friends with them and talk to them in our law classes. In fact, I am planning on going to a study meeting soon with some of the students I met through this program.

UTokyo even changed my character
I think I have grown very much since entering UTokyo. Before, I was able to achieve my goals without having to work too hard. Now, though, I have to give it everything I've got because UTokyo students are smart and there are a lot of required classes. In the Faculty of Law, only the top 30% of students can get As. So, I have to study very hard, which has made me stronger. I didn't think the 30% system was fair at first, but I feel a real sense of achievement when I get As, so now I think it is a good system (laughs).

After arriving in Japan and coming into contact with people who have different cultures and values from my own, and then meeting UTokyo students who are completely different from the people I met before, I think that I have changed a lot. I used to be a person who would say whatever the people I talked to wanted to hear. Because of this I was well-liked, but I held back on expressing my own feelings and opinions. Now I have the courage to say what I want to say and don't try to hide my feelings.

My advice for prospective students would be to study the Japanese language as much as possible before coming to Japan and try to experience Japanese culture once you come here. Japan is a unique country that is neither purely "Asian" nor "Western." I want students to understand this uniqueness and enjoy it. I also recommend joining extracurricular activities, like sports clubs or cultural activities, which are offered at Japanese universities. I joined a Japanese archery club the first year I was in Japan while I was studying Japanese. Finally, if you have any problems or worries, do not hesitate to consult your teachers or administrative staff because they are very kind and helpful. Of course, talking with other international students is good, too, but you will receive a lot of support if you talk with teachers and staff members.

Curiosity Opens the Door to the Future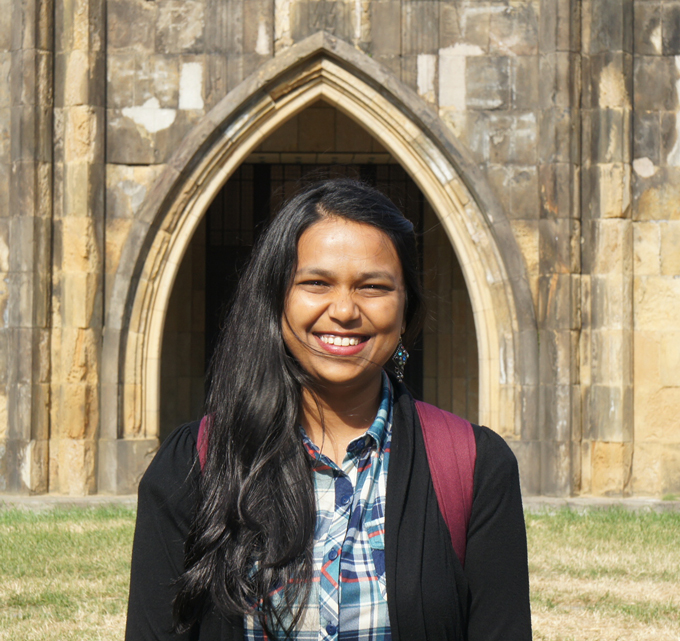 Rachana lives in a traditional shitamachi area in eastern Tokyo. She says she likes the shitamachi because rent is cheaper, and some of the old wooden houses there resemble houses in Nepal. She also likes how the shitamachi is steeped in the traditions of old Edo (Tokyo).
Relaxing in parks or watching TV series at home during weekends
Now I live with my younger sister in an apartment in a shitamachi area. At first, I was very surprised to find out that people do not communicate often with their neighbors in Tokyo. When moving into the apartment, my mother and I visited my neighbors to introduce ourselves by bringing Nepalese food that my mother cooked. The neighbors were confused by our actions, which shocked me. In Nepal, people cannot survive without helping each other and knowing their neighbors. However, in Tokyo, apparently, you do not have to interact much with your neighbors. Now I understand this but still feel somewhat taken aback.

I like going to parks or shrines to relax on the weekends. I often hang out with the international students I became friends with during my Japanese language school days. Also, I like watching American or British TV series, particularly historical series such as Downton Abbey and The Tudors. I like reading novels, too. My favorites are Charles Dickens' David Copperfield and the Harry Potter series.

As I attended international school in Nepal, I think I am better at using English. Most of the TV shows I watch and books I read are in English. Recently, I tried to read a version of the Bhagavad Gita that had page-to-page translation in Nepalese and English. I was able to understand the English translation perfectly, but I couldn't understand the Nepalese one very well. This experience made me realize that I should appreciate the Nepalese language more
I want to contribute to women's rights in Nepal
My goal after graduation is to study at a law school, become a lawyer and work at an international organization. After gaining professional experience, my dream is to go back to Nepal and to work in the legal field for women who have human rights issues. In Nepal, women are often discriminated against and treated unjustly, with many women not allowed to pursue higher education. These issues are not even seen as problems in Nepalese society. Also, because women are always discriminated against, it is very difficult for them to voice their demands to change the status quo. The majority of Nepalese women cannot survive independently, and women's voices often go unheard. Under these circumstances, a lot of women suffer, and I would like to help them. I also want to contribute to increasing opportunities for women to receive higher education. For example, I think that establishing a school for women would be helpful in giving them a chance to learn about their rights and become more aware of social issues. I am extremely lucky because my parents show great understanding in allowing me to study at UTokyo. But many people I know gave up on going to college because their parents were opposed to it. Why am I lucky, and they aren't? I want to consider these matters deeply and aspire to create a society in which women can be successful without having to rely on luck.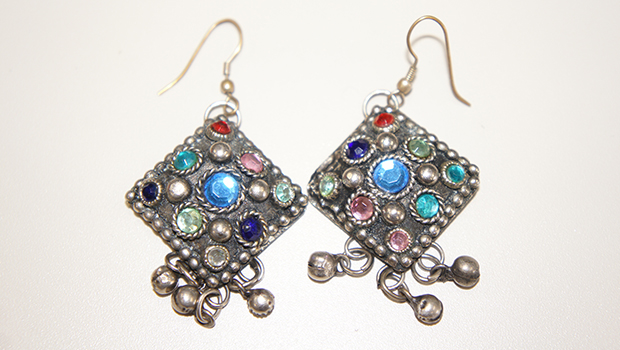 Shared by All Three Sisters
Earrings embedded with rhinestones
Rachana brought us her earrings which are embedded with colorful rhinestones. They were originally worn by her older sister, who is now married and lives in the US. Her sister bought the earrings at a street market in Nepal at a very low price. These earrings were originally designed to match traditional costumes, but Rachana wears them with her regular clothes. She says she likes these earrings because they go with all kinds of outfits and their light weight makes them easy to wear. Rachana's younger sister, a student at Waseda University, also wears these earrings. Shared by all three sisters, the earrings are worth far more than their price.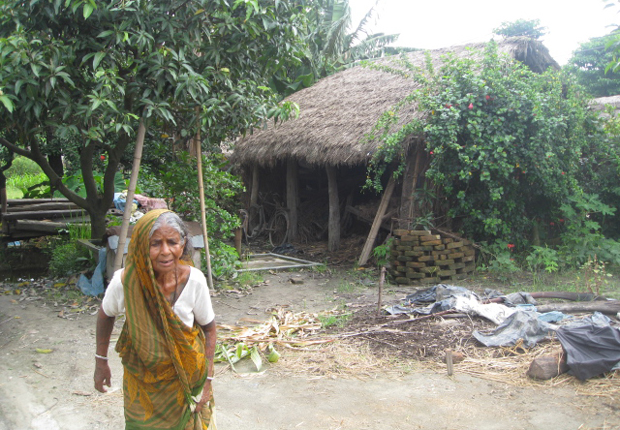 Her Grandmother is Waiting for Her Return
A Nepalese farming village rich in nature
Rachana's family comes from the village of Kanchanpur in the Saptari District situated in the southeast part of Nepal. Rachana herself grew up in Kathmandu, but she often visits Kanchanpur because her grandmother and other relatives live there. Kanchanpur is located in the Terai, a plain region of Nepal. Surrounded by a large river and canal (the first canal built in Nepal), it is famous for rich soil. The main industry in Kanchanpur is agriculture, particularly rice farming, and Rachana's uncle runs rice farms. They grow vegetables in gardens, keep livestock and cook over wood-stoked fire. It is a life full of rustic charm. Her grandmother once came to Tokyo to see Rachana, and she planted vegetables in a container in front of Rachana's apartment. Rachana says that she often calls her grandmother on the phone, and that her grandmother always says, "Rachana, come back home soon!"