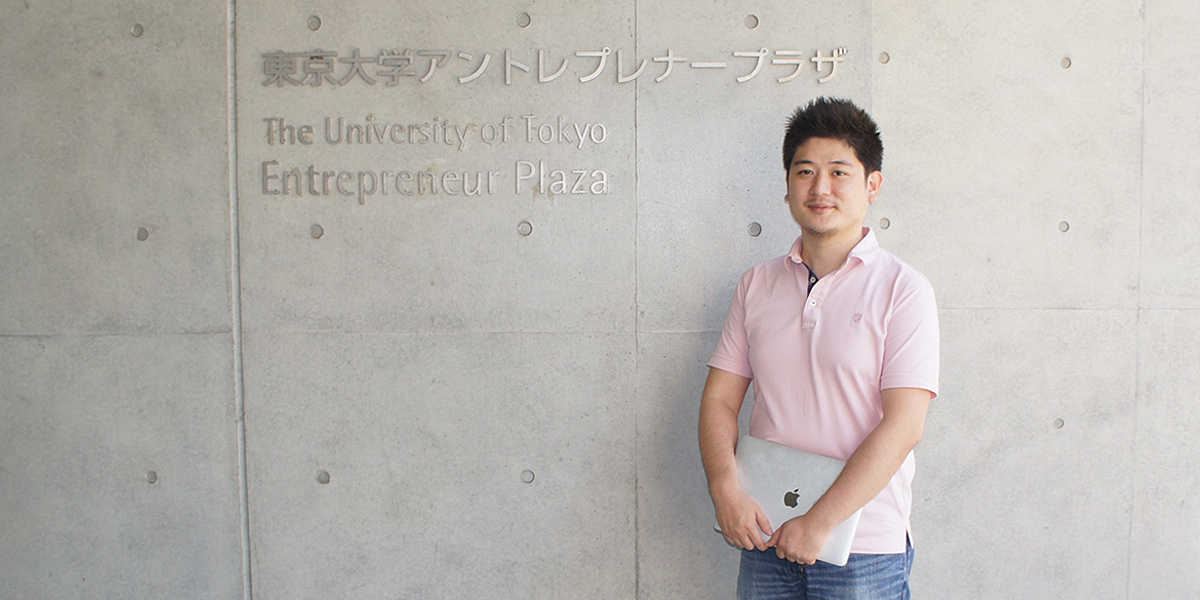 November 2, 2016
At UTokyo, Everything is Popping into Place

Tao Cheng

CEO of popIn, Inc.; alumnus (Class of 2008, Master's degree), Graduate School of Information Science and Technology
Area of specialty: Computer engineering
Country/Region of Origin: China
Going Down the Path to Starting a Company in Japan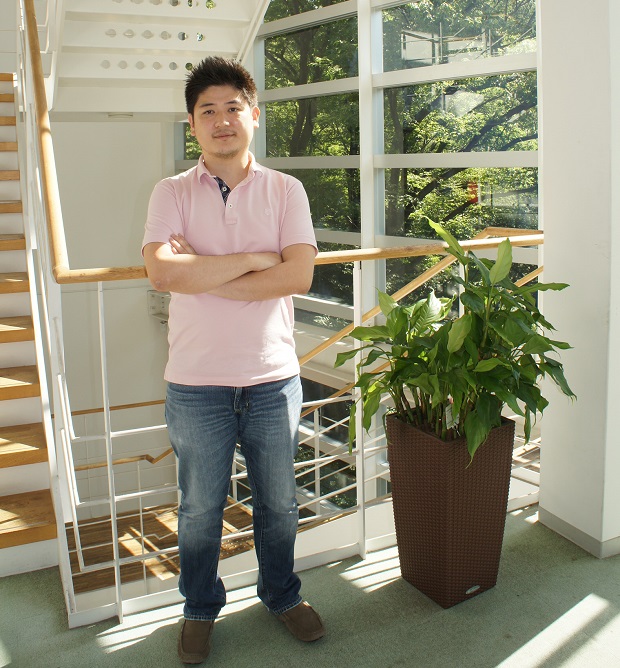 Inside the UCR Plaza, the building that houses the Division of University Corporate Relations. The Division gave invaluable support to Tao as he started his company
When deciding on his future after graduating from high school, Tao Cheng considered entering a top Chinese university. After giving it some thought, however, the Henan Province, China native decided that studying at a famous overseas university instead would be an interesting experience which would present him with unique opportunities. Taking his relatives' advice, Tao decided to study in Japan because its culture is similar to China's.
Discovering the Excitement of "Monozukuri" through a Mac
Tao came to Japan and studied at a Japanese language school in Osaka for the first two years. Afterwards, he enrolled in Tokyo Institute of Technology (TIT) to study computer science, where he saw a Mac for the first time in his life. "When I used a Mac for the first time, I was surprised at how easy it is to use it. It felt like something that the makers really poured their hearts into. I was excited to find that this kind of monozukuri (the art of designing and manufacturing products) was possible," he recalls. After he discovered that it was created by Steve Jobs, Tao earnestly found all the information he could about Jobs, and now cites him as a major influence. He says, "Getting people to open their wallets is rather easy, but moving people's hearts is difficult. I came to realize that I wanted to engage in monozukuri that can move people. I think that experiencing Jobs' user-oriented monozukuri was what motivated me to pursue a career as an entrepreneur."
"Boot Camp" at the Graduate School of Information Science and Technology (IST)
For Tao, monozukuri meant applying his knowledge of computer engineering that he mastered at TIT to create useful web services. Upon graduating from TIT, he considered continuing on to graduate school and found the Department of Creative Informatics at the University of Tokyo's Graduate School of Information Science and Technology to be a good fit. As Tao was passionate about pursuing monozukuri, the Department of Creative Informatics was an ideal environment for him with its concept of transforming one's ideas into products. He also liked that the Department was then located in the "electric town" of Akihabara, Tokyo, an exciting and appropriate location for anyone wanting to do something new in the IT world.

Tao successfully entered the Department and enrolled in what he now says was his most interesting and exciting class, "Practical Experience Workshop." This class, a "boot camp" of sorts, offered hands-on opportunities for students to transform their unique ideas into actual products in one year, with the conclusion of the class marked by the presentation of their products in front of academic and corporate executives in Silicon Valley. Tao's team developed a website service that allowed users to conduct web searches without leaving the website they were looking at. He recalls, "Professor Ikuo Takeuchi, the supervisor of the class at that time, often gave us useful advice. Also, an engineer from a famous Japanese company joined our team as a tutor, and visited us once a week to help us out. It was a very practical and useful class." In the following March, Tao and his fellow students flew to Silicon Valley and made a presentation in front of a distinguished panel including individuals from Microsoft, Sun Microsystems, Stanford University and UC Berkeley.
"I was nervous because I was not very good at English, but I used body language and gave it my all. Things ended up going well! When all the presentations were over, an executive from Sun Microsystems came over to me—just me—and gave me his business card. That was a big confidence boost."
The Birth of popIn
Tao named the web service he developed at the Practical Experience Workshop "popIn." He says, "The word 'pop up' makes you think of an annoying window suddenly appearing on your screen, making it hard to see what's on the screen. By using the term 'pop in,' I wanted to stress that the new window that appears doesn't go over your current window, but instead gets inserted between the paragraphs on a page. Also, 'in' can also stand for 'information' and 'interface.'"

Soon after returning to Japan, Tao decided to obtain a patent on this "search interface" service.
"While working on getting a patent, I came to think that starting a company would be good idea, too. I did some research and found out that there were companies affiliated with UTokyo that support members of the UTokyo community in obtaining patents and starting companies—namely, Todai TLO and UTEC. I wanted to get in touch with them, but I thought that if I contacted them myself, they might not listen to me seriously. So, I consulted Assistant Professor Kumiko Tanaka who was my supervisor at that time."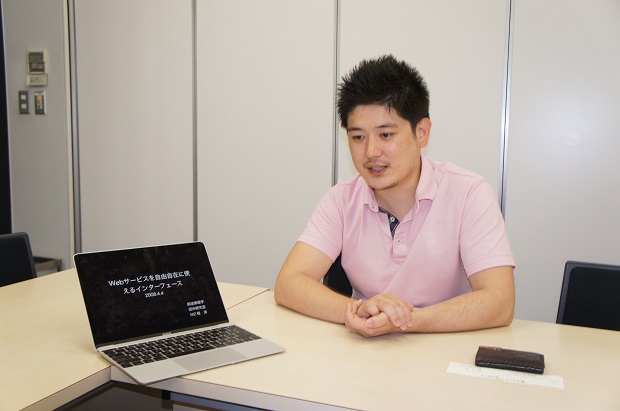 Dr. Tanaka soon contacted UTEC and Todai TLO, and Managing Partner Tomotaka Goji of UTEC and President Takafumi Yamamoto of Todai TLO made a visit to their laboratory. Tao explained his vision by showing them a business plan that he had meticulously prepared. Managing Partner Goji immediately approved of his plan, saying "Let's do it!" It was decided that they would prepare for two months to examine his business plan thoroughly and complete the necessary paperwork. During this period, Tao refined his business plan according to Mr. Goji's advice. And finally, three months after his consultation with UTEC and Todai TLO, Tao managed to launch his company, popIn Inc.
Trial and Error as a Student Entrepreneur
Tao then had to lead a double life as both a CEO and a graduate student. Unaccustomed to business practices, he had several things to learn about, such as recruiting staff, procuring clients, and developing new technologies—all on top of his usual study and research activities. He had a tough time for the first six months.
Meeting Reliable Colleagues
As for recruiting staff, Tao tried to invite senior and junior students studying at the same Department and friends he had known through part-time jobs. He recalls, "They supported me a lot. I also asked the members of The University Tokyo's Entrepreneur Society, also known as 'Todai TNK,' to help out. Fortunately, many of the Club's members came to help me. We had many mutually stimulating conversations about business matters, and it was a lot of fun. Of course, we didn't just have fun; we got down to business, too!" (laughs)

Gradually, more and more talented people joined the staff at popIn. Tao also actively invited international students to enter his company. He says, "International students are more willing to take risks to help startups than Japanese students, who tend to prefer career stability. If you invite 10 students, for example, 8 out of 10 international students would join while only 1 out of 10 Japanese students would." Of course, the University's Division of University Corporate Relations offered a variety of support, helping Tao in establishing business networks and giving him advice.

Tao gives the following advice for international students who are planning to start a business in Japan:
"The Japanese market offers a fair environment, and laws and regulations are well established in this country. Even if you don't have many personal connections, your business will do well if your products or services are good. So, don't hesitate to start a business! You should become well-versed in Japanese business etiquette, though. For example, if you write an email in Japanese and use keigo (honorific words) incorrectly, it may give off a bad impression to the recipient. Japanese people will be impressed if you have a good command of the Japanese language in a business environment, so it's a big advantage. Also, some of you may worry about your visa status when starting a company. Currently, the Japanese government offers a point-based visa system for promoting the utilization of highly skilled overseas personnel. This system allows you to get preferential treatment in obtaining a visa if you get a certain level of points. I recommend learning more about this system."

Overcoming Hardship with Creativity
Working with a good group of colleagues, Tao smoothly accumulated knowhow in business management. He emphasizes, "You can do nothing alone. Teamwork is essential to running a venture company. It is often said that the success or failure of a startup depends on its first five members. Good team members trust each other and think independently to achieve the same goals. That is very important. If you experience failures, you just have to learn from those experiences and use them creatively."

Backed by this kind of creativity, constant effort and good teamwork, Tao's company eventually was able to win many clients, including major newspaper companies, for its popIn service. Once the business was on track, Tao retired the company's original service and shifted the company's focus towards developing new services. One of them is READ, a service that analyzes how long a viewer stays on a particular website. Another is a personalized content recommendation service that suggests relevant content to readers based on an analysis of content they have previously seen.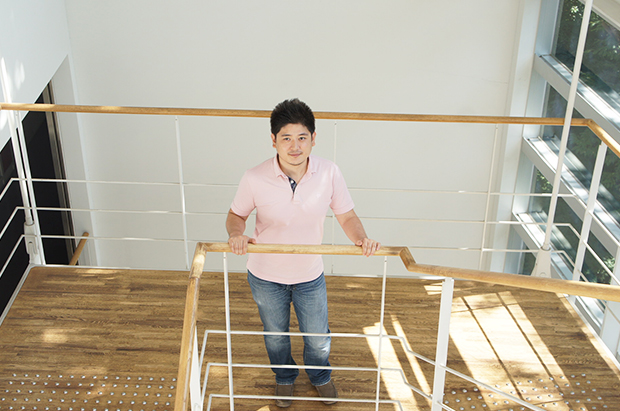 Making a Foray into Other Asian Markets
Tao has put effort into selling this personalized content recommendation service in overseas markets as well, particularly those in Asia. Currently, popIn has successfully expanded to Taiwan, South Korea, Hong Kong and Singapore. At first, however, Tao experienced many difficulties. He recalls, "Business practices are totally different in each country. At first, we did business like we do in Japan. But we often found that our methods didn't go well. We came to realize that going into partnerships with local companies was important. As a result, we are currently doing well in Taiwan."
Accomplishment of a Long-cherished Goal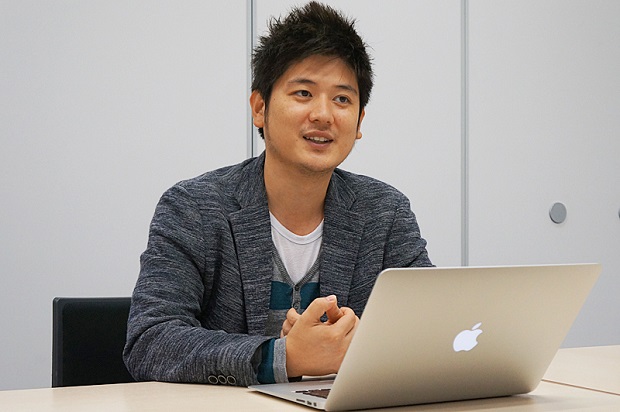 By utilizing sound management strategies, Tao has succeeded in growing his company. Reflecting on his success, Tao, who has devoted himself exclusively to his business after graduating from the University, says that his interest in starting a business dates back to when he was an undergraduate student.
Spotting a Niche Market and Using Unique Approaches
When he was an undergraduate student, Tao honed his creativity by thinking of a variety of web services. "I was not able to sleep unless I came up with a new idea," he says. But major companies have constantly offered new web services, and it is difficult for newcomers like Tao to compete on the same ground.

To outperform competitors, Tao tries to focus on spotting a niche and finding unique approaches. He explains, "I like the phrase 'unique approaches.' If you use a different approach, the same thing can be viewed from a totally different perspective. I think that your chance to find a niche market becomes higher if you change your approach."
Offering Information Services That Enrich People's Lives
Making the best of niche markets, Tao has made it his mission to provide users with helpful services. He says, "Different users have different ideas about what information is useful to them. So, you have to use your intuition to deliver information tailored to each user." His philosophy of business management is to enrich people's lives with information services.

Tao has made constant efforts to achieve this goal through personalized content recommendation. Offering content that a particular user wants to see by analyzing what content that user often looks at also indirectly influences that user's thoughts and feelings. He says, "I believe that content is an important tool that helps people form their views on the world. News content, for example, can influence how people develop a set of values."

Tao believes that suggesting to users content that may enlighten them and reinforcing their thoughts and values through personalized content recommendations can help to enrich their lives. Of course, he is very conscious of the danger of controlling the thoughts and values of others. He says, "Our big challenge is to recommend users relevant content without restricting the diversity of information. We have to safeguard against the misleading of users' preferences and values, which are subjective, by utilizing and analyzing data sets, which are objective. I want to offer this kind of service. We have about 200 clients, and through those 200 clients we can reach out to millions of users. Connecting with those users gives me great pleasure."
Reaching a Major Milestone
When starting popIn, Tao focused on users, not profits. He explains, "My priority was to increase the number of users without fixating on profits. And my long-term goal was to sell my company to a larger company once the number of users reached a certain level. I thought that a major company would do everything to develop my company and make it profitable. In hindsight, I may have been a little too naïve." (laughs)

Putting users first, Tao and his colleagues have invested in developing new technologies and in acquiring new users. These activities come from the very heart of Tao's management philosophy: trusting colleagues and thinking about how to benefit users. He says, "If you pursue only profits, your business will fail. The important thing is to trust your partners. When running a business, you will inevitably face setbacks. I believe that you should take such setbacks and utilize them as lessons for your next steps forward."

With these principles in mind, Tao and his colleagues continued to expand popIn's operations. Actively marketing the company's two main businesses, the READ service and the personalized content recommendation service, won popIn many new clients and consistently good sales. These management efforts eventually paid off. Baidu, a major Chinese web services company, contacted popIn to discuss a possible buyout of the company. Tao negotiated with Baidu's executives and agreed to sell his company. In June 2015, Tao officially announced the business integration with Baidu, achieving his long-term goal. Although popIn is integrated into Baidu, Tao and his colleagues are free to develop new technologies and start new business projects. This was a win-win business consolidation.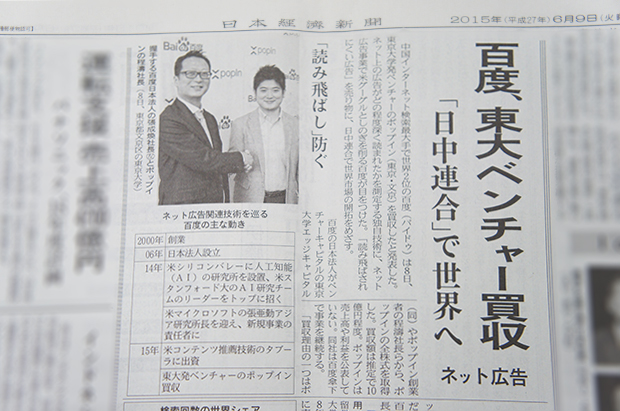 Tao held a press conference to announce the merger with Baidu at the University of Tokyo's UCR Plaza. He selected this building because it is home to the Division of University Corporate Relations, UTEC and Todai TLO, the organizations that helped him in starting popIn. This was a major milestone event for Tao, who came to Japan in 2001 for the first time, started popIn while studying at IST and made constant efforts to grow his company ever since. This event also marked the beginning of a new phase in his journey.

*Note: Following the company's integration with Baidu in June 2015, UTEC is no longer a shareholder of popIn.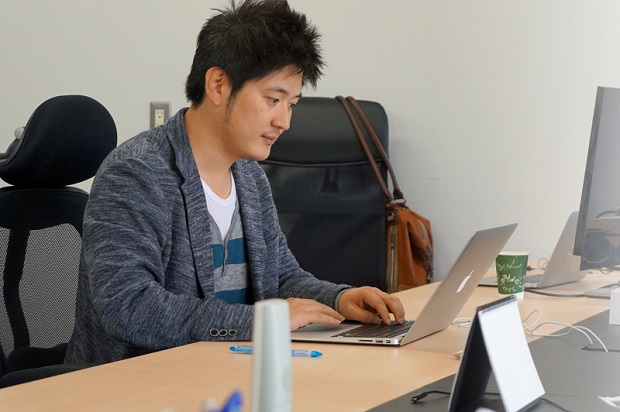 A Typical Workday for Tao
Coming to work at a relaxed pace
Tao's business day starts with checking emails at home. Typically, he works at home in the morning, comes to the office around noon, and works at the office until late at night. He sometimes goes outside to attend business engagements, but generally stays in his office.

Of course, Tao hasn't forgotten to give back to the University of Tokyo, where he has been longer than anywhere else. For example, his company popIn hires UTokyo students as part-timers. He also gives advice to UTokyo students at the University of Tokyo Entrepreneur Dojo, a series of workshops for future entrepreneurs. Above all, Tao strives to live by his favorite saying: "居高峰而自謙 処低谷而自強 (Be humble in success. Be strong in adversity)."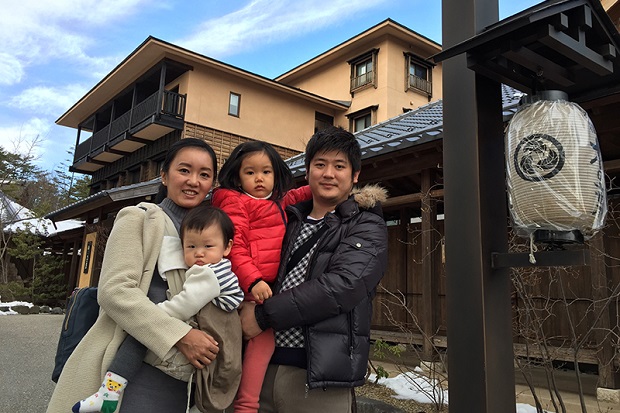 Improved Work-life Balance
Spending weekends with family
As things are finally settling down at his company, Tao is now able to spend weekends and holidays with his family starting this year. On weekends, he often goes to nearby parks with his daughter (three years old) and son (one year old) and also enjoys going out for dinner with his family. He says that spending time with his family is the best way to relieve business-related stress. His two children were born at the University of Tokyo Hospital, so Tao wants them to become UTokyo students someday. His parents who live in China often visit Japan to see their grandchildren.

China and Japan have a lot of things in common, but Tao says that he needed some time to get used to Japanese food. For instance, growing up in inland China, Tao never was presented with the opportunity to eat raw fish. He laughs as he says, "It took about 10 years to get used to eating sashimi and sushi!"
Interview: August 25, 2016