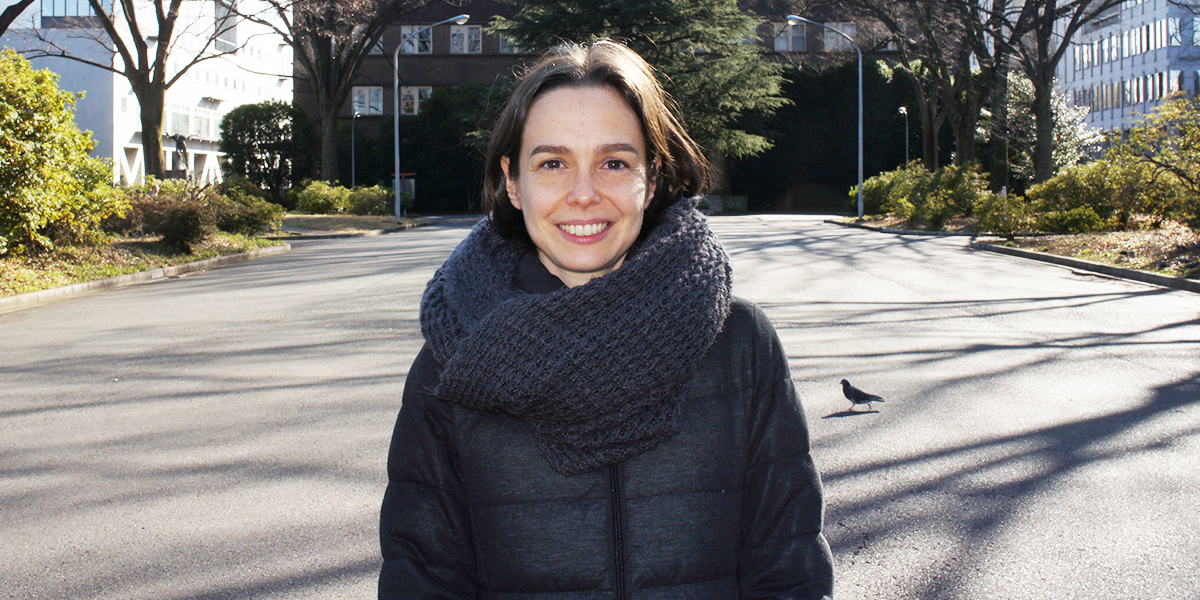 February 27, 2017
From Montpellier to LiMMS: Researching on iPS Cells at UTokyo

Myriam Lereau-Bernier

JSPS Postdoctoral researcher, Institute of Industrial Science
Area of research: Bioengineering
Country/Region of Origin: France
Something Different, in a Land Far Away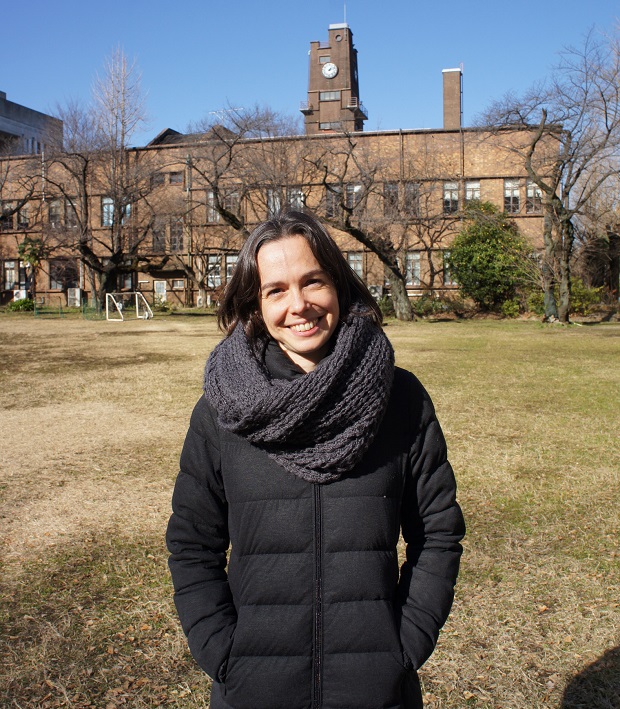 Up until just a few years ago, I had spent most of my life in various parts of France. I was born in Le Havre, and lived in Montpellier, Lyon, Toulouse and other French cities during different stages of my childhood and research career.
A chance outside of France
I have seen much of my home country and think that it is wonderful, but I long had wanted the chance to go somewhere new and discover something different. That chance finally arrived when I was a Master's degree student at Ecole Normale Supérieure de Lyon, where I was studying molecular and cellular biology.

There was an opportunity to do a three-month internship abroad, which seemed like a perfect idea—three months is neither too long nor too short, and would give me just the right amount of time to experience a new life outside of France. One of my friends just happened to have done research in Japan previously, and he gave me advice and his professor's contact information. I was intrigued at the idea of living in Japan, as I had no idea at all of what Japan was like and hadn't ever even considered visiting there before.

I definitely made the right decision. By the time my internship in Japan at Tokyo Medical and Dental University came to an end, I didn't want to go back to France! I met a lot of people and enjoyed my time in Tokyo, all while conducting molecular biology research. Even though I returned to France, I kept thinking about Japan and always looked for an opportunity to come back. Meanwhile, I continued with my education and research in France. In 2010, I received my PhD in Health and Biology from the University Claude Bernard Lyon 1, after spending four years at the International Agency for Research on Cancer and at INSERM (Institut National de la Santé et de la Recherche Médicale) working on the study of the interactions between hepatitis B virus and aflatoxin B1 during hepatocarcinogenesis (the genesis of cancer in the liver). I then worked in my first postdoctoral position at the French Blood Agency (Etablissement Français du Sang) and at the Institute of Biomolecules Max Mousseron in Montpellier. My research there on label-less multi-detection of nucleic acid, with an application in hepatitis C virus genotyping, resulted in two patents for the research team involved in the project. After my job there, I went to SysDiag (Bio-Rad / CNRS) in Montpellier to work as a research engineer on cognitive reserve and clinical endophenotypes from 2013 to 2014.
I liked Japan so much that I had to go back
My personal life went through some dramatic changes during this time, too. I got married in 2013, and my husband and I went to Japan for our honeymoon! My husband got to explore Japan for the first time as we visited my friends in Kyoto, Nagoya and Tokyo. Also, as my job at SysDiag was coming to an end in 2015, I became pregnant with our daughter. A few months later, I was looking for my next position while I was on maternity leave, and a certain email about job opportunities from the institute I worked at in Montpellier caught my eye. A two-year fellowship from the Japan Society for the Promotion of Science (JSPS) was being offered at the University of Tokyo jointly in Professor Yasuyuki Sakai's laboratory and in the Laboratory for Integrated Micro-Mechatronic Systems, or LiMMS. The position would allow me to spend two years abroad, live and work in a different environment, and learn more about Japanese culture—not to mention enhance my skills in liver cellular biology and give me solid experience in researching induced pluripotent stem cells (iPS cells) and biomedical microelectromechanical systems (bio-MEMS). I got in touch with the co-director of LiMMS, Dr. Eric Leclerc, who nominated me for the fellowship and guided me through the application process. I submitted my application in October 2015 and received my acceptance letter the following February. I was ecstatic!

I was supposed to start at LiMMS in April 2016, but I had a lot going on back in France at the time. One of the main issues was that we had to do something with our house before we left for Japan. My supervisors were very understanding about my family's situation and allowed me to start in May 2016 instead. Ultimately, we weren't able to sell our house, but we did manage to rent it out before coming.

A lot of our other concerns were assuaged once we came to Japan. For instance, while my husband fully supported my decision to research at LiMMS, he had to resign from his own job so that he could come, too. He was fortunately able to find another job here in Japan. With regards to housing, the LiMMS secretaries were extremely helpful in securing us housing at the Komaba Lodge (a residence building for UTokyo researchers) a few weeks before our arrival. Also, our daughter was only a few months old when we came, and I was concerned about how and what we should feed her in Japan. We met a German couple with a baby living in the Komaba Lodge, and they gave us lots of advice about how to take care of young children here. We also found English-speaking doctors, which was a relief to us as neither of us speak Japanese! Since coming to LiMMS, I have found my labmates and colleagues to be very supportive as well whenever I need help with something. All in all, I'm happy to be at UTokyo!
Researching at LiMMS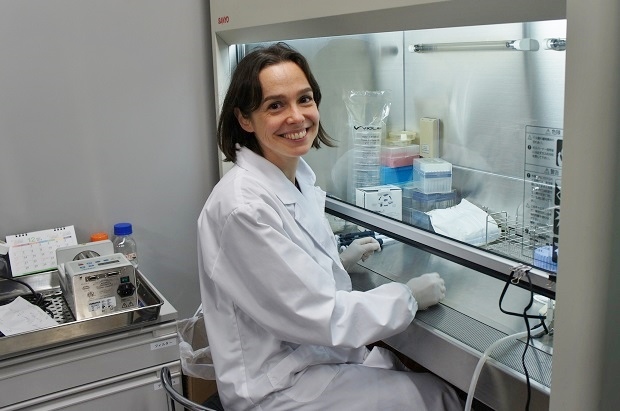 LiMMS is a collaborative effort between France and Japan. It consists of a joint laboratory between the Institute for Engineering and Systems Sciences (INSIS) in the National Center for Scientific Research in France and the Institute of Industrial Science (IIS) at the University of Tokyo in Japan. LiMMS researchers are hosted in 16 research groups, mainly located on UTokyo's Komaba Research Campus. Since its creation in 1995, the laboratory has been working in the field of micro/nanotechnologies and Bio-MEMS.
Another option for treating end-stage liver diseases
Within LiMMS, I am a member of Professor Yasuyuki Sakai's laboratory, which focuses on research in organ and biosystems engineering. There are about 10 people in my lab, and most of them are Japanese or French. My labmates and I work on different methods of culturing cells. As for my specific research, I am working on the hepatic differentiation of induced pluripotent stem (iPS) cells in bioreactors; in other words, I am trying to find the best way to change iPS cells into liver cells. Nowadays, liver transplantation is the only effective treatment against end-stage liver diseases. However, this technique is limited by the growing shortage of suitable organ donors. That's why it's crucial to find an effective method for transforming other cells into liver cells. Also, whereas many research teams in this area have focused on embryonic stem cells, iPS cells, which are generated by reprogramming somatic cells, are becoming more attractive as their use is not limited by ethical concerns. One important goal is to obtain iPS-hepatic differentiation patterns which are stable, homogenous and mature. I do this by growing hepatocytes (liver cells) in small devices called biochips and monitoring the patterns they create. The purpose of this project is to develop a new micro-culture model to obtain optimal hepatic maturation patterns from iPS-derived hepatocytes. By doing so, we can ultimately produce a mature hepatic model which would be useful for human therapy, liver-disease modeling and drug screening using iPS-derived hepatocytes from healthy donors and patients.
UTokyo is a peaceful oasis in a busy city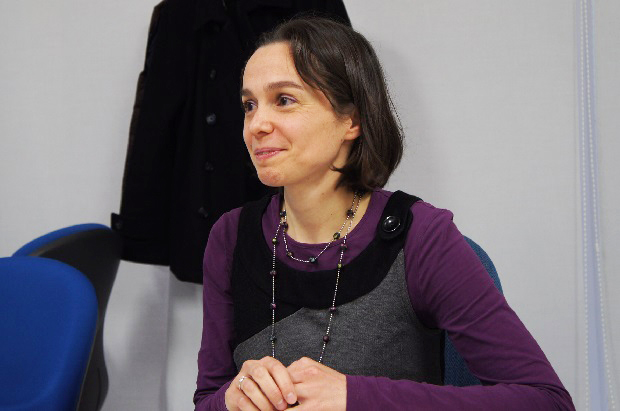 When I first came to UTokyo's Komaba Campus, I was surprised at how quiet it was. I like it quiet, though; I can focus better on my work that way! In addition to conducting my research, I spend time on the Komaba Campus taking Japanese lessons with my husband.
While I feel that there are more people in Japan who can speak English since I initially came in 2005, the language barrier still exists, so I am making an effort to learn Japanese. My daughter, Zoe, has also picked up quite a bit of Japanese from the University-run nursery facility here on campus. In fact, when she sees something she wants, she'll often point to it and say, "Zoe-chan no!" ("It's Zoe's!"). She's certainly a fast learner! (laughs) Incidentally, my favorite kanji is 生 (iki; life) because my daughter's name also means "life."

We lived in the Komaba Lodge at first, but have since moved into an apartment not far from campus. We often go to nearby Shimokitazawa on the weekends to shop and walk around. Thinking about it, our daily life has changed substantially since we came to Japan. Back in France, we lived in a house, used a car to get around, and went to a hypermarket once a week. Now, we live in a small apartment, use the train and walk, and go to convenience stores and supermarkets much more often. Basically, we walk a lot more than we used to. I'm not complaining, though, because it's good for our health!
See Japan for Yourself
My fellowship at LiMMS lasts for two years. While staying in Japan afterwards would be nice, we want to be near our families, so we plan on going back to France. Once there, I'd like to find a research job that has some sort of connection to Japan.

Looking back on my experiences, I'd like to give some advice to those considering studying or working at UTokyo. First, while you can get by without knowing much Japanese, I think that taking some Japanese language lessons before you come would be helpful. Also, to researchers with children, I have one thing to say: come! Japan is a great country for families. I don't have to worry about my daughter's safety here. Plus, there is a nursery right on the UTokyo campus, which is convenient for dropping off and picking up your children before and after work or class. Finally, this may sound unconventional, but I recommend that you not read too much about Japan before coming. Rather than being overly influenced by other people's perceptions of Japan, I believe that it's best to see Japan for yourself.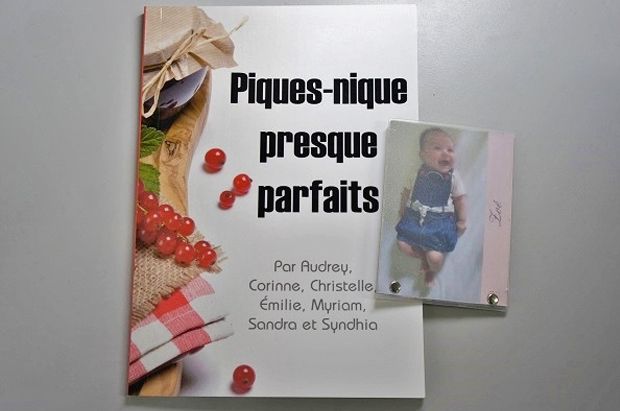 Precious Memories in Pictures
A photo album of Myriam's baby daughter and a recipe book made with friends
Family and friends are important to Myriam, which is why she brought the two items pictured with her to Japan. On the right is a small photo album of her daughter, Zoe, filled with pictures of her from her birth to when she was around 8 months old. Myriam made several of these albums for her relatives, and decided to keep one for herself. She always carries this photo album around with her.

On the left is a custom recipe book created by Myriam and her friends back in France. They would meet once a week for picnic lunches, each bringing a dish they made based on a certain theme (for example, all of the dishes had to be a certain color, etc.). They compiled the recipes for their best dishes into this colorful cookbook, which reminds Myriam of all the fun times they had together chatting over lunch.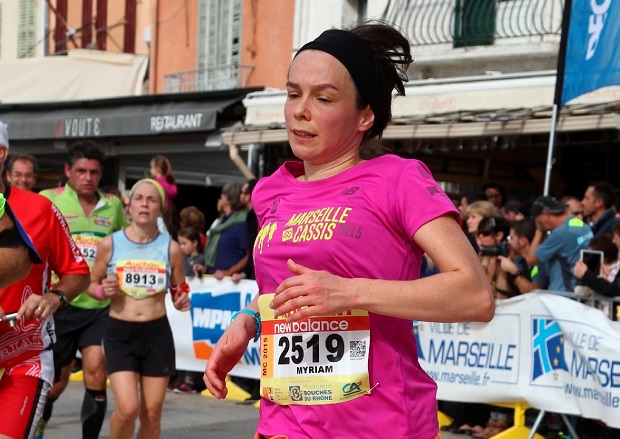 Rising Up to the Challenge
Running marathons through France
Back in France, Myriam has many hobbies, such as sewing, reading, traveling, and watching movies and TV series, but her favorite hobby is running with friends. They often participate in 10 km or 20 km races together to motivate themselves to stay fit. The most special race to Myriam was the one pictured here: the Marseille-Cassis Classique Internationale, a 20 km half-marathon between the southern French municipalities of Marseille and Cassis. She and her friends endured weekly "urban training" sessions to prepare for this challenging race. In addition to enjoying the beautiful scenery along the route, she considered completing this race to be a major triumph for her as it was her first race after her pregnancy.
Interview: January 10, 2017