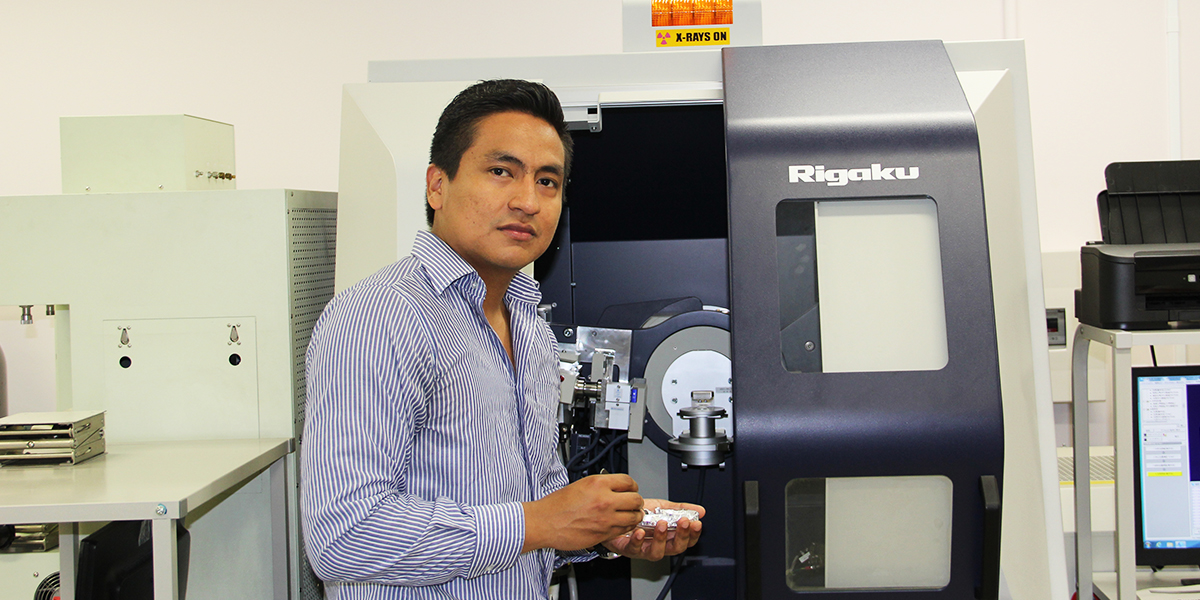 July 7, 2017
Lighting up the Lab and the Dance Floor

Alejandro Torres Sisa

Master's degree student, Graduate School of Engineering
Area of research: Mechanical engineering
Country/Region of Origin: Colombia
Going the Extra Mile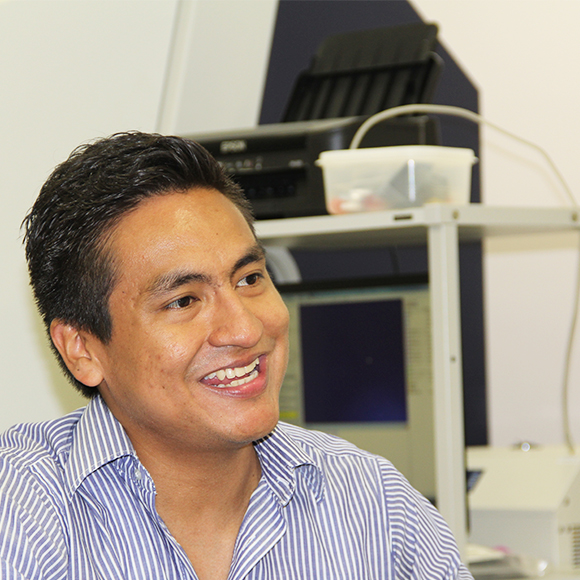 Alejandro had dreamed of coming to Japan since he was a child. His father, who is half-Japanese and half-Colombian, lives in Japan. When Alejandro visited him in 2005, he became enamored with the country's beautiful landscapes and cities. His experiences made him determined to live in Japan.
The not-so-impossible dream
When I was an undergraduate student at the National University of Colombia (UNAL), I knew I wanted to go abroad for my Master's degree in mechanical engineering. Several of my classmates were heading overseas, too, but mostly to universities in the Americas and Europe. There are some great universities in those places, but I wanted something different. My goal was to go farther than anyone else for my study abroad. And what further place from Colombia is there than Japan?

Due in part to my family connections, experiencing life in Japan had always been a dream of mine, and one of my Japanese language teachers at UNAL helped to make that dream a reality. She had done a year abroad in Japan and often talked to us about how we could go study there, too. Japan is probably not on the radar for many Colombians as a study abroad destination as they are simply not aware of the opportunity to study there. They think you have to be able to speak Japanese to go to a Japanese university, but that's not the case! There are plenty of programs in which classes are entirely taught in English. So even if you're not fluent in Japanese, studying in Japan is not an impossible dream.
UTokyo bound
I narrowed my choices down to a university in or near Tokyo, since my father lives in neighboring Chiba Prefecture. When I was researching universities, the website for the University of Tokyo's IME Graduate Program (International Multidisciplinary Engineering Graduate Program) caught my eye. The IME Graduate Program is a graduate-level program offered entirely in English, and it seemed like a good program for international students. I also looked at the websites of different engineering departments, trying to find a professor whose research aligned closely with what I wanted to do. I contacted a number of professors, including Professor Daiguji of the Department of Mechanical Engineering, who accepted me into his lab. I then applied to UTokyo through the IME Graduate Program and also for a privately funded scholarship for Colombian students studying abroad. I was doing all of this while in my last two semesters at UNAL, so I was quite busy! In fact, there were only two months between my graduation from UNAL and entrance into UTokyo.
Researching Renewables in a Traditional Environment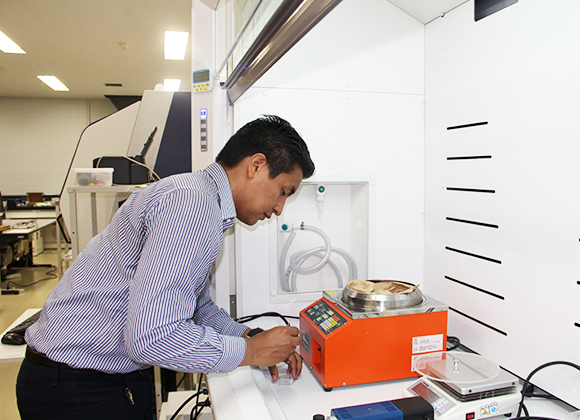 Alejandro came to Japan and joined Professor Daiguji's laboratory in the Department of Mechanical Engineering. He conducts research on solar cells, and is experimenting on ways to make solar cells that are cheaper in price to manufacture and feature additional mechanical properties, such as flexibility.
Old and new
During my first visit to Japan back in 2005, I saw everything from a child's point of view, but coming back now I've noticed so much more. For instance, I like how Japan combines the new with the old. I first observed this on UTokyo's Hongo Campus—there are so many old buildings on campus that are preserved on the outside, but fitted with new technology on the inside. The building my lab is in is no exception!

Speaking of my lab, there are about 20 people in my lab currently, and eight of us are from overseas. I tend to speak in English with the other international researchers. With my Japanese colleagues, I used English at first, but I'm speaking mostly in Japanese now. The Japanese classes offered by the Graduate School of Engineering have been a big help in improving my Japanese proficiency.

By the way, I love kanji! One of my favorite kanji, which was one of the first kanji I learned, is 好 (suki). Japanese have a special attachment to this kanji because it's used not only when saying that you like something, but also when saying you like or love someone. Since 好 is made up of ideographs meaning "woman" and "child," I think that the feelings that a mother has towards her child are alluded to in this kanji. I like how the two components come together to represent the kanji's meaning.
Creating a better solar cell
My research involves creating new types of solar cells using perovskite structure materials. Although these kinds of solar cells are still in the experimental stages, perovskite structure materials may eventually allow for solar cells to have new mechanical characteristics (such as being flexible), as well as make them cheaper to produce. With the reduction in price and the greater range of characteristics, these solar cells could be used in a wider variety of places than conventional ones.

I spend most of my days conducting experiments to make these solar cells. I begin by taking a small piece of glass (the substrate) with a pre-applied layer of fluorine doped tin oxide (FTO) and applying different chemical layers to it. I often start out with titanium dioxide (TiO2). After using a spin coating machine to put the TiO2 onto the glass, I place the glass on a hot plate and later inside a furnace to dry it. Next, I add another chemical layer. I focus on compounds that have perovskite structures, such as methyl ammonium lead halide (CH3NH3PbI2), and repeat the spin coating and drying process. After checking the perovskite structures on the glass through an x-ray diffractometer, I add another layer, a hole transport layer (HTL) in order to improve the carrier's flux and thin layer interaction. I then take the glass down to another lab in the basement and analyze the layers using a scanning electron microscope (SEM) to confirm the layer coverage and appearance of the grain structures. Finally, I apply the last layer—gold—using a vacuum evaporator, and then put the glass in a solar light simulator to analyze its efficiency and performance as a solar cell. Each of these experiments takes two to three days; as it is a rather time-consuming process, I try to do at least six samples per experiment to get as many results as I can.
Japan is at the forefront of renewable technology research
Japan is a great place to be for doing research on renewable energy like solar cells. Since Japan cannot satisfy its own energy demand through oil and other finite resources, it is being pushed more and more to develop its renewable energy fields. This constant drive has brought Japan to the forefront of renewable technology research, so studying here lets you learn about recent advances in renewables.

As for UTokyo, it is one of the most important universities in Japan, and it receives a good amount of research funding from the government. Also, if you want something for your research, such as a certain material or machine, the professors here can help you acquire it. Some of my lab mates have collaborations with private corporations, through which they receive support to conduct their research. As many companies are eager to work with researchers at Japan's top university, UTokyo has an advantage in this area, too.
Adjusting to Life in Japan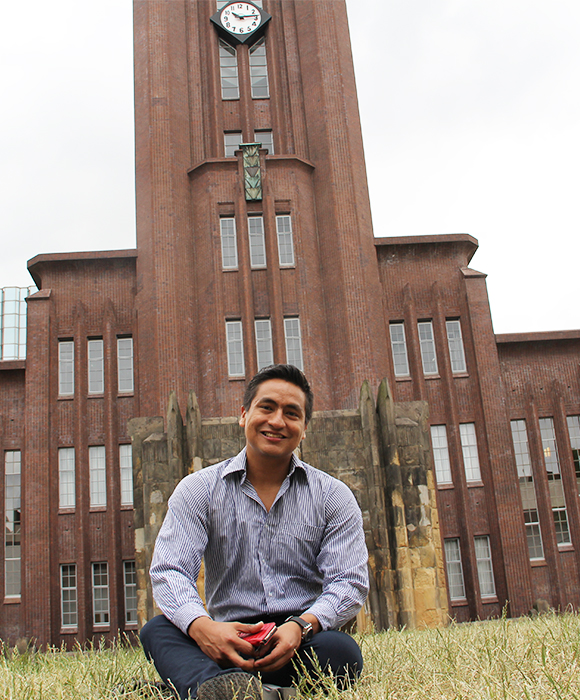 Although he faced some challenges in adapting at first, Alejandro has settled into life in Japan, living with his father and stepmother in Chiba and staying active during his free time. He feels that he has changed a lot since coming to Japan.
The way I interact with others has changed
When I first came to Japan, I was concerned about knowing the proper procedures for everything. For example, I wanted to make sure I wasn't rude, so whenever I went to a restaurant, I watched other people to see how they were eating and copied how they were using their spoons or chopsticks, or how they were holding their bowls! I'm mostly used to things now, though.

Also, one of the main things I had difficulty dealing with in the beginning was the language barrier between Japanese and non-Japanese people. It's difficult to talk about cultural differences when you don't share a common language. Due to this, forming relationships with Japanese people was challenging at first, but as I learn Japanese and get used to the culture, it's becoming easier.

Adapting to the culture, I think, has also changed me. Personal relations in Colombia are handled differently than they are in Japan. For instance, in Colombia, people don't usually accept "no" for an answer; it's expected that you'll try to push the other person to say "yes." One of the hardest things for me to learn in Japan was that "no" means "no." Even when they don't specifically use the word "no," if Japanese people don't want to say "yes" to something, they don't allow you the opportunity to convince them to do so. I've gotten so used to this that my "no" is becoming a little bit Japanese! When I went back to Colombia for vacation, my friends kept trying to convince me to do various things, and I would keep saying "no!" (laughs)

My concept of personal space has also changed. In Colombia, kissing on the cheeks, hugging and shaking hands are the standard ways we greet our friends. In Japan, though, people barely even touch each other while greeting. So, sometimes when I meet Latin friends here in Japan, I forget to shake their hands! Living in Japan has definitely changed my personality and the way I interact with others.
Active living in Chiba
I live with my father and stepmother in a rural area of Chiba Prefecture. It's the first time my father and I have lived together, and it's pretty nice. Our household is bilingual—my stepmother is Japanese, and I speak Japanese with her, while I speak in Spanish with my father.

Back in Colombia, I practiced salsa dancing all the time, but I decided to try some other activities when I came to Japan, such as cycling, going to the gym and playing tennis. In my free time, I enjoy riding my bicycle to the sea. Also, I exercise around 3-4 times a week at the Gotenshita Memorial Arena on campus. On weekends, I practice tennis in Chiba with my stepmother and her friends. I had never played tennis before I came to Japan, but I really like it! I'm also reading manga to improve my Japanese.

Regarding Japan in general, there are a bunch of things I love about Japan. The cities are organized so that you can find virtually whatever you want anywhere. Also, you can go almost anywhere by public transportation, which is something you can't do in Colombia. It's a very convenient country that's easy to live in.
Future Plans and Advice
I graduate in a few months, so at this moment, I'm job hunting. If I can get a good job in Japan, I would like to work here for a while. That's my short-term plan. I'm looking for a Japanese company in particular because I feel if I had to use Japanese every day, I could master my Japanese proficiency. Also, I'm still considering getting a PhD, but I decided that I wanted to get a job first. Perhaps I can study for my PhD while I'm working or after I've worked for a few years.

If getting a job doesn't work out, I will either go into a doctoral program now or look for a job back in Colombia. If possible, though, I would like to stay in Japan!
Always give the benefit of the doubt
Japan is a very nice country, and the academic and economic support offered here is great. People here are nice and always try to help others. If you come here to study, though, you may experience culture shock, and it could take some time for you to adapt to the different cultures you encounter. Also, I think it's important to understand the complete meaning of "different cultures." I'm not only referring to the differences between Japanese culture and your own, but also those between your culture and the cultures of other non-Japanese people in Japan, such as your fellow international students. Remember that English is not the first language for most of the other students, so if they come across as negative or rude, it might just be because they don't have the right words to express themselves. Misunderstandings are possible, so always give others the benefit of the doubt.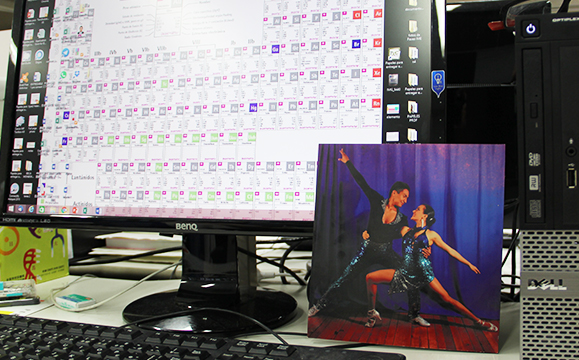 "Dance with Me Again!"
A photo with his longtime friend and salsa dance partner, Maria
Maria is one of Alejandro's best friends, and they both started salsa dancing around the same time as students at UNAL. When an art student asked if he could take photos of Alejandro and Maria posing in costume for a project, the two happily obliged. A couple of hours before Alejandro left for Japan, Maria came to see him at the airport. She gave him a printed version of one of the photos, which is pictured here, and said, "Put it where you can always see it to remind you that you have to dance with me again someday!" Alejandro treasures this photo and keeps it near him, looking forward to the time when he and Maria unite on the dance floor once more.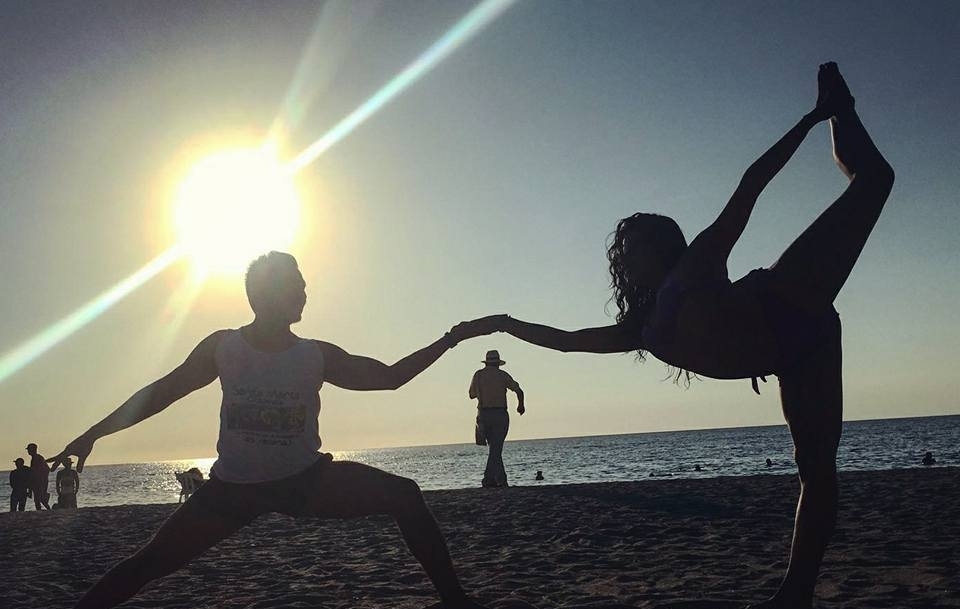 Party on the Beach
Having fun with friends back home
Alejandro returned to Colombia during this past spring break, visiting with family and friends. He went to his hometown of Barranquilla in northern Colombia where he met with his mother and sister, and he also hung out with his friends on a beach in nearby Santa Marta. This picture shows Alejandro posing with his friend Vanessa, who used to be a dancer in a professional salsa academy. Alejandro was an avid salsa dancer in his days as a university student in Colombia, and he has strong ties to the salsa community. Back when he was a member of UNAL's salsa club and another professional salsa academy, the group he was in even won first prize in a national salsa dancing competition!