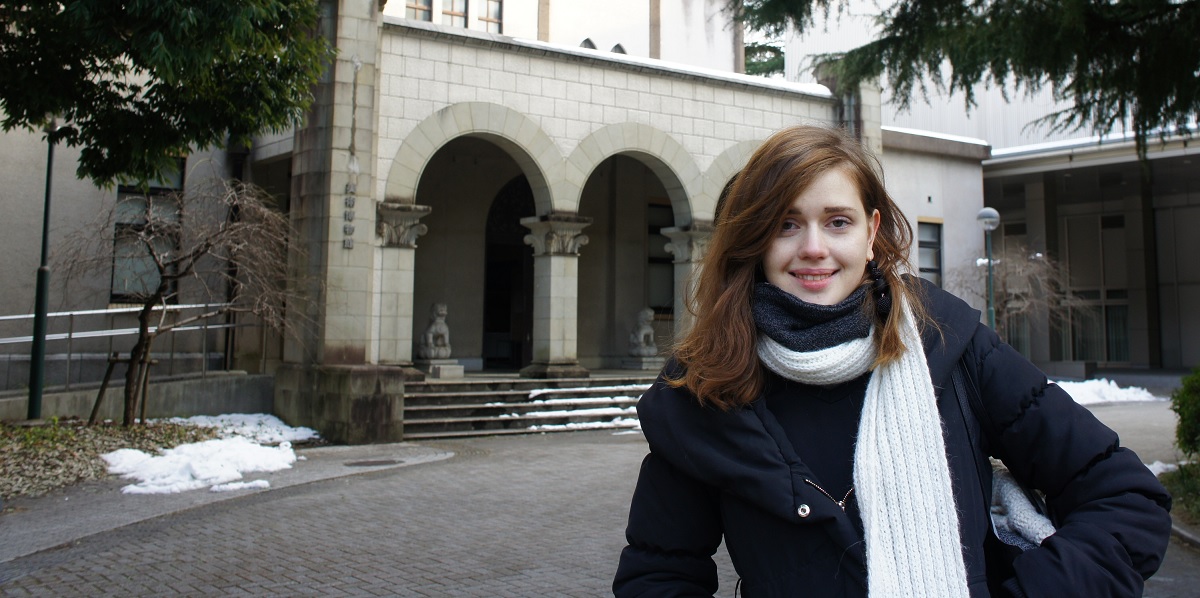 March 14, 2018
Learning from Primary Sources

Maja Liechti

Undergraduate student, College of Arts and Sciences, Programs in English at Komaba (PEAK)
Area of study: International Program on Japan in East Asia
Country/Region of Origin: Switzerland
A Desire to Experience Japan and Asia for Myself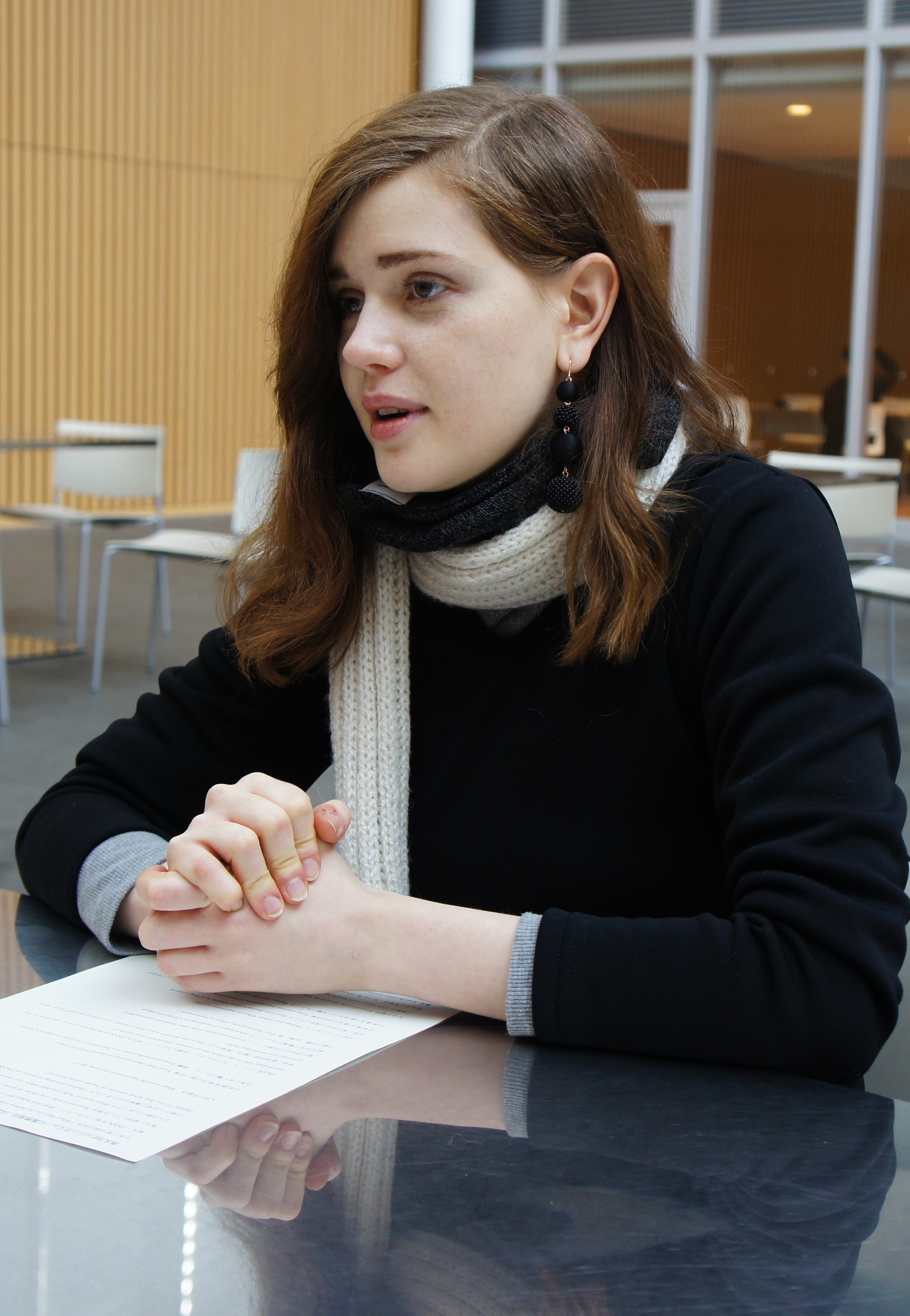 As a young girl in her home country of Switzerland, Maja learned about kimono and onigiri through anime, the medium which first introduced her to Japanese culture. She studied Japanese while dreaming about someday experiencing life in Japan. After attending a language program in Tokyo as a high school student and participating in a summer program in Nagoya while in her first year of university, she came to UTokyo's Programs in English at Komaba (PEAK).
My early interest in Japanese culture motivated me to come to Japan
Ever since I was a kid, I have been interested in Japanese culture. Watching anime like Inuyasha and Kanon taught me about kimono, onigiri and other Japanese things, giving me the inspiration to go visit Japan. I went on a two-week language program in Tokyo when I was in high school, and the wonderful time I experienced during that first brush with living in Japan made me want to come back. Around when I was considering my options for university, my Japanese teacher in high school told me about the Global 30 (G30) Program, a former Japanese government project that helped connect prospective international students with Japanese universities offering English-language degree programs. One of those degree programs was PEAK.
The appeal of PEAK
PEAK in particular caught my attention because of one of its two programs, Japan in East Asia (the other program is Environmental Sciences). This kind of program appeals to me because I am interested in learning about not just Japan, but also Asia in general. Back in Switzerland, I also studied about both Japan and Asia, but what I didn't like there was that everything we did was through secondary literature. We would read materials on Asia and Japan written by people outside of Asia and Japan, which meant that these materials were inherently biased. I wanted to learn about Asia and Japan through primary sources—to see for myself what these places were like rather than having to rely on somebody else's opinion or perspective. And I felt that I could do that through PEAK.

As their classes are held in English, the G30 programs tended to have English language requirements, and PEAK was no exception. I had been taught in German up through high school—not English—so I had to submit test scores to prove my English proficiency. However, I realized I would not be able to get a TOEFL (English test) score in time to submit with the other PEAK application documents. That meant that I could not start at PEAK the fall after graduating from high school; I would have to wait for the next application period a year later.
My "gap year" at a Swiss university
I put my "gap year" to good use. In Switzerland, after high school, you can freely go to any university in the country you choose. You have to complete a certain number of credits, but there's no time limit, and you just have to re-register as a student every semester if you want to stay enrolled. So, I decided to enter a Swiss university, taking classes in Japan Studies and Political Science as I prepared the various documents needed for PEAK.

The application was a little bit stressful, especially because there were a lot of documents that were required. Also, some things, like getting the TOEFL score, had to be prepared for well in advance. My university was in a different city from where I went to high school, so I had to travel back and forth between the cities a few times to get documents. On top of that, I had my studies to be concerned about!

There were two essay questions as part of the application. One of them was about failure, and I had to give an example of something I failed at in life and how I coped with that. The other question was about why I was interested in PEAK, and how PEAK connects with my future goals and career. There was also an interview with some professors. I happened to be in Japan at the time, so I came to Komaba Campus for the interview. Usually, though, you don't have to be in Japan. Some of the professors will travel to the country you're in, while the rest will join the interview through an online video chat.

After much time and effort, I received my acceptance notification to PEAK in the spring! I finished with my classes at my university in Switzerland and participated in a summer program in Nagoya, Japan that offered classes covering language and law. Making a short trip back to Switzerland to see family and make final preparations for my new adventure in Japan, I started at PEAK in the fall.
Settling into Life as a PEAK Student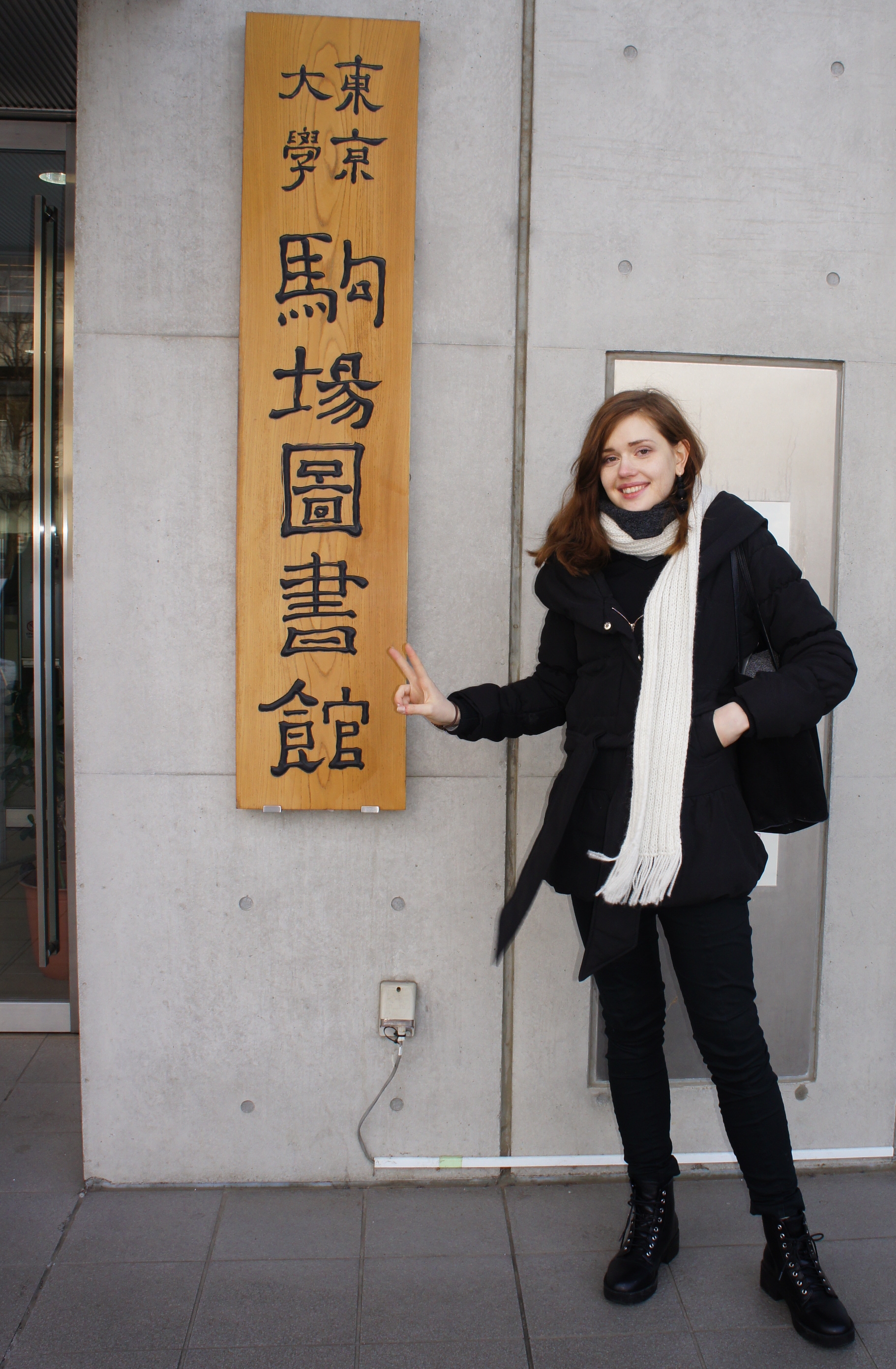 In front of the Komaba Library
Maja came to UTokyo in the fall of 2017, immediately immersing herself into all that student life at PEAK and UTokyo has to offer. Juggling classes, homework and studying, she also makes time to hang out with friends and explore Tokyo's diverse neighborhoods. She is thinking of joining a student club or two next year to incorporate new experiences into her life.
Tradition and technology
My first contact with UTokyo actually happened years before I enrolled in PEAK! When I was in Japan on the language program for high school students that I mentioned earlier, I got lost around Nezu Shrine once. A nice woman showed me how to get to the train station I was looking for, and on the way there, we passed by the Hongo Campus. I didn't know anything about UTokyo at that time, so the woman explained to me that it's where the "smartest people in Japan are." This impression stuck with me and was in the back of my mind as I applied to PEAK and eventually became a student at the University.

I had also learned about the University of Tokyo before coming here, and found it historically interesting. For instance, I read a book by Shigeru Nanbara (President of UTokyo, 1945-1951) that included his poems and general ideas during World War II, as well as how he perceived the time that University students had to leave for war. Moreover, the campuses themselves have amazed me with their historical presence. Old buildings still in use are found throughout the University, two of the most iconic being Building No. 1 on the Komaba Campus and Yasuda Auditorium on the Hongo Campus. New and modern buildings stand alongside them, which I think reflects the combination of tradition and technology seen in Tokyo and Japan as a whole.
Surrounded by considerate staff and great friends
Before you start classes at PEAK, the University staff hold an orientation week where they help you with everything for getting started in Japan. They give you information on setting up a bank account and getting a cell phone, for instance. As for housing, I'm staying in Komaba Lodge, one of the student dormitories on campus, and they helped me apply for that. Most PEAK students stay in the dorms, which is convenient because then you don't have to search for housing on your own. Thanks in part to the efforts of the staff at PEAK, I didn't have any problems getting settled in.

Typical days as a student in PEAK begin with me waking up in the morning and preparing for class. Since it takes only 10 minutes to walk from my dorm to where my classes are held, I often have extra time to study or do homework beforehand. After class, I have lunch with friends and either do homework at Café Komorebi or go to one of the cafeterias. In the afternoon, I have one or two classes. Then, if it's a busy time, I go to Komaba Library and do homework. Otherwise, my friends and I walk back to the dorm together and hang out in the lounge. Most of my friends are other international students who live in the dorm and are in the same PEAK program (Japan in East Asia). We also take many of the same classes. During exam periods, we study together in the lounge, which is nice because that means we don't have to go through the ordeal of exams alone!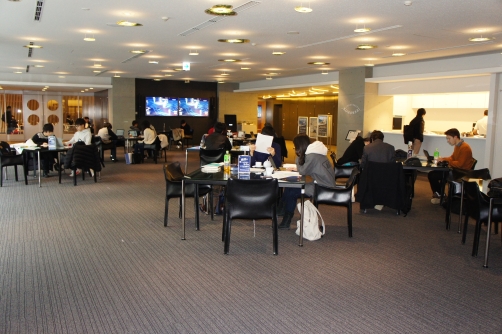 Everyone is free to choose between some options for classes, and class size depends on the course. For instance, my Japanese class this year had only three people in it, and classes specifically for PEAK students have a limit of around 20 people. There are also other classes that April-entry students can take, and those classes are much larger. Still, they don't really compare to class sizes at my university back in Switzerland! Classes there tended to have 150-200 students, and the professor would stand in front and just speak into a microphone for the entire lecture. That was a difficult environment to ask questions in. Many PEAK classes, on the other hand, are more interactive, and it's easier to ask questions. I don't feel like I'm interrupting something critically important if I ask a question; rather, I get a sense that I'm contributing to the general lecture.
New experiences outside of the classroom
On my days off, I usually go out with friends to nearby Shibuya or Shimokitazawa. Sometimes we shop, but we often just roam around, exploring new places. We go to karaoke, too, but not that often because it's expensive! I also like visiting Asakusa because of the historical atmosphere of that part of Tokyo.

Before classes started, I did a lot of traveling around Japan. I visited Osaka, Shirakawa-go, Hiroshima and Okunoshima ("Rabbit Island"), to name a few places. Also, when my mother came to visit, we went to Kyoto. Once the semester began, however, there was so much required reading and homework to do that I couldn't take any trips with a clear conscience! (laughs) I didn't go anywhere during Winter Vacation, either, because exams took place in the beginning of January. For next year, I'll try to organize my time better so that I can go back to Switzerland for Christmas. And as for the upcoming Spring Vacation, I'm planning on participating in a volunteer program that lets you work and live on a Japanese farm. It sounds like an interesting experience that will also help me improve my Japanese!

Speaking of Japanese, I have a couple of favorite Japanese words—平和 (heiwa; peace) and 興味 (kyomi; interest). I like 平和 because it connects with the kind of work I want to do in the future—conflict resolution. As for 興味, I like not only the meaning, but also the first kanji (興) of the word in particular. To me, that kanji looks like three skyscrapers standing together, and I love big cities! (laughs) When studying Japanese, I had to come up with a new way of looking at kanji in order to memorize them because there are so many kanji combinations. I'm a visual learner, so I need pictures to make up a story to better remember things. I think it's fascinating that there are so many dimensions to kanji, such as their appearance, meaning, and how they combine with other kanji.

Also, I really wanted to join a student club this year, but I was so incredibly busy my first semester with organizing my time around classes and studying that I haven't joined one yet. I already have clubs in mind that I want to check out, but I want to start focusing on them in my second year. I'm interested in art, playing the violin, and maybe even the shamisen since I'm in Japan. I just want to try out new things as much as possible, and being in a Japanese university gives me amazing opportunities to do so. Who knows? I may even find myself a new hobby!
Taking Advantage of New Opportunities in a New Environment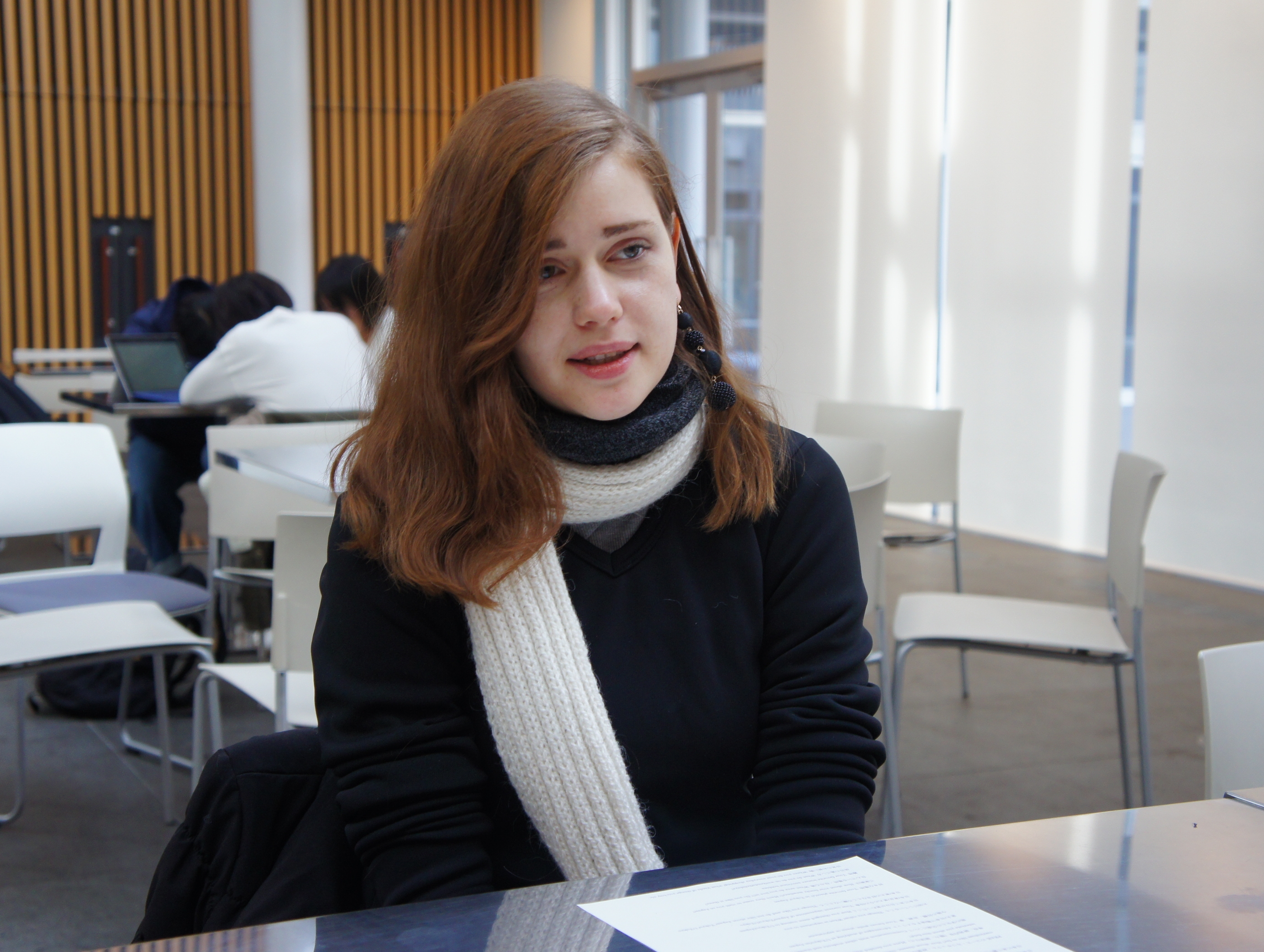 Maja reflects on how life has changed for her since becoming a university student. She also looks ahead towards her goal of becoming a mediator.
Managing your time well
I don't feel like I've changed that dramatically since I came to Japan. It's been more of a long-term process for me that started when I entered my university in Switzerland. I have had to become more independent, learn how to plan my time, and how to find balance between studying and other activities. I am still trying to shift from focusing almost entirely on studying to also incorporating more experiences into my life in general. In fact, I think that's the major difference between high school and university life. In high school, you have tests every week, so you have no other option but to study all the time. In university, however, opportunities abound for trying new things and enjoying yourself, so it's important to take advantage of them. This is all the more necessary if you are going to university in an environment relatively unfamiliar to you—like Japan, for example. You just have to manage your time well so that you don't neglect your studies!
Becoming a mediator for peace
In the future, I want to go into the relatively new field of Peace Studies. During my time at PEAK, I will try to incorporate as much coursework as possible that goes into that direction so I can apply for a Master's degree in that field. I eventually would like to become a mediator in an international organization, supporting the resolution of conflicts. To do so, I also need to have a solid background in diplomacy, international relations and political science. It's very important to collect such experience and knowledge from various countries and regions. Although I'm really fond of Japan, that's why I'm considering going to Norway, the U.K. or another country in Asia for graduate school.
I'm glad I came to Japan
When I first came to Tokyo all those years ago as a high school student, what stood out to me about Japan was the kindness and the friendliness of Japanese people. Strangers would offer to help me when I looked like I needed it, such as that time I got lost around Nezu Shrine. Because there are so many nice people here, Japanese society is peaceful and respectful. Coming to PEAK has only reinforced this impression. PEAK is full of kind people, too. The teachers, the staff, my classmates—everyone is nice. They make me glad that I came to Japan.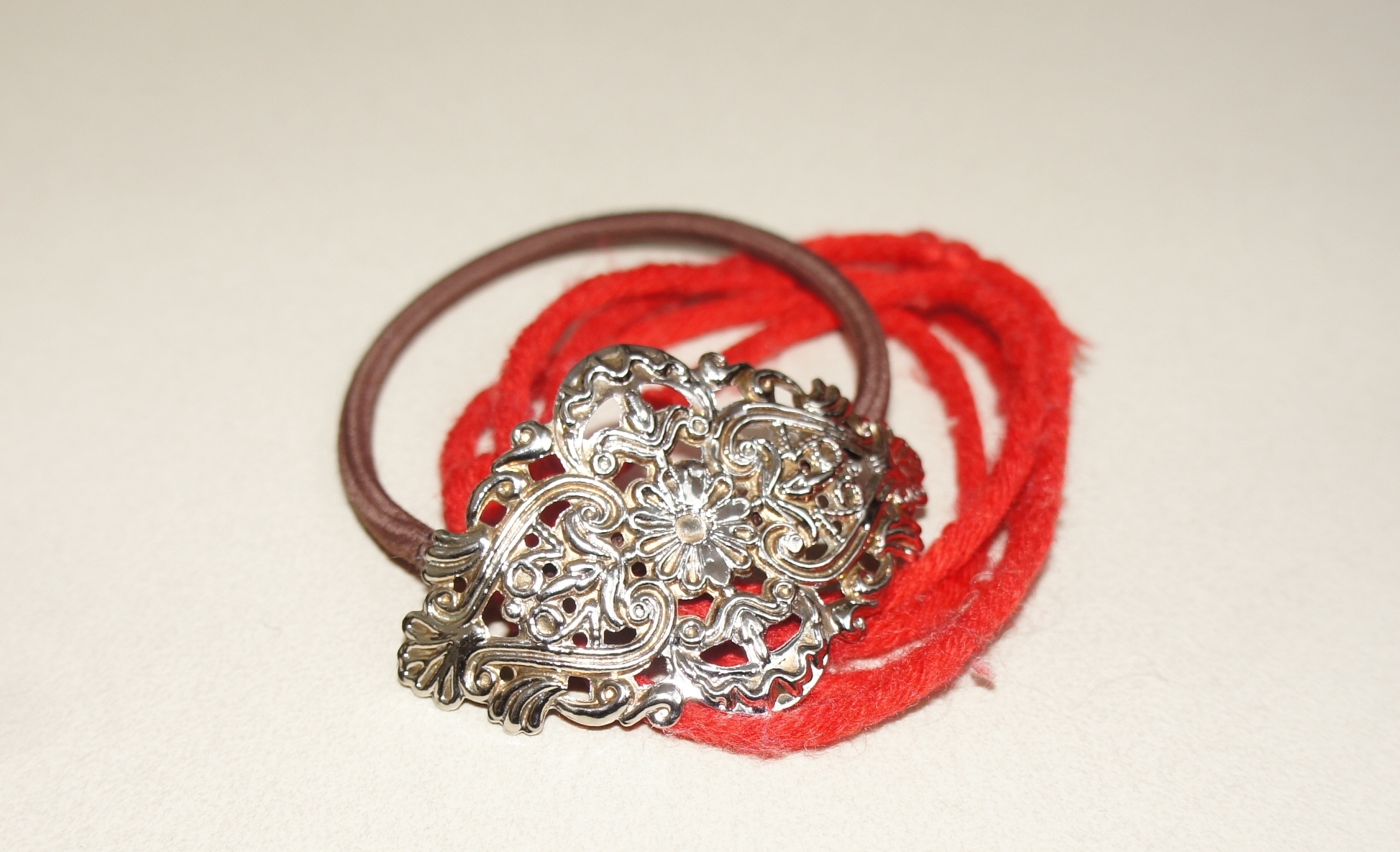 Red Cord for Protection
A fortuitous gift from Maja's mother in her time of need
Putting oneself into a new environment is sometimes frustrating. Not long after arriving in Japan, Maja had an unsettling experience in a coffee shop in which a man gave her a look that made her feel uneasy. Partially because of that, she was on high alert, concerned about being followed and encounters with suspicious strangers. She now knows that Tokyo is generally a safe place, but around that troubling time, it just so happened that Maja received a package from her mother. Along with other items, the package contained a red cord. Maja's mother has always told her that wearing something red would protect her from negative energy, and she had propitiously placed the cord in the package without knowing what Maja was going through at the time. Since then, Maja makes sure to keep the protective cord tied around her wrist. Here, it is displayed with a hairband from home that she was also wearing on the day of the interview.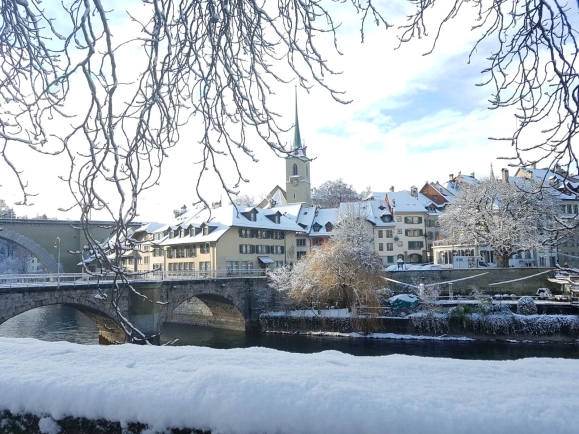 Stunning Switzerland
A diverse country filled with both natural and historical beauty
Maja says that people from many different cultural backgrounds reside in Switzerland, making it a diverse country with opportunities for new experiences. She has friends whose families are from places as varied as Saudi Arabia, Sri Lanka, Colombia and Vietnam. Switzerland is also a multilingual country, with four national languages (German, French, Italian and Romansch). Maja herself speaks five (English, French, Polish, German and Japanese) and is interested in learning a sixth (Russian)! Owing in part to its diverse national fabric, Maja says that Switzerland is a tolerant country where issues such as those related to LGBT, vegetarianism, fair trade and the environment are openly discussed. The country also boasts historic cityscapes, including medieval towns, and pristine natural landscapes, such as the famous Swiss Alps. The picture is of a wintry scene in the historic area of Bern, the capital of Switzerland and Maja's hometown.
Interview: January 26, 2018