Harnessing the Power of Forests in Japan and Beyond
Since ancient times, forests have been featured in countless tales and artworks as symbols of mystery and enchantment. The influence of forests on humans, animal and plant life, and the Earth's environment has been enormous.
For humans, forests are a kind of lifeline. They supply wood and other resources indispensable to our everyday activities, and provide spaces for rest and relaxation. For animal and plant life, forests nurture a great many species, contributing to the preservation of biodiversity. This biodiversity, in turn, leads to the creation of various terrains, landscapes and weather conditions around the world. Maintaining the balance among these three characteristics of the environment supports our lives and daily living.
For the over 10,000 years spanning from prehistoric times (the Jomon period: 14,000—300 BC) through today, the Japanese have looked at forests and the mountains that nurture forests with reverence and awe.
Japanese people have long appreciated the presence of life in all aspects of nature—from landscapes and climates that change seasonally to the plentiful freshwater found throughout the country. Their reverence for natural life enables them to coexist with nature. As Japan is covered with an abundance of trees, everyday life in Japan has relied closely on wood. Trees have also influenced Japanese values. For example, from ancient times, Japanese people have loved plum and cherry blossoms and appreciated their beauty by creating poetry (waka, haiku) about them. To say that the origin of Japanese values and culture lies in Japanese people's close relationship with nature would not be an overstatement.
Rich Forests Nurtured by Diverse Climates
Japan is one of the most forested countries in the world, having very favorable geological and climatic conditions for forming abundant woodlands.
Forests account for nearly 70% (more than 25,000,000 hectares) of Japan's total land area of 37,790,000 hectares—a figure outstandingly high among industrialized countries. Furthermore, Japan's forest areas have been maintained at a similar level for the past forty years. The land area of Japan is relatively small, and Japan is said to be poor in natural resources. However, Japan continues to enjoy the blessing of rich forest resources, beautiful landscapes and biodiversity.
Despite its small land area, Japan is characterized by complex topography, extending 3,000 kilometers north to south and featuring mountain ranges with altitudes of 3,000 meters and higher. Accordingly, Japan has a diverse and complex range of climates. While the climates across Japan are varied, all areas of the country receive sufficient rainfall. Therefore, trees can grow in nearly every region. There are many types of forests in Japan depending on altitudes and climate zones.
Forests teeming with diversity represent Japan's abundant nature.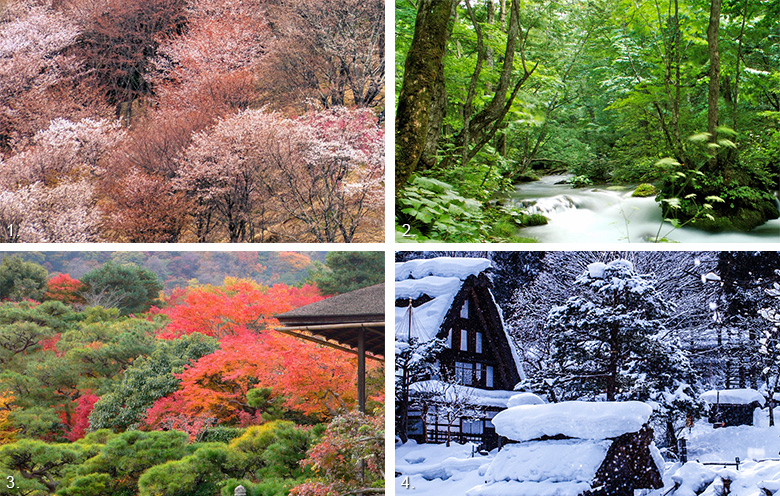 Japan's forests change with the seasons
The Diverse Trees of Japan's Many Climate Zones
Japan is situated in a variety of climate zones, from the arctic and subarctic zones in northern Japan to the subtropical zone in the south. There are many types of forests adapting to each climate; in fact, the number of tree species seen in Japan is said to be more than 1,000.
The arctic and subarctic zones cover the majority of the Hokkaido and Tohoku regions and part of the Kanto and Chubu regions. The main trees seen in these zones are evergreen coniferous trees, such as Sakhalin firs, Yezo spruces and Sakhalin spruces, as these hardy trees are adept at weathering frigid winters.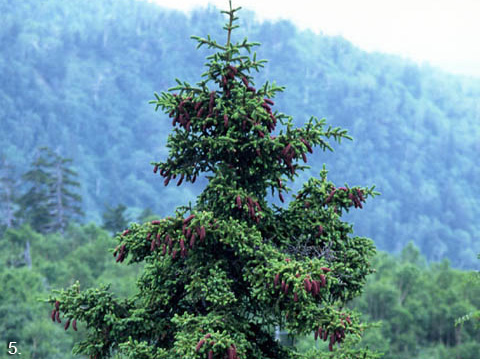 Yezo spruce
The cool temperate zone, which covers a large swath of land from Hokkaido to Kyushu, is characterized by deciduous broad-leaved trees such as beech trees, Japanese blue beech, oak trees and Pterocarya (a species of walnut). They put on beautiful autumn colors in fall and lose their leaves in winter.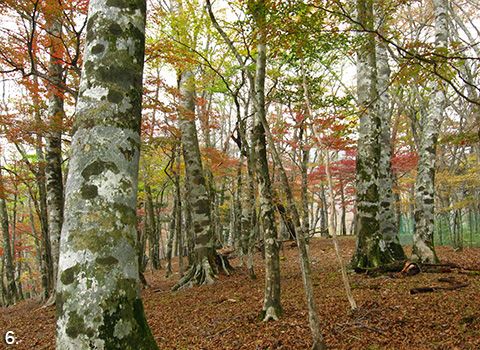 Beech trees in autumn
The warm-temperate zone, which covers lowland areas located from northern (Tohoku) to southern (Kyushu) Japan, features evergreen broad-leaved trees, such as chinquapin and live oak. In the coastal areas, particularly in the southern regions, camellias and Japanese cinnamon also grow.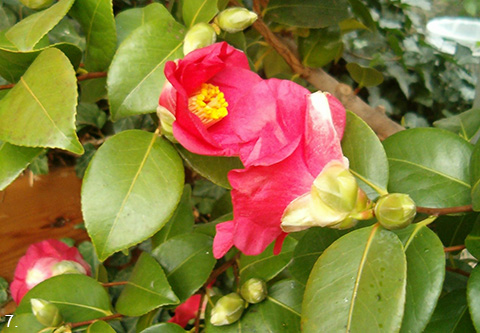 Japanese camellia
Japan's southernmost area, represented by Okinawa, is categorized under the subtropical zone. In this area, mangroves, Chinese banyans, strangler figs and other evergreen broad-leaved trees thrive.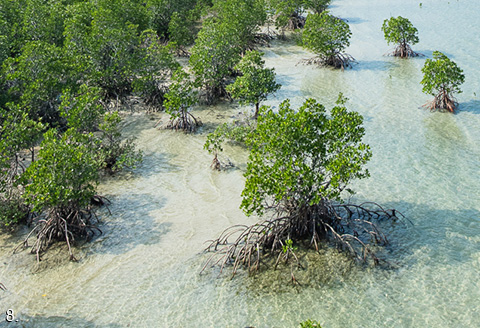 Mangroves
Exploring Sustainable Relationships between Humans and Nature
Japan has implemented a variety of initiatives to promote conservation, protect biodiversity and encourage the sustainable use of the resources and functions of green spaces.
Japan's Conservation Initiatives
One of the world's best-known conservation initiatives is the national park system. Established in the United States over 140 years ago, the national park system has been implemented in about 200 countries, including Japan. Under this system, the government designates, preserves and manages national parks. Japan currently has 34 national parks.
The Chubu Sangaku National Park (Central Japan National Mountain Park) is one of the oldest national parks in Japan. Spreading across Niigata, Toyama, Nagano and Gifu Prefectures, this national park encompasses the entirety of the Hida Mountain Range (also known as the Northern Alps), highlighted by mountains over 3,000 meters in height. Characterized by diverse groups of flora by altitude, the Chubu Sangaku National Park is one of the most scenic places in Japan. The Park receives an astounding 10 million visitors a year, who enjoy many activities including taking in the natural scenery, relaxing in hot springs and climbing mountains.
The Park is cooperatively managed and maintained by a wide range of entities, including the Japanese government, municipalities, local people, companies and non-profit organizations. Chubu Sangaku National Park combines good conservation management and the utilization of natural resources, exemplifying a mutually beneficial relationship between humanity and nature.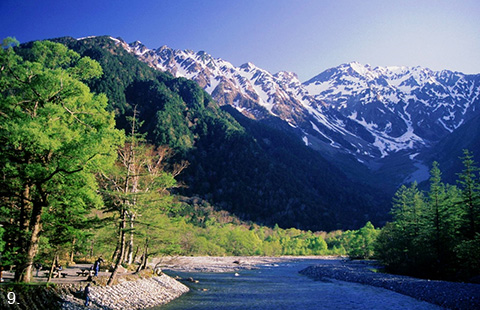 Chubu Sangaku National Park
Restoration and Utilization of Satochi-satoyama (forests close to human habitation)
Modern society faces global-level environmental issues resulting from intertwining factors such as climate change, reduction of biodiversity and deterioration of ecosystem services. The proper management and maintenance of not only wild forests but also satochi-satoyama is indispensable for maintaining biodiversity that is compatible with the stability of human lifestyles. Satochi-satoyama are a secondary form of forest—a broad concept including agricultural fields, secondary forests, reservoirs and other natural assets—that grow with the help of humankind for the purpose of agricultural and forestry production activities. Recently, the conservation of satochi-satoyama has gained momentum both within and outside Japan.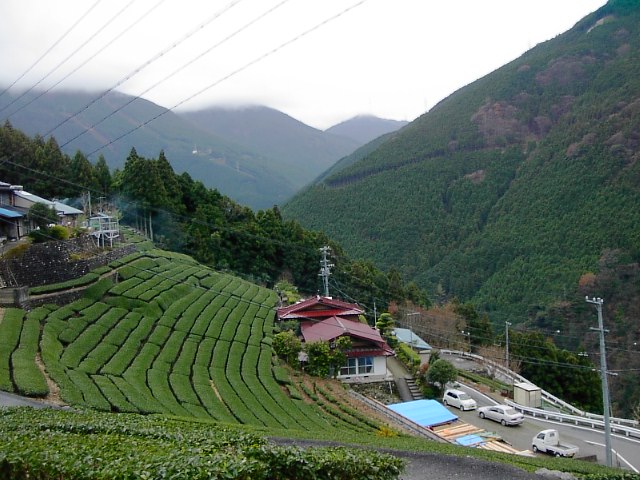 A tea farm in Shizuoka next to a satoyama (1)
Accounting for approximately 40% of Japan's total land area, satochi-satoyama are important natural resources that provide both habitats for a variety of creatures and benefits from a human perspective, such as in the formation of good natural scenery and the preservation of cultural practices. The Japanese government considers satochi-satoyama to be a type of natural asset that should be passed down to future generations, thereby designating 500 satochi-satoyama locations across Japan as "satochi-satoyama important for the maintenance of biodiversity" (called "important satochi-satoyama" for short). At each important satochi-satoyama, local municipalities, volunteers, companies and others cooperate to carry out conservation projects such as ecosystem preservation and water quality conservation. Thanks to this initiative, satochi-satoyama are more widely used than before. In addition to fulfilling their core purpose of ecosystem conservation, satochi-satoyama are now serving as spaces for outdoor learning, symbols of local community revitalization and tourist attractions.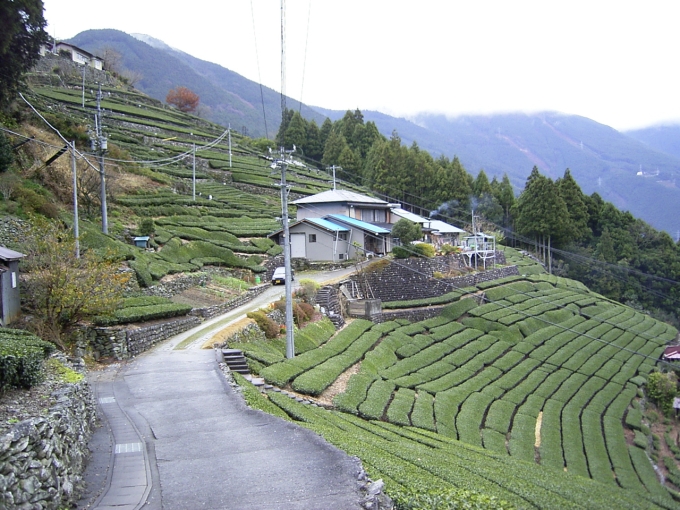 A tea farm in Shizuoka next to a satoyama (2)
A variety of research and fieldwork related to satochi-satoyama conservation is currently being conducted. For instance, the University of Tokyo offers programs such as a major in Landscape Ecology and Planning to promote the restoration of ecosystems in secondary forests, as well as the sustainable use and management of satochi-satoyama.
Working Towards Advances in Forestry Science
Biodiversity can be maintained as long as we take appropriate measures in consideration of the various issues and restricting conditions that we face. As the range and scale of human activities have expanded, humanity has experienced the emergence of numerous issues negatively affecting the environment, including irregular slash-and-burn agriculture that does not consider the natural recovery abilities of forests, the excessive logging of trees to make fuel, and large-scale wildfires frequently taking place all over the world. As a result of these issues, many forests have deteriorated or disappeared altogether. To prevent this trend from continuing, appropriate forest management is essential.
Forestry science facilitates this kind of proper forest management. Forestry science is a discipline that explores measures to ensure both forest conservation and the appropriate use of forests from physical and cultural perspectives by clarifying the functions of forests and by accumulating knowledge about the use and development of forests. This area of study covers a wide range of subjects, including forests, the wildlife and plant life found in forests, the relationships of ecosystems with the environment, finding solutions to environmental problems such as global warming and acid rain, and engaging in the appropriate utilization of forests while promoting forest growth.
The University of Tokyo Forests, managed by the Graduate School of Agricultural and Life Sciences, are research forests established to provide opportunities for conducting basic and applied research on forests, trees and forestry, as well as education to students studying forests. The University of Tokyo Chiba Forest, which was founded in 1894, is Japan's first research forest and has a history of more than 100 years.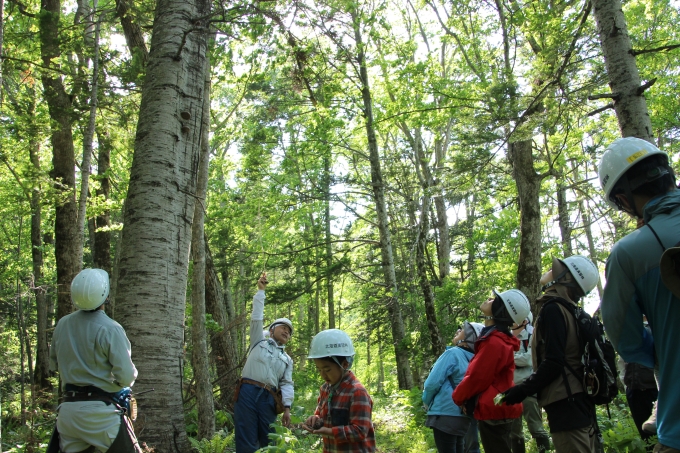 Observing a decaying Sakhalin fir in the University of Tokyo Hokkaido Forest
Currently, there are seven University Forests across Japan. They have provided spaces for fieldwork and offered specimens and data for the Faculty of Agriculture and many other entities in the University of Tokyo, as well as other universities and research institutes all over Japan. They also have promoted and supported numerous research activities carried out by students and researchers.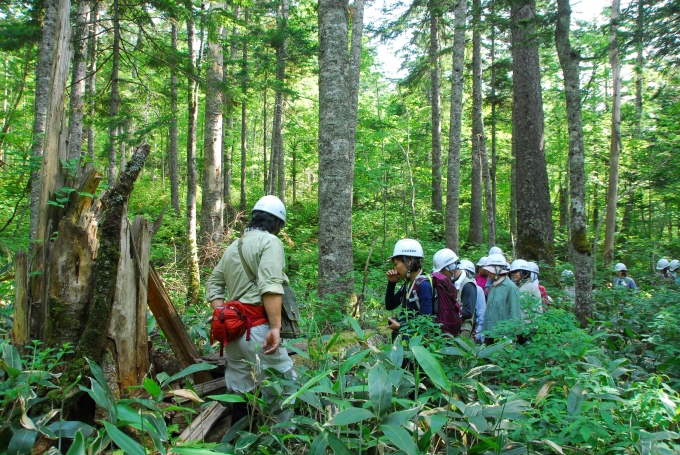 Studying a nurse log at the Maeyama Forest Reserve in the University of Tokyo Hokkaido Forest
Recently, to meet societal needs, the University Forests have taken on expanded roles. For example, researchers work to bring to the public the knowledge and experiences accumulated during the Forests' long history, as well as cooperate with local municipalities and communities.
By protecting nature and managing sustainability, we can protect the global environment and its limited resources. As a country that boasts one of the world's largest forest areas, Japan has to go beyond its own conservation and the appropriate use of its own forests and contribute to the international community. Research into the resources of green spaces possesses the capability of contributing to humanity and the natural environment on a global scale. This research will no doubt create and help us navigate our future.
Photo Credits