1. Overview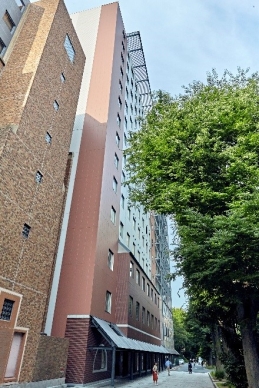 The Graduate School of Public Policy, known as GraSPP, was established in 2004 as a professional graduate school. GraSPP aims to train students so that they are able to discover issues confronting modern society, to plan public policy and systems to cope with such issues from a global perspective, and to transform students into experts ready to serve as public officials who are capable of communicating and consensus building.
Current Japanese society is changing rapidly and making us face issues we have never experienced such as the transformation of industrial structure, the declining birth rate and aging population, the progress of globalization and global environmental issues. In such a time, what is needed is the high-level ability to understand the true nature of confronting issues appropriately and to develop policy with new ideas. Therefore, talented individuals are required with advanced expertise in planning, implementing and evaluating policy, and who have competency in public service both in Japan and abroad. Traditionally, civil servants mainly deal with public policy, and the required ability is assumed to be acquired through practical experience after securing a position in an administrative organization. However, the civil servant system is currently under reorganization and the practice of lifetime employment has been drastically changed. Also as observed in the activities of NGOs that relate to global environmental issues, society's expectations for people with expertise involved in public policy are expanding to include not only public services in the national and local governments, but also in many fields of the public sector on a global basis.
In order to train policy practitioners to meet current and future demand, GraSPP provides students with broad knowledge across the fields of law, politics, economics and international relations. A high-level education that is interdisciplinary and well-balanced in theory and practice is given to build the fundamental ability for policy planning, implementation and evaluation so that students can acquire the skills required in practice. At the same time, various novel ideas and schemes are incorporated into the curriculum that makes GraSPP different from traditional graduate school education. Examples are practical learning including lessons by practitioners and lectures and case studies based on actual domestic and international cases.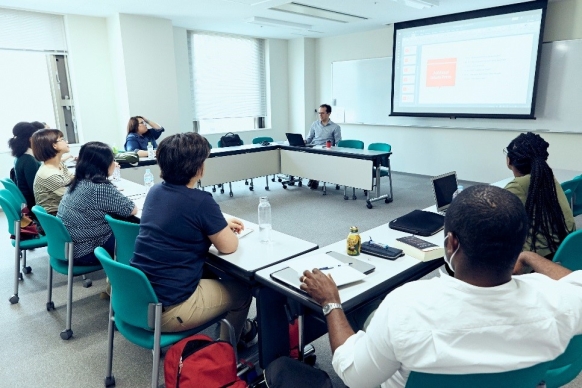 One of the distinctive features of GraSPP is its active engagement in international exchange. More than half of the GraSPP student body comes from overseas with diverse backgrounds. All courses offered in English - about half of the whole curriculum - are also open to Japanese students. At GraSPP, Japanese and international students who are the future world leaders can meet and build a life-long network, not only within GraSPP but also in the world's leading public policy schools. Currently GraSPP has double degree programs with nine schools out of 15 partner schools. GraSPP is a member of GPPN, the Global Public Policy Network, which is a partnership between SIPA at Columbia University; the London School of Economics and Political Science (LSE); Sciences Po, Paris; Hertie School; Lee Kuan Yew School of Public Policy (LKYSPP) at the National University of Singapore; GraSPP at the University of Tokyo and FGV-Escola de Administração de Empresas de São Paulo. GraSPP also has partnerships with Heidelberg University; HEC Paris; United Nations University, Crawford School of Public Policy at the Australian National University and UCLA's Luskin School of Public Affairs. In addition, GraSPP is a part of CAMPUS Asia BESETOSING consortium, where students can participate in a four-way double degree and exchange programs between Seoul National University's Graduate School of International Studies (SNU-GSIS), Peking University's School of International Studies (PKU-SIS) and National University of Singapore's Lee Kuan Yew School of Public Policy.

In the doctoral program, GraSPP has an exchange program with the Department of War Studies at King's College London and Department of Political Science at the University of Copenhagen. In addition, GraSPP faculty members have a research exchange with the Centre for the Study of Existential Risk (CSER) at the University of Cambridge.
In April 2016, GraSPP launched a Doctoral program in public policy. The knowledge and skills needed for the planning, evaluation and implementation of policy are becoming increasingly sophisticated and complex. Moreover, in-depth study at the doctorate level is often times essential for building professional careers in negotiation at international agencies.

The aim of the Doctoral program is to foster highly-principled professionals who possess advanced abilities in interdisciplinary research skills and are capable of planning and evaluating solutions that employ their full range of expertise.

Our program is designed to train top-class professionals to possess not only advanced specialist research skills in their particular fields (either Economics or Law and Politics) but also interdisciplinary skills and practical skills with international application.

GraSPP's Overseas Partner Universities:

<GPPN>
School of International and Public Affairs at Columbia University
London School of Economics and Political Science
Sciences Po Paris
Lee Kuan Yew School of Public Policy at National University of Singapore
Hertie School
Fundação Getulio Vargas (FGV) - EAESP

<CAMPUS Asia Plus: BESETOSING>
Graduate School of International Studies at Seoul National University
The School of International Studies at Peking University
Lee Kwan Yew School of Public Policy at National University of Singapore

<Other partner schools>
Heidelberg University
HEC Paris
Crawford School of Public Policy at Australian National University
The United Nations University Institute for the Advanced Study of Sustainability
Luskin School of Public Affairs at the University of California, Los Angeles (UCLA)
Department of War Studies at King's College London

<Doctoral Program>
Department of Political Science at the University of Copenhagen
2. Departments
Department of Public Policy (professional degree program)
Legal Policy Program
Public Management Program
International Public Policy Program
Economic Policy Program
Master of Public Policy, International Program (MPP/IP)

Department of International Public Policy (doctoral program)
International Finance and Development
International Security
Science and Technology Policy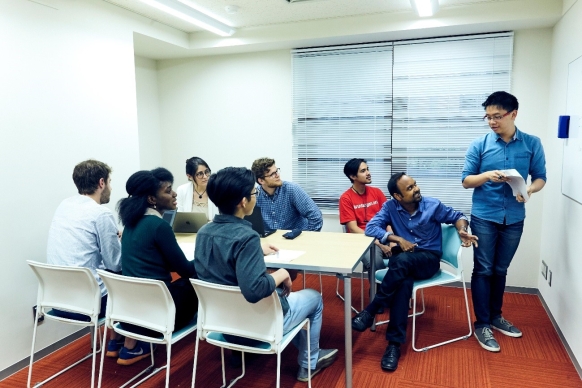 3. Website
4. Special Selection for International Applicants
International applicants not applying for the Master of Public Policy, International Program (MPP/IP) are required to complete the same application process as domestic applicants.
5. Types of Degrees
Professional degree: Master of Public Policy

Doctoral degree: PhD in Public Policy
6. Required Japanese Language Level
In order to take classes offered in Japanese, listening, speaking, reading, and writing abilities in Japanese are necessary. However, since courses in MPP/IP and the Doctoral Program are taught in English, proficiency in Japanese is not a prerequisite for these programs.
7. Application Distribution/Application Periods
Degree/Program
Application Distribution
Application
Period
Professional Degree
Legal Policy, Public Management, International Public Policy, Economic Policy
Apr.
Jul.
Professional Degree
MPP/IP
Sept.
Nov.-Dec.
Doctoral Degree
International Public Policy
Nov.
Apr.-May
Nov.
Dec.
8. Contact
GraSPP Graduate School Office
Graduate School of Public Policy (GraSPP), the University of Tokyo, 7-3-1 Hongo, Bunkyo-ku, Tokyo 113-8656
Phone: 03-5841-1349 
ppin.j[at]gs.mail.u-tokyo.ac.jp

International Student Desk
Phone: 03-5841-0860 
pryugaku.j[at]gs.mail.u-tokyo.ac.jp