Key Features of GraSPP

Key Features of GraSPP
Interdisciplinary curriculum – covering Law, Politics and Economics, with a solid foundation in Economics
A culturally diverse student body
Faculty members comprising world-leading academics and practitioners in Public Policy– Curriculum balanced between Theory and Practice
Case Study – Training in the application of acquired knowledge to create a presentation on Public Policy issues genuinely relevant to our time
A chance to study abroad – Double Degree and Exchange Programs
A curriculum compatible with the world's leading Public Policy Schools
The Master of Public Policy (MPP) program at the Graduate School of Public Policy (GraSPP) is a two-year interdisciplinary graduate-level professional degree developed to produce highly skilled policy-makers. The human resources that GraSPP aims to foster are professionals with the ability to identify issues and challenges in the field of public policy, to determine how to respond to them, and to build consensus by presenting such analyses to other parties involved. Such professionals must also be able to transmit their message to the world at large.
In addition, the Doctoral program (International Public Policy) trains students in the advanced research skills necessary to develop original questions from their research, construct and assess potential solutions that synthesize expert knowledge from various disciplines, and move these solutions quickly into practice with an international perspective, communicating with diverse stakeholders. Our graduates are policy professionals superbly equipped to handle specialist tasks and take the lead in core areas of society—whether they are leading policy development on diverse and complex social issues critical to state operation, representing the government in difficult international negotiations, leading discussions at international organizations and research institutions, leading major multinational corporate projects that stimulate industry, or effecting social transformation as social entrepreneurs.
Network with Future World Leaders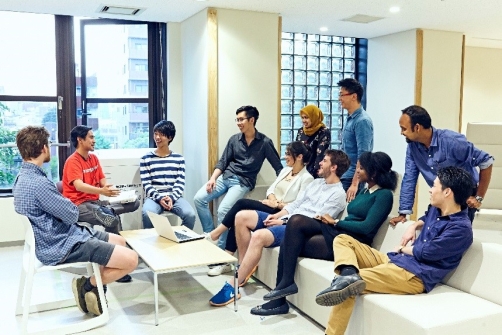 GraSPP is one of the most cosmopolitan graduate schools in Japan. Nearly half of the student body is composed of international students from over 30 countries and regions. Student backgrounds are equally diverse: many entrants have just completed undergraduate studies in Japan or overseas; others are public servants from, for example, Japanese local governments, or from government ministries in developing countries (such as Finance or Foreign Affairs), from central banks, financial institutions, the media and so on. At GraSPP about half of all courses are offered in English. Since Japanese students take courses in English side by side with international students, bonds of friendship are easily forged. At GraSPP you may meet your future counterpart at an international negotiation table.

Study Public Policy at GraSPP and its Global Partner Schools
GraSPP is a member of GPPN, the Global Public Policy Network, which is a partnership between SIPA at Columbia University; the London School of Economics and Political Science; Sciences-Po, Paris; Hertie School; Lee Kuan Yew School of Public Policy at the National University of Singapore; GraSPP at the University of Tokyo and FGV-Escola de Administração de Empresas de São Paulo. In addition to GPPN, GraSPP has partnerships with Heidelberg University; HEC Paris; Seoul National University, Peking University, United Nations University; the Crawford School of Public Policy at the Australian National University, Luskin School of Public Affairs at UCLA; the Department of War Studies at KCL and the Department of Political Science at the University of Copenhagen.
Introduction to GraSPP Programs
GraSPP Programs Offered in English at the Master's Level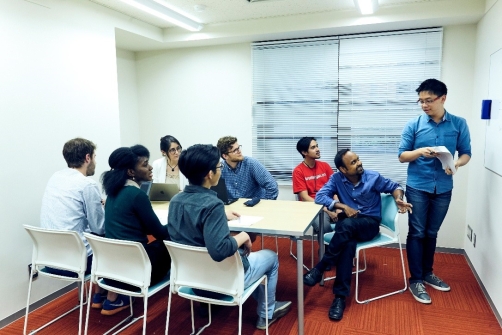 The
Master of Public Policy, International Program (MPP/IP)
is a two-year English program where all courses required for completion are offered in English. Around two-thirds of the international students studying at GraSPP belong to MPP/IP, including double-degree students from the GPPN schools and young professionals with scholarships from international financial institutions such as the World Bank, IMF and ADB.
The CAMPUS Asia Plus Program
The
CAMPUS Asia Plus Program
is a student exchange and double-degree program in the field of public policy and international relations. A consortium known as
BESETO+NUS
, consisting of East and Southeast Asia's top schools, namely Peking University, Seoul National University, the University of Tokyo and National University of Singapore, is the platform of the CAMPUS Asia Plus Program.