Interviews with UTokyo students from all over the world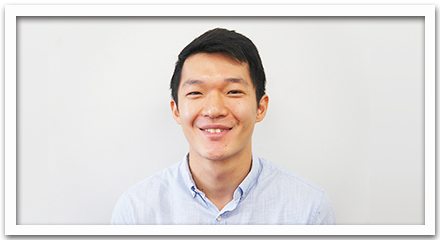 Dmitriy Kim
---
Research student, Department of Global Health Policy, Graduate School of Medicine
---
From Uzbekistan. Formerly a dentist, Dmitriy came to UTokyo for a change in his medical career. People are often surprised to find out that he's from Uzbekistan since he's ethnically Korean. His hobbies include playing sports and watching movies. He loves mountains and often goes hiking.
Q. Why did you come to Japan/UTokyo?

I had always wanted to study medicine abroad, since going overseas would give me more opportunities to realize my potential than staying in my home country. I had also considered going to China and Taiwan, but decided on Japan because Japan contributes greatly to international medical organizations and would thus be beneficial for my studies and future career. The main reasons I chose UTokyo were that UTokyo is friendly and welcoming to international students, and also because my department of Global Health Policy is actively engaged in research work inside and outside Japan.
Q. What are you currently researching?

I just entered the University in April as a research student. It took many attempts, but I finally received the MEXT scholarship after applying for it three or four times! (laughs) Since I am still a research student, most of my time is spent studying Japanese and auditing classes. I'm going to become a Master's degree student starting next spring, and I want to conduct research on health financing and health economics. In the future, I would like to work for an international medical organization that connects the private and public sectors, so I want to get an internship at that kind of organization while I'm still a student.
Q. What have you found difficult in Japan/UTokyo?

I have experienced a lot of the same difficulties that other international students face when coming to another country. For example, when I wanted to apply for a credit card, I couldn't read the application because it was all in Japanese, so I had to get someone to help me. Fortunately, the International Center's language partner program here at the University paired me with a Japanese UTokyo student who can speak Russian, my native language. She has helped me out a lot. She's travelling in Russia now, but when she was in Japan, she and I would meet up at a free café near campus once a week for language exchange.
Q. What do you like about Japan/UTokyo?

UTokyo is full of studious people who walk around campus with a sense of purpose, and I really admire that. As for Japan, I like how everything here is so convenient and well ordered. Also, no matter what you want to do, you can find someone to support you in Japan.
Q. Please tell us something about Uzbekistan!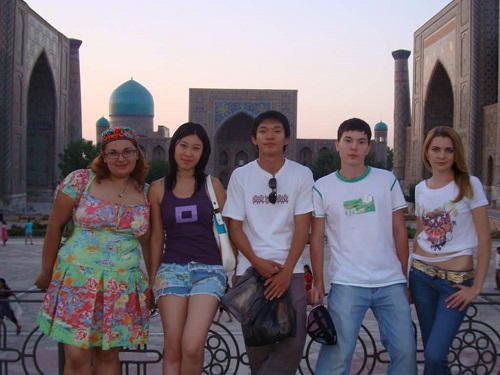 I'm from the city of Tashkent, whose name literally means "stone city." True to its name, it's a beautiful oasis city located at the foot of several stony mountains. Some old towns in Uzbekistan used to be stops on the Silk Road. The picture is of me and some university friends when we went to one of these towns, the ancient city of Samarkand.
* The content of this page was translated from the
Ryuugakusei-san Irasshai!
article printed in
Gakunai Kouhou No. 1487
. (Japanese language only)