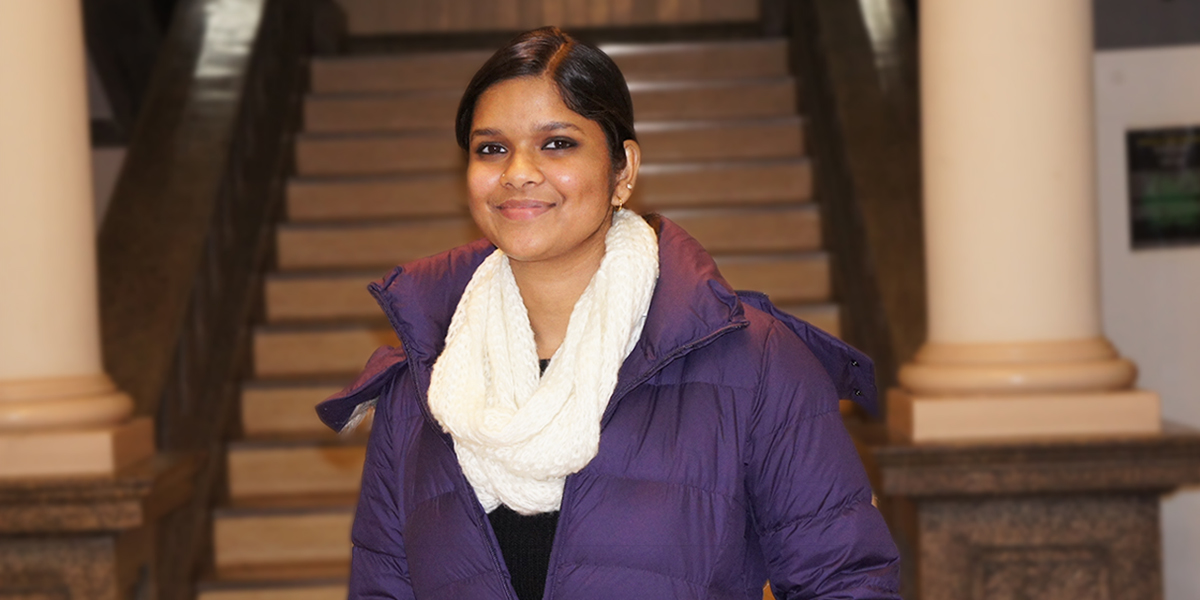 January 21, 2016
GSC, Chemistry and Me

Silpa Chandran Rajasree

Undergraduate student, School of Science (Global Science Course)
Area of study: Chemistry
Country/Region of Origin: India
From Kerala to Komaba
Just a few months ago, I was studying chemistry at Amrita Vishwa Vidyapeetham, a university in Coimbatore, India, and now I'm here! I wanted to explore the world more and eventually go to graduate school abroad, but I never expected that I would be able to get my undergraduate degree in Japan.
Giving Japan a shot
A professor of mine at Amrita, who helps students with finding internships and other such programs, happened to see the website of the University of Tokyo's Global Science Course (GSC). He told me about the program and encouraged me to apply.

GSC is a two-year undergraduate degree program in the School of Science. Students transfer into the University of Tokyo for their third and fourth years of undergraduate education, and instruction is provided entirely in English.

One of the main reasons I was attracted to this program was that it was at the highly-ranked University of Tokyo. Another deciding factor was the generous scholarship and free accommodation offered by the program—financial incentives which are good to have when studying in a foreign country. I had also always wanted to come to Japan, at least to visit. I think the Japanese culture is fascinating and I like how heritage is so highly regarded here.

The first step to applying was convincing my parents to let me study abroad. (Pointing out the financial support offered by GSC was helpful here!) I also talked to my professors at Amrita and a lot of other people. Everyone was quite supportive of the idea.

I honestly didn't have much hope when I submitted my application. Since this is a global program with people applying from all over the world, I realized that it would be very competitive to get into. My professor who had originally told me about the program was consistently positive, though, telling me that I should give it a shot.

An unforgettable day and an international atmosphere
I still haven't forgotten when I found out the result. It was May 22nd, about a month after I had sent in my application, and I had just completed my semester at Amrita a few days before. That morning, I checked my email and saw an acceptance letter waiting for me. I was ecstatic!

My university in India was really supportive, and they helped me with all the procedures for coming to Japan. My dad even came with me to see what Japan was like!

I arrived on September 2nd, and classes started on September 28th, so I had a little under a month to get settled in. After orientation, I moved into the International Lodge in Komaba with the other four GSC students. Including myself, two of us are from India, two are from America, and one is from China. The rest of the students staying in the International Lodge are mainly graduate students from several different countries, so the dorm has a really global atmosphere to it. The grad students are all very friendly, too!

Studying in the Global Science Course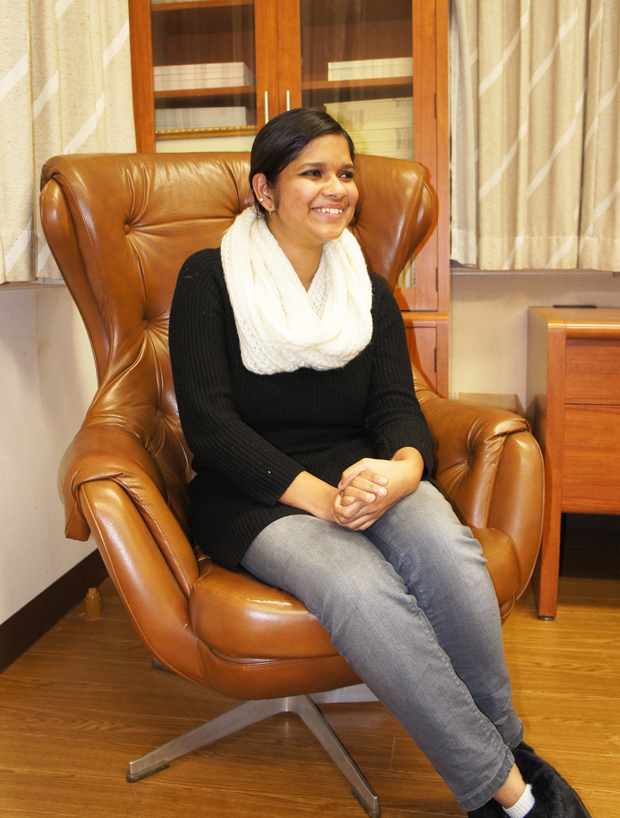 The curriculum at GSC is intense and challenging. For the first semester, we have five theory classes every morning, with one on each weekday. The classes cover five basic fields of chemistry: thermodynamic, inorganic, organic, quantum and analytical. In the afternoons, we take part in a total of six labs on a two-week rotation basis; from the second semester onward, we will choose a lab to stay in until we graduate. The labs are practical and hands-on; we take what we learned from the morning classes and get to apply it in the labs. One great thing about the labs is that you have an assistant professor and student tutor there to help you conduct your experiments, so you get a lot of personalized attention. Also, the work they do here in the labs is amazing—some of it is not done anywhere else in the world! I feel that it's quite a privilege to be here.
GSC truly has a "global" appeal
In addition to the chemistry classes and labs, I take a Japanese language class twice a week with the other GSC students. I've just started learning Japanese, so I know only basic things so far like hiragana, katakana and a few kanji. However, knowing even basic Japanese has been useful to me already. For instance, I am allergic to red meat, and since I can't read food labels, I had a hard time finding out if certain foods had red meat in them or not. Since I've started learning Japanese, I'm now able to ask workers in the supermarkets and convenience stores about it, which is helpful. Other than that, I haven't had much of a chance to use my Japanese yet, but we are supposed to be taking our chemistry classes with Japanese students starting next spring, so perhaps I'll get to use it then!

With its diversity of students, English-speaking professors, and comprehensive coursework, the Global Science Course truly has a "global" appeal, I think. It's important to have a global perspective, especially in chemistry and other pure science fields. In India, for instance, studying pure sciences isn't encouraged much, so people like me who want to go into pure science fields should make an effort to get out into the world and learn in foreign universities. GSC is a great program for doing just that.
Getting Acclimated to Life in Japan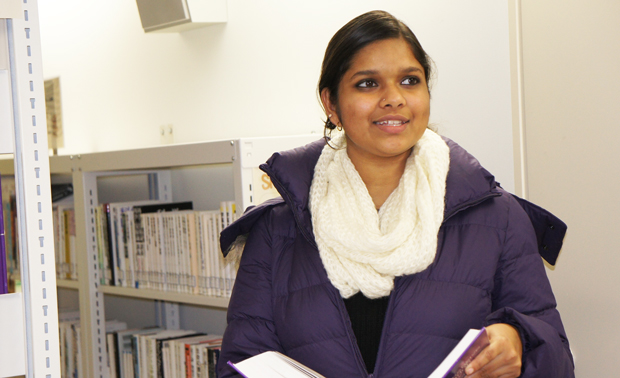 I was excited when I first came here, but I was scared at the same time. In fact, for the first two weeks or so, I was too afraid to step outside of my dorm! Since everyone around me was very nice, I eventually got used to my surroundings. It took a while for me to get used to the climate, though. I'm from Kerala state in South India, where it's warm most of the year, so seeing the leaves change in the fall was amazing to me. I keep sending pictures of the colorful leaves to my parents! I'm looking forward to my first winter, too, and hope that I get to see some snow. I'm still not used to the sunrise and sunset times, either. In the summer, the sun rises way too early, and in the winter, it sets way too early! I think that this is another aspect of living in Japan that I have to get accustomed to.

Also, the GSC staff have been supportive in helping me get used to life in Japan. They even helped me find a doctor when I was sick. I feel like I can go to them anytime I have a question or need something.
I've become more independent
I've been in Japan for only a few months, but I feel like I have already changed a lot. I've gotten much more independent, for instance. In India, I hardly went anywhere by myself, but here in Tokyo I'm doing a one-hour commute twice a day from Komaba to Hongo and back! While I do have to push myself sometimes, I get a huge sense of achievement when I accomplish things on my own. I'm also learning a lot about how to handle situations and make my own choices.
Work for Your Country
After I get my bachelor's degree here at UTokyo, I want to continue on to graduate school and eventually get a PhD. The School of Science will be starting a 5-year Master's and Doctoral combination degree program (Global Science Graduate Course; GSGC) soon, so I would like to enroll in that. Once I graduate, I want to return to India and become a chemistry teacher there. I'm passionate about teaching and giving back to my community. In particular, I feel that if you are from a developing country like me and you get the chance to learn something abroad, you should go back and work for your country.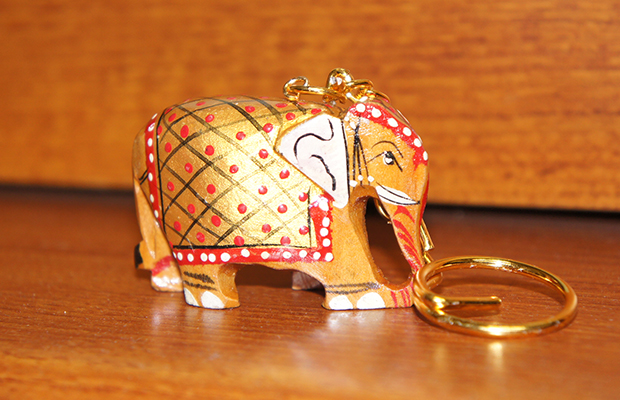 Staying connected with her family and her country
Handcrafted elephant keychain
Silpa brought us a handcrafted elephant keychain that her 6 year old cousin gave her before she left India. She said that her cousin is her youngest relative and is very attached to her. When he traveled to some place in Kerala, he found this keychain and decided to buy it for Silpa when she was about to leave India for Japan. Silpa said that she always keeps this keychain close to her. In India, elephants are valued for their association with Ganesha, one of the principal Hindu deities. With this auspicious keychain, Silpa can concentrate on her studies in Japan with peace of mind as if watched over by her cousin and Ganesha. Silpa added that her cousin has been waiting eagerly for presents that she is supposed to bring him from Tokyo!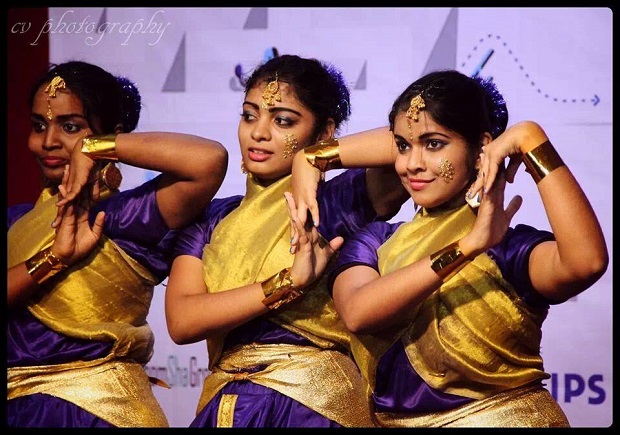 From "God's Own Country"
A Trained Classical Dancer
Silpa is trained in a classical Indian dance called Bharata Natyam. She is a member of the Bollywood Dance Club, a traditional Indian dance club with six or seven other UTokyo students from India. Silpa said they have performed in many places, including at the Indian Embassy. Bharata Natyam is one of the oldest Indian dances, originating in South India where it was used as a way to communicate with deities. Silpa is from Kerala, a state in South India. As can be inferred from the state's slogan "God's Own Country," Kerala is a veritable Shangri-La that has everything from beautiful landscapes to unique cultures. Silpa grew up here with her parents: her father, a banker who studied zoology, and her mother, a chemistry teacher. Silpa's love for science seems to be embedded in her DNA!
Interview: December 16, 2015