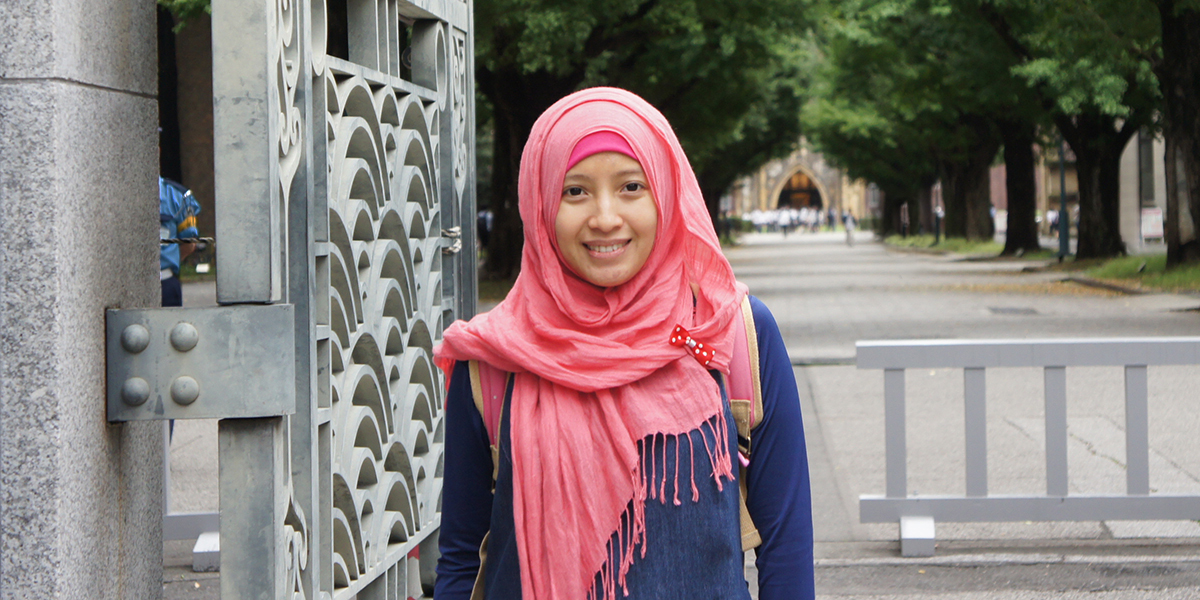 November 10, 2017
Daring to Dream

Astri Nur Faizah

Doctoral degree student, Graduate School of Agricultural and Life Sciences
Area of research: Veterinary public health
Country/Region of Origin: Indonesia
My Journey to Japan—and Back Again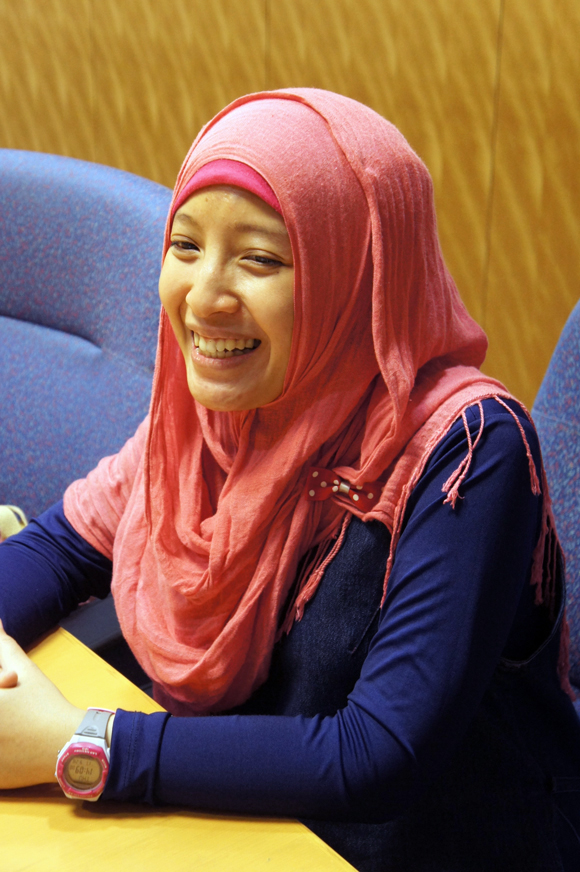 A licensed veterinarian back in her home country, Astri is currently in Japan researching the interactions between various viruses found in mosquitoes and ticks. Her interest in Japan dates all the way back to when she was in high school. Captivated by Japanese anime and manga, she resolved to go to Japan someday, and that opportunity first came through a university exchange program.
Inspired by the Japanese work ethic
"I have to go to Japan sometime in the future." That thought had continuously been on my mind since I discovered Japanese anime and manga in high school. I knew I wanted to live in Japan, but I didn't know how I would get there! Finally, during my time as an undergraduate student in Indonesia, the opportunity to study abroad presented itself. I applied to many different exchange programs, and got accepted to study at Tokyo University of Agriculture and Technology for a year on a JASSO scholarship in 2011.

I came without knowing any Japanese—not even hiragana or katakana—and everything was new to me. One aspect of Japanese culture in particular that impressed me was the hard-working atmosphere. Many of the Japanese people I met during my year abroad went beyond what was required when it came to work and study. Their dedicated focus to their research and experiments inspired me. They weren't just working because they were getting paid; they were eager to take on tasks and shoulder the responsibility to carry them through.
Taking a chance
When it came time to apply for graduate school, I knew I wanted to come back to Japan because of the hard-working culture that I had experienced during my time as an exchange student. I thought that immersing myself in that environment again would encourage me in my research. So, I set out to apply for the Japanese government (MEXT) scholarship.

To apply for the MEXT scholarship, I had to get a letter of acceptance from a Japanese university. And actually, I hadn't even considered submitting an application to the University of Tokyo at first because I wasn't confident that I could get in. Then, a friend of mine who had already received a letter of acceptance from UTokyo had to decline the offer due to family reasons. Since this opened up a spot at UTokyo, I decided to apply and see how things went.

So, along with all of the other universities to which I was thinking of applying, I contacted the Office for International Cooperation and Exchange (OICE) at UTokyo's Graduate School of Agricultural and Life Sciences to see if they would be willing to take me on as a research student, explaining my research proposal and giving the name of a UTokyo professor whom I was interested in studying under. I sent them an email one week before the application deadline, so my expectations weren't too high. To my surprise, however, the Office responded to me within hours! Out of all of the universities I had contacted, UTokyo gave me the fastest response. They even included the professor's contact information within their reply so I could email him directly and discuss my research with him in more detail. They helped me a lot and made me think that maybe I had a chance.

After talking with the professor about what I wanted to research, he agreed to accept me as one of his students! I then applied for the scholarship, and put UTokyo as my first choice. I still felt that UTokyo was out of my reach, but that it would be worth giving a shot.
Destiny came to me
It took about one year from submitting the application until the results came out. I was still in Indonesia at the time, working as a veterinarian as I waited for the results. When the results were announced in the fall of 2015, I checked the MEXT website and saw that I had been awarded the scholarship to study at UTokyo! I was so surprised. I felt as if destiny had come to me.

I began to prepare for my upcoming life at UTokyo. Perhaps it's because I had lived in Japan before and had an idea of what to expect, but the process went smoothly. The OICE assigned me an international student tutor to help me settle into life in Japan. Also, my soon-to-be advising professor even helped me find university housing! He recommended that I live in Komaba International Lodge, and gave me information on how to apply.
Falling in Love, with and at UTokyo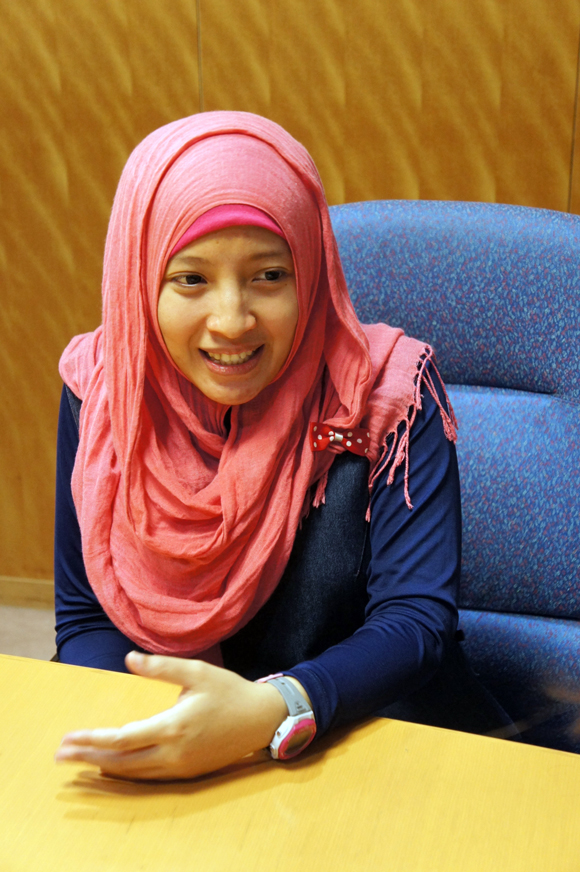 Astri came to UTokyo in April 2016 as a research student. Her schedule was rather relaxed in the beginning, as she spent her first six months taking intensive Japanese language classes at the University's Center for Japanese Language. Then, for the next six months, she focused on preparing for her entrance examination, which she would have to pass in order to become a full-fledged PhD student at UTokyo. And this not only would be a crucial time for her life as a student; big changes were in store for her personal life as well...
Preparing for the exam
The UTokyo entrance exam was in English, and the written portion had three sections—one section relating to each student's research field (mine was veterinary public health), and two others that we could choose. My tutor gave me advice on which subjects to choose and how to study for the exam. The oral part of the exam was a presentation on my research proposal, and I was more confident about this part because I knew I could explain my research well. Several professors who were experts in my field evaluated my presentation, which made me nervous. The questions they asked me weren't too difficult, though, so everything turned out to be fine.
A UTokyo romance and post-exam jitters
Around the same time as the exam, another major event was happening in my life—I was about to get married! My husband-to-be was a UTokyo student in the Graduate School of Engineering, and I met him at a welcome party for new students held by the UTokyo Indonesian Student Association (PPI Todai). Later, when I was busy doing a part-time job outside on campus, I happened to see him and asked if he would bring me some food because I was hungry. We've been together ever since! We then started getting to know each other and went various places together. Also, I know more Japanese than he does and I have been in Japan longer, so I help him understand the language and culture here.

Everything happened so fast. I met him in September, but after just a few months I knew he was the one. In December, I had my parents "meet" him by calling them from Japan through an online video chat with him sitting next to me. I wasn't sure if they would like him, but they did! They asked his parents to come to their house over the New Year's holidays to visit, and we began planning for the wedding.

Soon after I took the exam in February the following year, he and I flew back to Indonesia for the wedding. We were there only for 10 days, though, because I was anxious to go back to Japan and find out about the entrance exam results, which were announced in March. In fact, at the time, I was probably thinking more about the exam results than the wedding! (laughs)

Fortunately, I passed the exam and started the first year of my doctoral program in April. However, my supervising professor was retiring and there were no professors left in my lab who specialized in virology, which is what I wanted to study. So, he introduced me to a professor in that field who works at the National Institute for Infectious Diseases, and I now spend most of my research time there. My husband and I found an apartment together that isn't far from there, and I commute to the Institute almost every day.
Understanding the Interactions among Various Viruses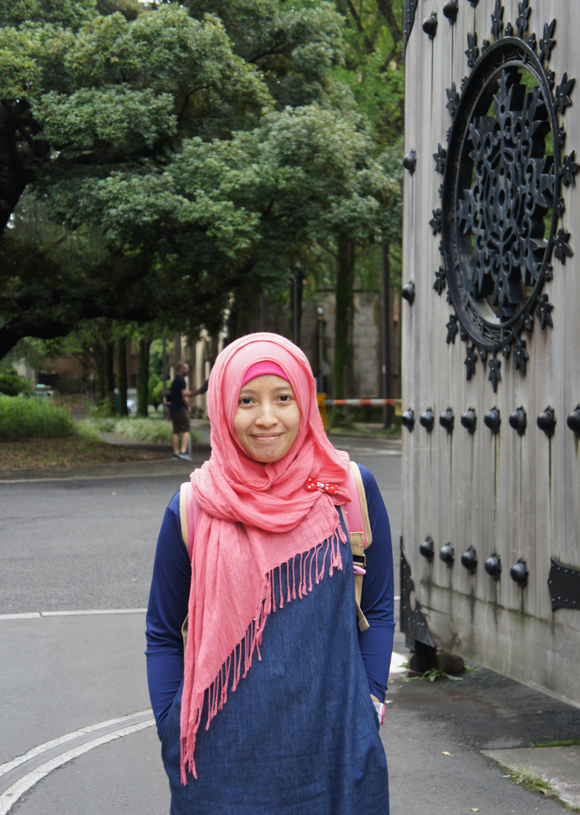 In front of the Yayoi Campus
Astri comes to campus a few times a month to attend her lab's seminar and to take short-term, intensive classes. She spends the rest of her time as a student at the National Institute of Infectious Diseases in Shinjuku, Tokyo, where she researches mosquito- and tick-borne viruses in the Department of Medical Entomology.
On campus: intensive classes and lab seminars
Since my supervising professor retired, there are no head professors in my lab, the Laboratory for Veterinary Public Health. However, it's still rather big compared to other labs on the Yayoi Campus. We have an associate professor who acts as the current supervisor, an assistant professor, six PhD students (two Chinese, one Sri Lankan, one Vietnamese, one Japanese, and me), and six Japanese undergraduate students. Our lab seminars are held in English, which I'm really glad about. In addition to my lab's seminar, I sometimes take intensive classes on topics such as biostatistics, writing proposal grants, and biosafety. Most of these classes are held in Japanese, but the professors teaching these classes check with me to make sure I understand the lectures, and they also provide me with presentation slides and references in English if they have them.
Off campus: determining the characteristics of mosquito- and tick-borne viruses
Meanwhile, I do research at the National Institute of Infectious Diseases almost every day. My section in the Institute's Department of Medical Entomology focuses mostly on viruses from mosquitoes and ticks. Since I am in my first year and I have to learn all the methods for experimenting with viruses, right now I'm studying any viruses that are found in mosquitoes in particular. Some of these are pathogenic to humans, such as the Zika virus and dengue fever, but many of them are what are called "insect viruses," meaning they can be transmitted only among insects. While insect viruses don't affect humans directly, they can influence the transmission of a pathogenic virus to humans if both viruses are in the same mosquito body. Sometimes insect viruses increase the possibility of transmission of pathogenic viruses, sometimes they lower it, and other times the viruses just coexist. It's quite interesting to observe the interactions between the different viruses.

The Institute has many insect samples from not only Japan, but also other countries like Thailand, Vietnam and Ghana. We screen these insects for viruses, and mostly find viruses that had been previously undiscovered. It takes a long time to determine whether a virus is novel or not, and if it is, we have to observe its characteristics. We name these new viruses, usually after the places where the mosquitoes with the viruses were found. Once we have understood the viruses we're dealing with, we use cell lines to see if the interaction between different viruses causes changes within the mosquito's cells. Then, we see if and how these viruses can transmit to other animals, such as birds and mammals, by using cells from these animals (not the animals themselves) in our experiments. We have to characterize how the viruses work, how they exist and where they come from. There is something to do every day—it's a lot of work, but it's fascinating!

A professor leads the research group I'm in, and we also have a chief researcher. I work directly with two other students, who both thankfully speak English. They are from Japan and Ghana, and they're both students at another Japanese university.

The other researchers at the Institute are such hard workers! They come in at 9AM every day and leave around 8, 9 or even 10PM at night. They sometimes even come in on weekends! I, on the other hand, tend to be kind of lazy. (laughs) I come to the Institute around 10 or 11AM and leave around 6-7PM, or as late as 8-9PM if I have work that needs to be done.
My research goal: deciphering the epidemiology of the Japanese Encephalitis Virus (JEV)
Once I finish my first year of studying the interactions between various viruses within mosquitoes, I will move on to my main research, which concerns the epidemiology of the Japanese Encephalitis Virus (JEV). There was an outbreak of this virus in my country last year, so I want to know more about how it spreads and how to prevent it from doing so. There are already vaccines for JEV, but viruses are quick to change and have many genotypes, so studying the epidemiology of JEV could lead to other methods of preventing it.

As JEV is a mosquito-borne virus, I will have to conduct thorough research on mosquitoes. There are many species of mosquitoes, and even within the same genus, some species have higher susceptibility of carrying JEV than others. Why does the virus choose one mosquito species over another? If we can answer that, perhaps we can use that information to help keep the virus from spreading.
Aiming Ever Higher while Treasuring Time with Family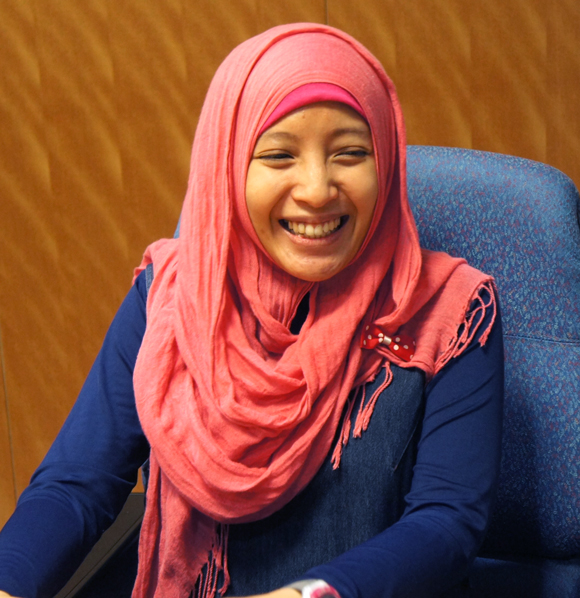 Astri plans to complete her PhD in 2021, after which she aspires to become a researcher at a global public health organization. She reflects on her time in Japan so far as well as her goals for the future.
Striking a good work-life balance
I admire how hard-working Japanese people are, and I want to be more similar to them in that respect. That being said, I don't want my working lifestyle to be 100% like theirs; maybe more like 80%. (laughs) I need to be more flexible with my time, especially since I'm starting a family. The head professor of my group at the Institute always goes home at 5PM and has dinner with his family, so I look up to him as a role model. Maintaining a balance between family time and work time is important to me.
The sky's the limit
After I graduate from UTokyo, I want to work at an international organization related to public health. Some of the organizations in which I'm interested are the World Health Organization (WHO) and the World Organisation for Animal Health (OIE). I'd also be open to working at a Japanese institute if I could master the language. However, my dream job is to work at the Centers for Disease Control and Prevention (CDC) in the United States, which is the top institution in the world for researching infectious diseases. While getting a position there is by no means easy, I still want to try. After all, I decided to apply to UTokyo, and look where I am now!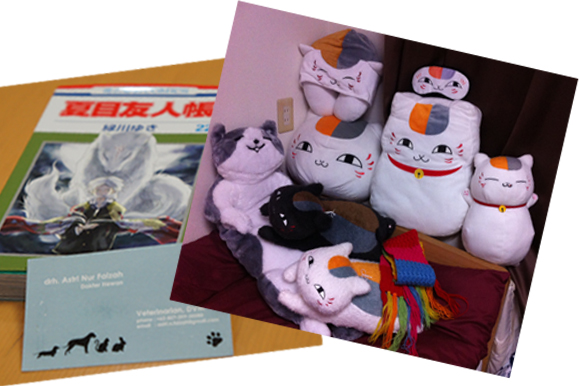 Astri's Former Business Card and Japanese Manga
A reminder of her pre-UTokyo days and her favorite pastime
Before Astri came to UTokyo, she worked as a veterinarian in Indonesia. Pictured to the left is her business card, which she always carries with her to remind her of that time. Also, Astri is an avid reader, and since coming to Japan she enjoys going to used bookstores all across Tokyo to see what she can discover. She particularly likes mystery novels and Japanese manga. Displayed on the upper left is a volume of her favorite manga, Natsume Yuujincho (Natsume's Book of Friends). She collects a variety of goods related to one of the manga's characters, the catlike Nyanko-sensei. In fact, she has so many that she says collecting Nyanko-sensei goods (some of which are pictured on the right) has essentially become her hobby while in Japan!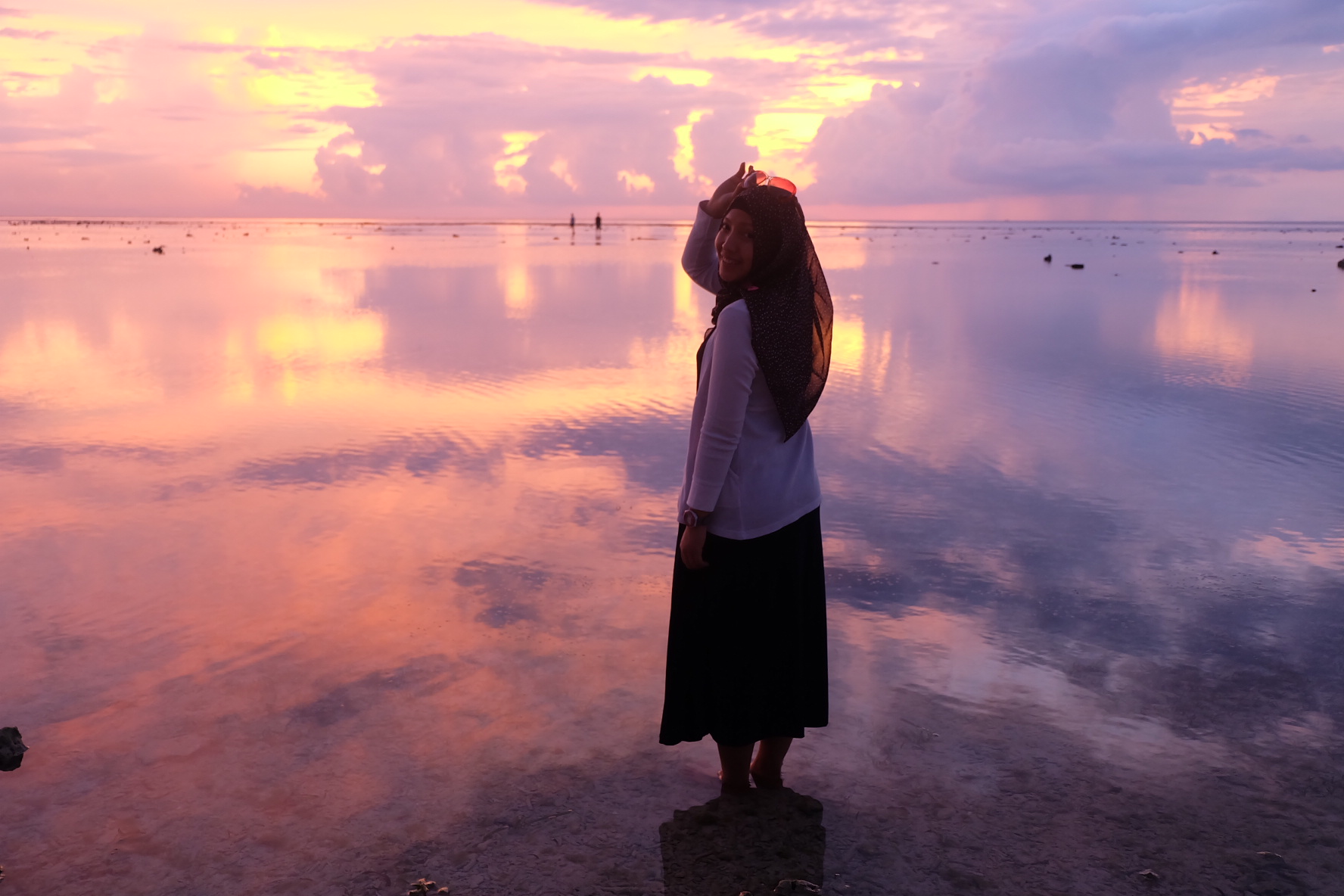 Diverse Indonesia
Islands of beauty
While her most recent home is Bekasi, a suburb of Jakarta, and she lived in Yogyakarta during her university years, Astri says she doesn't really have a "hometown" because she has moved around all throughout Indonesia during her entire life. She says that Indonesia is full of many different cultures, ethnicities and languages, and that moving to another region or island is almost like moving to another country. The picture is from Astri's and her husband's honeymoon in the Lombok Islands. In stark contrast with crowded Bali close by, the Lombok Islands offer tranquil, unspoiled scenery. The sunsets, in particular, are breathtaking.
Interview: September 28, 2017