1. Overview
This research grant-in-aid was established in 2004. It aims to support outstanding, self-financed international students who pursue their degree at the University and to promote the enrollment of outstanding international students.

Recipients will receive 200,000 yen per month as research grant-in-aid until the end of the standard program duration (up to one year for research students).
In 2022, 32 students --- 11 Master's course students and 21 Doctor's course students were newly selected as recipients.
In 2022, 127 students received research grant-in-aid in total.
836 students have been selected in total since The University of Tokyo Fellowship was established.
Application Guidelines for The University of Tokyo Fellowship (April 2023)
2. Application
The application should be done through the applicant's affiliated (proposed) Graduate School. Please contact the relevant section (international office) of your affiliated (proposed) Graduate School to check the details of the application procedures.
3. Donations to The University of Tokyo Fellowship
○ FU Delin Scholarship

This scholarship has been established through the kind services of Ms. Fu Delin, a philanthropist, and a member of the Fu family that can trace their origins as far back as the Chinese Ming Dynasty. Ms. Fu herself has for a long time supported on her own, Chinese and Japanese students going abroad, but from 2017, she has kindly offered to provide financial support for international students from abroad to enroll at a graduate school of The University of Tokyo.
This scholarship in principle follows "The University of Tokyo Fellowship Implementation Guidelines on Special Scholarships for International Students," but is primarily aimed at providing support to international students who hold Chinese citizenship.
○ KOGA Shinsuke Scholarship

The beneficiary of this scholarship, Shinsuke Koga, has been predominantly active globally in the financial world following his graduation from The University of Tokyo. Having experienced studying abroad himself at the Massachusetts Institute of Technology where he obtained his Master of Business Administration, from 2016, Mr. Koga funded to provide financial support to graduate students coming to The University of Tokyo from the United States and the United Kingdom and established the Koga Shinsuke Scholarship.
This scholarship follows "The University of Tokyo Fellowship Implementation Guidelines on Special Scholarships for International Students," but is aimed at providing support to international students who hold American or British citizenships.
4. Awardees of The University of Tokyo Fellowship
○ 2022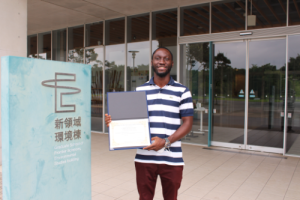 COBBINAH Prince Valentine
Graduate School of Frontier Sciences
When I received the final decision email that I have been selected to receive the Todai Fellowship Award, it was the best news I have had especially during this difficult period of the pandemic. Humbly, I am highly honored and grateful for the award, and the recognition shows that hard work truly pays off.
My PhD research delves into the intentional use of the additive manufacturing process to control microstructures and texture in building Ti6246 alloy products. It is envisaged that with controlled texture building, unique properties of materials or alloys can be achieved. Thus, my research intends to explore this new avenue to induce new properties or enhance existing properties and performances of Ti6246 alloy components for low-pressure compressors of the turbine engine.
The success of the research will highlight additive manufacturing as an economical processing alternative which will help push further the incorporation of lightweight materials into the turbine engine to significantly reduce greenhouse gas emissions and improve its efficiency.
It is a dream come true to be at The University of Tokyo and I can't wait to get started and contribute to my field of study!!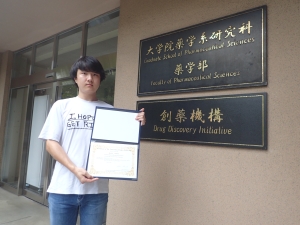 WANG Wentao
Graduate School of Pharmaceutical Sciences
Message follows in Japanese.
東大フェローシップ生に当選できて光栄に思っております。これからは天然物合成化学教室にて複雑な天然物の全合成について研究していきたいと思います。来日からまだ一か月も経っていないんですけれども、だいぶ東大での研究生活に慣れてきました。この先は困難やわからないところはたくさんあるかもしれませんけれども、勉強しながら困難を乗り越えたいと思います。研究はつらくて、失敗する時も多いですけれども、その数々の失敗を積み重ね、成功にたどり着くことこそが研究の楽しむところだと思います。これからは東大フェローシップ生として精一杯頑張っていきたいと思います。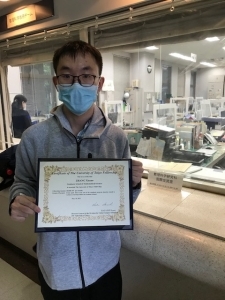 ZHANG Xinyao
Graduate School of Mathematical Sciences
It is my great honor to be selected for the University of Tokyo Fellowship.
I am an overseas student from China and my major is mathematics. More specifically, my research interests are mainly in number theory, which is a subject to study the fascinating and profound laws of the integers. My professional goal is to contribute to mathematics as a number theorist, and to leave my name behind some wonderful theorems. In order to realize my dream, I need to work hard to learn more modern techniques, and the fellowship is a great inspiration to encourage me to overcome potential difficulties in the future.
Also, I would like to appreciate all the people for supporting me.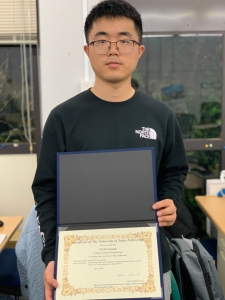 CHAI Chengli
Graduate School of Engineering
First of all, please let me thank the University of Tokyo for giving me such a wonderful scholarship, it is the honor of my life to be awarded the UTokyo Fellowship. This proves the school's affirmation of my past achievements, and also inspires me to work harder in the next doctoral academic path, to achieve bigger and better results so as to be worthy of this honor.
There is a saying in my country that actions speak louder than words. As a doctoral student, I feel that I should be more down-to-earth, strive to explore unknown areas, and contribute to the scientific and technological progress of all mankind. This is my expectation and hope to bring encouragement and courage to all the students at the University of Tokyo. I hope we can all be better versions of ourselves tomorrow, thank you!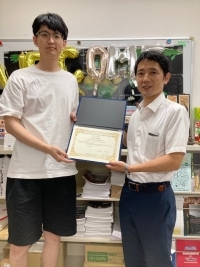 SHAO Tianyu
Graduate School of Engineering
It is my great honor to be awarded The University of Tokyo Fellowship. The University of Tokyo has always been my ideal university, and I feel really excited to have the opportunity to enhance my professional knowledge here.
For my doctoral study, I study the efficacy of using a machine learning method to predict the internal corrosion degree with the surface cracking of concrete. For many concrete structures exposed to moist environment, rebar corrosion takes place which causes structural deterioration. Surface crack can be used as an index to estimate the internal corrosion level, which is important to evaluate the structural performance, and maintenance of the structures can be carried out to ensure the serviceability and safety of the structures.
I will keep my enthusiasm for research works during my future study and show great perseverance in the face of difficulty. I believe I will acquire the knowledge, skills and versatility needed to achieve my goal with my best efforts at The University of Tokyo.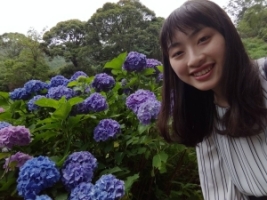 LIN Li-Yen
Graduate School of Agricultural and Life Sciences
It's a great honor to receive the UTokyo fellowship. It reduces my concern about the daily expenditure so that I can concentrate more on the research.
For my master's degree, I investigated the crosstalk between autophagy and phosphate homeostasis. To continue a path of research on the improvement of nutrient utilization in agriculture, I found a great doctoral program provided by UTokyo. I will study the mechanism of rice root system promotion of biological nitrogen fixation activity in paddy soils by exploring the potential rhizosphere communication between rice roots and iron-reducing bacteria. This study may shed light on the potential alternatives to reduce the consumption of nitrogen fertilizer on rice production.
Besides, I appreciate the pragram's positive attitude toward global issues. I believe studying in UTokyo will become a good connection to what I have been trained and extend my knowledge into practical use. I will take the support in heart and make an all-out effort to carry out my research.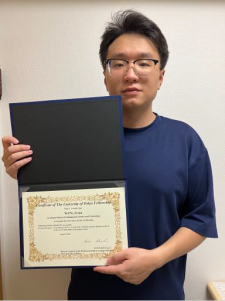 WANG Zerun
Graduate School of Information Science and Technology
It is my honor to be granted the University of Tokyo Fellowship scholarship. I will definitely not disappoint the school's expectations.
As a doctoral student at the University of Tokyo, conducting research on deep learning-based computer vision tasks, which are widely used in automatic driving systems, medical lesion detection, and other fields. I found the problem that collecting and labeling new data consumes a large amount of workforce and electricity. For example, a famous dataset, ImageNet, which consists of over 400 million images, needs to be labeled and verified on a computer for 19 years if one person does all the work 24 hours a day.
Therefore, I intend to study further the specific problem of better utilizing existing web data for these tasks since web data can be easily collected by searching keywords on web engines. However, the difficulty is that the quality of web data is uncontrollable. So, the performance is limited if directly using it. I try to overcome this difficulty by exploring and imitating the mechanism of how humans learn to select and label noisy data by learning a few examples.
I believe my research at the University of Tokyo can help save considerable energy and labor costs for collecting new data as well as improve the performance of object detection methods, which can then facilitate the progress of automatic driving, AI-based healthcare, and other technologies.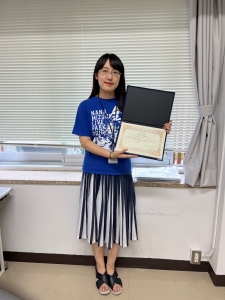 WANG Zhiwei
Graduate School of Medicine
Message follows in Japanese.
この度は東京大学フェローシップ生に採用していただき、誠にありがとうございます。
私は今、口腔顎顔面外科学分野の研究室で、薬剤関連顎骨壊死(MRONJ)の病態に関する研究をしています。
ご存知の方は少ないかもしれませんが、MRONJは患者さんのクオリティ・オブ・ライフを大幅に低下させる深刻な病気の一種です。
これからは一歯医者として、一研究者として、このような病気の解消に励んでまいります。
大学院卒業後も引き続き臨床と研究を両立し、日中両国の口腔外科における連携を推進しつつ、患者さんの苦しみを少しでも取り除けるよう頑張りたいと思います。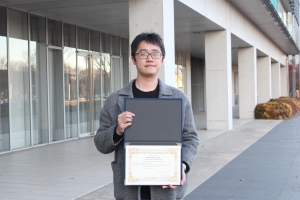 CHEN Hongruixuan
Graduate School of Frontier Sciences
I feel really honored to be awarded as the Todai Fellowship.
My research has always been motivated by how to better monitor, describe and understand changes in our planet's surface, thereby contributing to urban planning, resource management, environmental protection, and sustainable development. To this end, during my past and current research experience, I focus on exploring and developing effective artificial intelligence technology for processing and analyzing multitemporal and multisource remote sensing data, especially focusing on land-cover and land-use change detection and building damage assessment tasks. Over the past years, I have worked very hard in my research field and several fruits have been yielded. More importantly, the research experience trained me with fundamental quality and ability, increased my dedication, strengthened my determination, and enhanced my confidence to further exploration in scientific research.
Therefore, I am now choosing to continue my study for a doctorate degree in UTokyo, under the supervision of Prof. Naoto Yokoya. After receiving my doctoral degree, I intend to find an academic research position in a top university because I want to continue scientific research and make some contributions to the world through my scientific research achievements. Over the next three years, I hope that through the funding of Todai Fellowship, I will be able to receive more in-depth training in scientific research, accumulate more significant academic publications, work in an interdisciplinary environment, and interact and collaborate with more academic peers, thereby supporting me strongly to achieve my academic goals. More importantly, with this great chance, I hope that I can become a future-oriented researcher. I have always believed that a good researcher should be concerned with the future, including the future of the research field, the future of this society, and the next generation of researchers.
For the first point, I want to be a researcher who can bring new ideas and even revolutions to my research field. When conducting research, I do not ask myself, "Has this method ever been published before?" but rather to ask myself, "Will my research create new knowledge and inspiration for the field?" Secondly, I hope I can keep reflecting on what contributions my research and skills can bring to our society rather than only limiting myself to theoretical innovation. I will therefore actively seek opportunities to collaborate with international organizations, government departments, and companies to apply my research to real scenarios. Finally, I believe that a good researcher should not only focus on his/her research but also on passing on his/her knowledge and experience to the next generation. Therefore, I intend to construct my own research group at a top university or research institute and help these potential researchers become the researcher they want to become.
Furthermore, I will continue my current collaborations with some professors and researchers in different universities and international organizations, including Wuhan University, University of Buffalo, University of Maryland, United Nations Satellite Centre (UNOSAT), and the European Organization for Nuclear Research (CERN). On the one hand, the in-depth collaborations between labs can contribute to valuable research results. On the other hand, the cooperation with international organizations provides me with the chance to apply my research work for serving the community.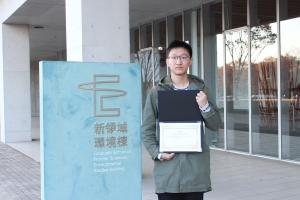 LI Yilang
Graduate School of Frontier Sciences
Since the 20th century, the rapid development of science and technology has promoted economic development and improved people's living standards. However, at the same time, mankind has also paid a heavy price. Due to the emission of industrial waste, automobile exhaust, sewage irrigation, the use of pesticides, herbicides and fertilizers, soil, water quality and atmosphere have been seriously polluted. In order to curb the expansion of this pollution, many measures need to be implemented to repair the environment, so as to create a healthy living environment for future generations. CRISPR technology, which has sprung up in recent years, has the potential to accelerate biological research. In the next three years, thanks to the scholarship, I will be able to dedicate myself to optimizing technology for pollutant transformation. I aim to identify and solve specific issues, paving the way for my lifelong research, one step at a time.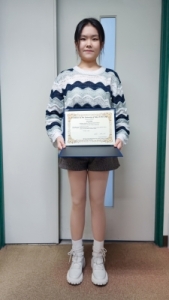 LI Lanshu
Graduate School of Pharmaceutical Sciences
Message follows in Japanese.
東大フェローシップを受け、誠にありがとうございました。今後私は大学院から提供する資源とチャンスを十分に利用して、さまざまなスキルを身につけて、より本質的な生命科学原理を探索し、検証します。未知を恐れないで、異なる分野でも常に情熱を持って挑戦に直面する勇気を持って、より望ましい自分になることを目指しています。修士課程であれ、今後であれ、自分にとって面白く、学界に促進され、社会医療健康に役立つ研究をしたいと思います。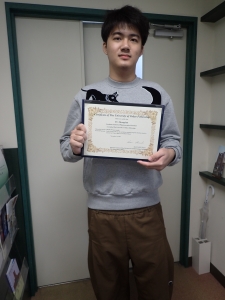 YU Zhongtian
Graduate School of Pharmaceutical Sciences
I feel honored to be selected as a recipient of the University of Tokyo Fellowship. Ahead of all, I would like to show my gratitude to the fellowship foundation and the division for global campus initiatives to give me this favor.
I have been having a keen interest in the field of pharmaceutical sciences from a very young age. When I was just a little kid, I kept wondering how does nature take birth to us and at the same time take us by various diseases. As I grow older, my scope of knowledge was broadened and my contact with the world was strengthened. On the aim of investigating more sophisticated science and having a better look of this world, I chose to come to the University of Tokyo for further study in the Lab of Natural Product Chemistry at the Graduate School of Pharmaceutical Sciences.
For my future study, I will mainly focus on the field of biosynthesis and enzymology. Natural products have long been used as a abundant source of therapeutics. For example, artemisinin is a good medicine for malaria extracted from Artemisia annua, while taxol is a star molecule with anti-cancer effect that scientists found in Taxus chinensis. However, some of the effective natural products are secondary metabolites and their content in the natural samples are very low. With the strategy of biosynthesis, we can synthesize these compounds at promising rates and adjust their structures to people's need. For my first project, I will work on the biosynthetic pathway of Agrocin, an antimicrobial and Sulphostin, a very potent inhibitor of human DPP4 protease, which is an ideal therapeutic target for diabetes.
I will always remember this inspiring title of a recipient of the University of Tokyo Fellowship. In future study, I will do my best to explore new science and make contribution to this world.
○ 2023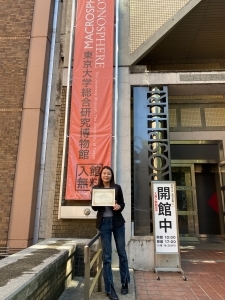 YU Fuqian
Graduate School of Frontier Sciences
Although many tools of technical analysis are currently being introduced into the field of archaeology, I believe that existing research is often limited in its abilities to explain archaeological phenomena using the results of technological analysis, because the fields of archaeology and natural science are very different. And since archaeology is at the same time a department that values human interaction, the University of Tokyo is an outstanding university in the world, with many excellent scholars and students from all over the world. Through the interactions that occur there, we may find new clues for our research. For these reasons, I hope to use my studies and research as a bridge to better connect scholars in different fields and to better interpret the meaning of archaeology.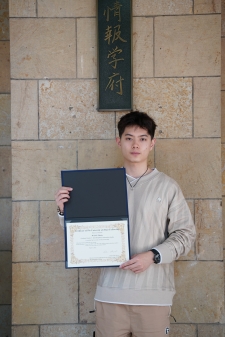 WANG Zhixin
Graduate School of Interdisciplinary Information Studies
Message follows in Japanese.
まず、これから2年間は東大フェローシップ奨学金の援助を受け、研究に専念させていただけることに心から感謝を申し上げます。
法学部出身の私は、今AIがどう世界を変えていくのかに楽しみにしている一方、その無秩序な発展につれて不法使用及び権利の侵害問題に警戒心を持っています。人間の本位性を持ちながら、AIをライバルではなく相棒になる社会を達成するため、今後2年間を通じて更に知見を深め、AI自動生成行為の適法範囲を探って努力していきたいと思います。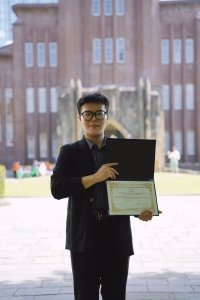 LIN Nie
Graduate School of Interdisciplinary Information Studies
I will be supported by the University of Tokyo fellowships in the following study period. I sincerely thank the University of Tokyo for providing me with this opportunity to focus on my academic research.
I have been committed to the research of computer vision. As an interdisciplinary research of computer and AI, computer vision has been highly valued in the academic field. How to make AI think like human beings is the topic I will explore at the University of Tokyo. Explore the infinite possibilities of AI decision making and Intellectual growth by learning from the same first-person perspective as the human eye. The final hope is to make AI an assistant to assist the healthy and steady development of human society.
CHENG Xueru
Graduate School of Humanities and Sociology
Message follows in Japanese.
この度は、栄えある東大フェローシップの受給者として採用していただき、誠に有り難うございます。このような栄誉は自分に縁のないものと思っておりましたので、受給の通知を受けて、唯々驚いております。
これからの抱負について、私は様々な分野と連携できる研究者と日中文化交流に貢献できる研究者を目指したいと考えています。まず、私が研究対象とする『孝経鄭注』の受容は文献学、中国哲学、社会学、政治学、思想史学などの幅広い分野に関連するものであるため、私は様々な分野を結びつける役割を果たし、各分野の間の交流を促進した上で、中国哲学分野だけでなく、思想史、社会学、政治学などの分野においても有意義な研究を生み出すことを目標とします。
そのほか、私の研究テーマは日本近代および中国清代の漢籍の交流と受容です。当時の中国は鎖国状態であったため、政治の場における日本との交流はそれほど多くないです。しかし、商船によって様々な漢籍の流伝が可能となり、当時の両国の知識人も商人と交遊することで、自分の著作を日本・中国に輸入しました。私は、このような古代・近代において両国が盛んに交流していた足跡を振り返ることによって、研究者として日本に所蔵された漢籍及び日本の漢学の歴史を中国の学界及び一般人に紹介するとともに、漢籍の魅力を日本社会に伝えることに努めたいです。
今回の受給は、私個人の力で得たものではなく、研究室及び人文社会系の先生方からのご指導をいただいた成果だと身に染みて感じております。これからも初心を忘れずに、学界・社会に貢献できるよう頑張って参ります。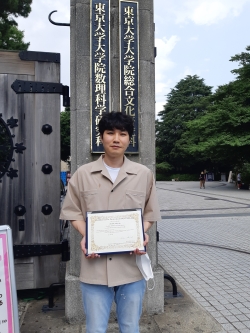 JEONG Inhyeok
Graduate School of Arts and Sciences
Message follows in Japanese.
まず、東京大学外国人留学生特別奨学制度(東大フェローシップ)に採用されたこと、光栄に思っております。
私はeスポーツプレイヤーの優れた神経的・身体的特徴を明らかにし、優れた能力に基づいた新しいトレーニング方法を開発する研究をしております。
eスポーツプレイヤーは認知アスリートとも呼ばれ、世界的に注目を集めていますが、日本ではまだeスポーツについての偏見が存在しています。そこで私はこのような偏見に立ち向かい、日本でeスポーツが新しいスポーツとして普及できるような研究に力を入れています。
今後、東大フェローシップの奨学生として勉学に励み、社会を良くする研究に取り組んで参ります。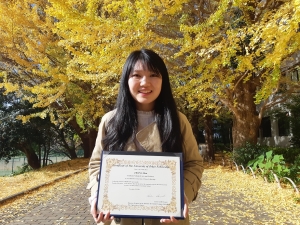 ZHANG Han
Graduate School of Arts and Sciences
Message follows in Japanese.
夢を分析、自身を知れ、調和ある多様な社会へ!
この度は、憧れである東京大学に進学し、そして東大フェローシップの受給者に選んでいただけることに大変光栄に思っており、感謝で胸がいっぱいです。この研究奨励費のおかげで自分のやりたい研究や、将来の夢に向かい、専念して取り組むことができています。心より深く御礼申し上げます。

巨人であるフロイトらの肩の上に立ち、「夢を見ている睡眠に伴う創造的思考のメカニズムの解明」をテーマとし、夢を見ている睡眠において、新しくて有意義な着想を生み出す思考を促進する脳活動を解明します。また、夢を見ている睡眠に伴う創造的思考の数理的なモデルを構築します。将来、脳科学の未知な世界を多面的な視点で探索し続け、人間が主体性・創造性を保ちながら人工知能(AI)を使いこなし、AIと共存するための独創的な研究成果を産み出し、調和ある多様な社会全体の発展に貢献して参ります。

「意志あるところに、道は開ける」今後は、この貴重なご支援を活かし、日々の研究を楽しみながら、一日でも早くご支援くださる皆様のご期待に応えられるよう、地道に粘り強く研究活動を行って参ります。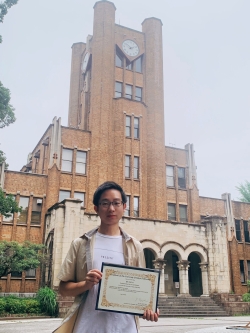 HUANG Ji
Graduate School of Arts and Sciences
Message follows in Japanese.
私は理論化学の観点から、これまでの研究でほとんど議論されていないプロトンのダイナミクスを考察し、体内埋め込み型燃料電池のプロトン伝導性を定量的に明らかにします。本研究の完成により、プロトン伝導体を探索するための新しい構造設計指針が得られ、埋め込み型電池に適した電解質膜を論理的に設計することも可能となると考えます。それによりグルコース燃料電池の性能向上、普及率の増加にも寄与できるはずです。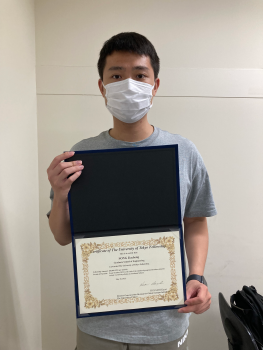 SONG Jiacheng
Graduate School of Engineering

My research theme is about penetration performance of percussion rock drills under complex geological conditions.
I will try my best to complete the PhD study.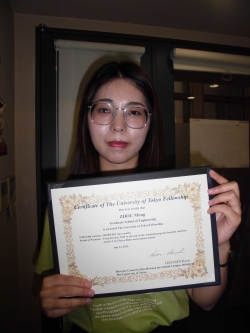 ZHOU Meng
Graduate School of Engineering
It is of great honor to be awarded and supported by the University of Tokyo Fellowship, which acts like an encouragement and a motivation to me. It seems to remind me that I can be a better one than I think.
It has been almost one year since I enrolled in the University of Tokyo, and my life as well as my study career have changed a lot. Currently, the research of my Ph.D. career is related to the combustion, which is always motivated by the improvement of thermal efficiency of IC engines, the reduction of pollution emissions, and the advanced combustion strategies. Specifically, my research topic is the low-temperature combustion kinetics of clean and alternative fuels. By experimental and numerical studies, our target is to provide more useful and solid evidence to develop further insight into detailed kinetics. Energy conservation and emission reduction are two of the most vital themes in the global world that are related closely to the progress of the society and the existence of human-beings, which motivates me to dedicate my passion and efforts into my research field. Furthermore, there are too many leading members and excellent researchers in my research field who I really hope to communicate with, and I think it is likely to realize in the University of Tokyo because it always provides us with more international stages and more precious opportunities.
Again, it is grateful to receive this fellowship. Wish I will experience a happy journey in the University of Tokyo!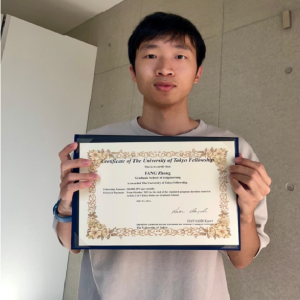 FANG Zhong
Graduate School of Engineering
Being selected as a UT scholarship student is an incredible privilege, and I am filled with immense gratitude towards the University of Tokyo for granting me this prestigious award. I am truly excited about the opportunity to expand my horizons and enhance my knowledge at UTokyo. From this point forward, I am committed to studying and researching with even greater dedication, striving to achieve my academic ambitions. As a student with a deep interest in energy research, my ultimate goal is to contribute, albeit in my own modest way, to the ongoing energy revolution. With support of the UT Fellowship, I am confident that I can make a meaningful and impactful contribution to this crucial field. Once again, I express my heartfelt appreciation to UTokyo for recognizing my potential and granting me this scholarship.