December 5, 2016
Stepping towards the Future through USTEP

Alex McLeish

Undergraduate exchange student, University-wide Student Exchange Program (USTEP) (from Monash University)
Areas of study: Law, Japanese and politics
Country/Region of Origin: Australia
Building up an Appreciation of Japanese Language and Culture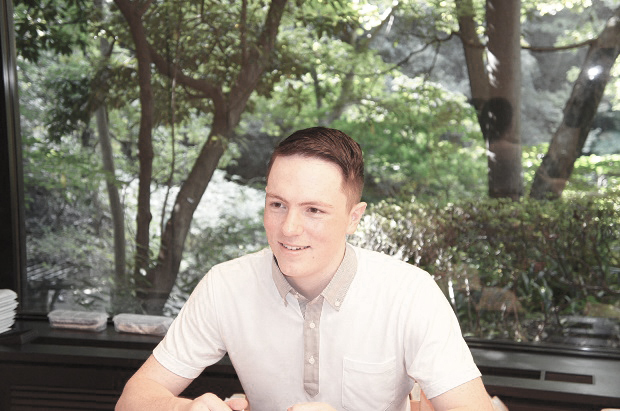 My first experience with the Japanese language was in high school. At the time, I just happened to choose Japanese for my high school language requirement, and I didn't have any particular interest in Japan previously. Besides, in Australia, Japanese is a very popular language to study because of our country's close relationship with Japan.
Inspired by my teacher, my fascination with Japan grew
What got me to really consider pursuing Japanese for the long term was one of my teachers. She ignited my interest in the areas of Japanese culture and law, both of which I decided to continue studying in university.

When I was 16, I came to Japan for the first time on a five-month study abroad program, living with a host family in Okayama. Those five months were a life-changer! I traveled and made friends, all the while giving myself a solid foundation in the Japanese language. After that experience, my fascination with Japan grew, and I came back several times. I did a five-week intensive language course at Osaka University when I was a first-year university student, and I visited Japan twice after that as a tourist. I solo-travelled the country—I even went from Hokkaido all the way down to Okinawa in one trip! During my travels, I realized how being able to speak Japanese really opens up opportunities that you wouldn't have otherwise, and I saw firsthand the diversity among the people, landscapes and culture throughout the country.
Heading to the big city as a first generation university student
I am originally from Tasmania, an island state off the coast of Australia that's known for its nature and farmlands. While I like Tasmania, I wanted to go to a university somewhere more cosmopolitan and diverse, as such a place would offer me a lot of opportunities—especially related to Japanese and law. Being the first person in my family to go to university underscored how important such opportunities would be for me. So, when it came time to decide on a university, Monash University in Melbourne seemed like the ideal place for me. Monash not only has strong links with Asia and solid Japanese language courses; the university also has a well-respected law program. Basically, Monash was an all-around good fit for the studies I wanted to pursue.

One day, as a student at Monash, I received an email inviting me to apply for a scholarship called the New Colombo Plan Scholarship. It's a prestigious scholarship offered by the Australian government's Ministry of Foreign Affairs designed to get Australians engaged in the Indo-Pacific region. You get to create your own proposal for exactly you want to accomplish in Asia, and receive financial support for working to achieve your goals. As I had a clear vision in mind of what I wanted to do—undergo language training, study law at UTokyo for half a year, and participate in two internships, one of which would be at the Japanese branch of an international law office—I felt that the scholarship matched my plans well. I decided to craft my proposal with the hopes of securing a nomination for the scholarship from my university.
I was Set on UTokyo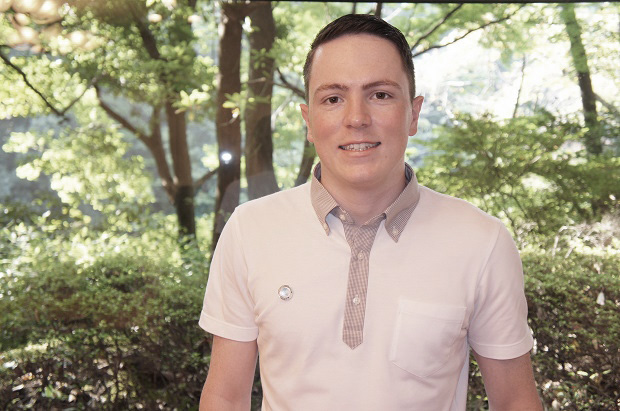 Why did I choose the University of Tokyo over other Japanese universities when making my proposal? Well, being the #1 university in Japan, UTokyo has a good reputation, even in Australia.
USTEP's course selection was impressive
Also, when doing my research, I found that the breadth of English classes offered through UTokyo's University-wide Student Exchange Program, or USTEP, was wider than that of similar programs at other Japanese universities. In USTEP, your classes aren't limited to just one field; you can pick classes freely across Faculties. Class descriptions were all available online, too, which was a plus. To me, the decision was clear: I was set on UTokyo.
Getting accepted
I submitted my proposal to Monash in July 2015, and after multiple interviews and waiting, I found out a few months later that I was one of the 100 students accepted across Australia! And what's more, I was awarded the fellowship, a designation which signifies that I was the scholarship recipient with the highest grades to attend university in my host country (Japan). In addition to the distinguished title, I also receive extra financial support.
Life as a UTokyo Student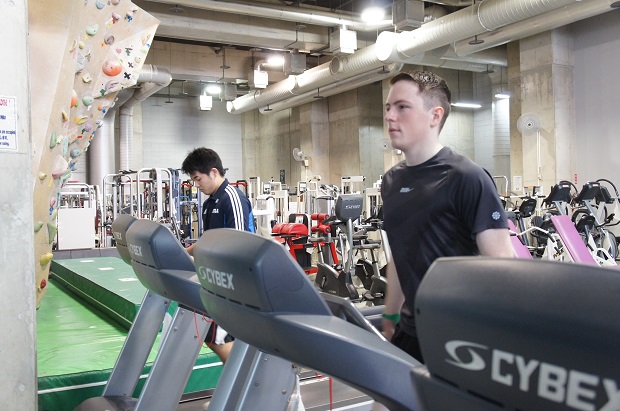 When I came here in August, I spent about a month taking Japanese classes at a language school. I started my semester at UTokyo in September, and I'm going to be at the University through March. After that, I'm planning on participating in two internships: the first with a Japanese company, and the second with an international law firm. It's going to be quite an eventful year!
Settling in
At first, I lived with a Japanese friend while I got things in order. I later moved to an apartment in the Japanese shitamachi residential area of Minowa. It's easy to live there because it's quiet, convenient and close to campus.

The staff at the USTEP office have been attentive in getting me situated. They help international students with getting their Residence Cards, bank accounts, cell phones, and other such necessities. The International Student Handbook (PDF) they gave us is full of useful information, too. Since I speak Japanese and have prior experience in Japan, I haven't had to ask for their help too much, but I think their support is particularly great for students who don't speak Japanese.

USTEP gave an orientation for all incoming international students back in September. I and the other 80 or so USTEP students received information about classes, living in Japan, and student activities, such as clubs. USTEP also took us on a tour of the Hongo Campus and explained the University's history. I was surprised at how big the campus is, and learning about its rich history reconfirmed my belief that the Hongo Campus is an engaging and motivating place to study.
Interdisciplinary insight in USTEP
I'm taking five classes, all on the Hongo Campus. Four are in the Faculty of Law, while the other one is in the Faculty of Economics. The classes are about Japanese law and the economies of Japanese and East Asia, and the economics class in particular provides me with interdisciplinary insight on law that I would not otherwise have. My classes are all in English, and both Japanese students and international students are taking them too, so I have the opportunity to get to know and discuss issues with students from many different backgrounds.

I'm not currently enrolled in any Japanese language classes, although I'm studying Japanese in my free time. I want to take the N1 level of the Japanese Language Proficiency Test before I leave Japan next year. By the way, my favorite kanji is 星 (hoshi; star). During my homestay in Okayama as a high school student, I was a member of the Shodo (Calligraphy) Club. I entered a scroll I painted with the old form of 星 into a competition, and my piece received an acknowledgement prize. I have the scroll hanging on my wall back in Australia now.
Making the most of my free time
Even though I'm busy with classes, I try to make the time to get together with friends. For instance, I help organize events like karaoke and dinner parties with other international UTokyo students. I also spend time with the other New Colombo Plan Scholarship students who are in Japan (there are 12 of us here). Most of my friends are studying in completely different areas from mine, so talking with them can really be an enlightening experience!

One of my favorite things to do in my spare time is go to the gym. I especially like the gym in the Gotenshita Memorial Arena on the Hongo Campus—it's a good, cheap gym with a nice sense of community. I work out there around five times a week! I also enjoy cooking; steamed vegetables and chicken is one dish I like to make. Growing up in Tasmania, I spent a lot of time going on hikes, so I would say hiking is another hobby of mine. I hope to be able to climb Mt. Fuji before I leave next year!
Future Plans and Advice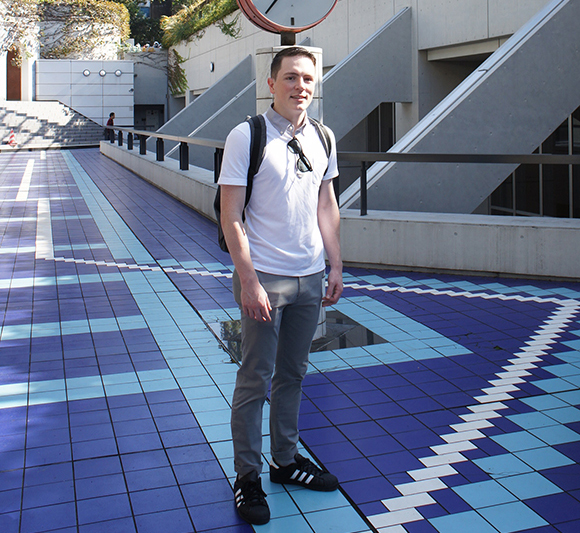 Regarding my future plans, I'd like to work as a solicitor (lawyer) in a global law firm, starting in Melbourne. I want to utilize both my legal skills and understanding of Japanese language and culture to work in commercial or corporate law, possibly in the areas of M&A or dispute resolution. Hopefully, my internship next year will be a big step towards doing that!

As for advice, before coming to UTokyo, consider at which campus or campuses your classes will be. If possible, try to put all of your classes on one campus, because commuting to one campus from another is time-consuming and may be confusing at first. Also, depending on your circumstances, you may want to look into renting your own apartment or room in a share house. That way, you are guaranteed to get a place close to campus. I recommend going to the gym on campus as well. It's inexpensive and it's got a good variety of equipment. Also, I have some general advice for those coming to Japan: make an effort to eat fruits and vegetables! If you're not careful, you can easily go without eating enough fruits and vegetables in Japan, so I recommend consciously making sure that they are a part of your everyday diet.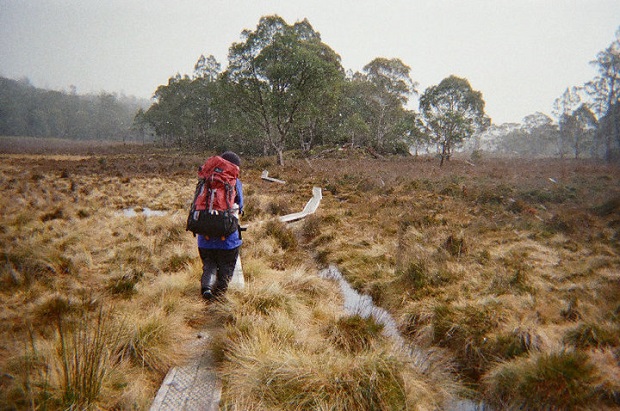 The Diverse Country of Australia
Enjoying the Natural Scenery of Tasmania
Alex says that if he had to describe Australia in one word, it would be "diverse." In fact, over a quarter of Australians were born overseas! People from all different backgrounds can be found throughout the country, especially in metropolitan centers like Sydney and Melbourne. Alex comes from Tasmania, an island state about an hour's flight from Melbourne. Tasmania is known for its gourmet food as well as its abundant natural wilderness. The state is also famous worldwide for the Tasmanian devil. Alex says he's never seen a Tasmanian devil in the wild before, but heard one cry once—and according to him, it sounded "horrible"! Alex enjoys hiking in his home state; this picture shows him going on a bush walk in Tasmania's Cradle Mountain National Park.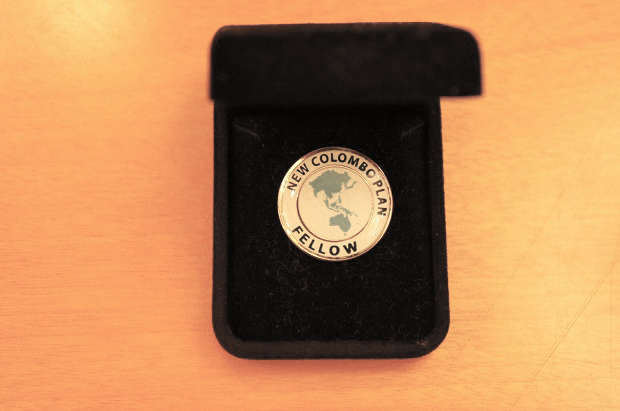 New Colombo Plan Fellow Pin
An embodiment of his achievements
The New Colombo Plan is a prestigious Australian government scholarship that is designed to lift knowledge of the Indo-Pacific region by supporting Australian students in studying and interning abroad. Alex received this pin at the New Colombo Plan Scholarship awards ceremony in Canberra from the Minister of Foreign Affairs and the Governor-General of Australia. Attended by influential individuals in government, academia and the corporate world, the awards ceremony emphasized to Alex what an honor it was to be granted this opportunity to study and work in Japan. The pin itself is an embodiment of the hard work Alex put into achieving this goal, and he displays it proudly.
Interview: October 26, 2016