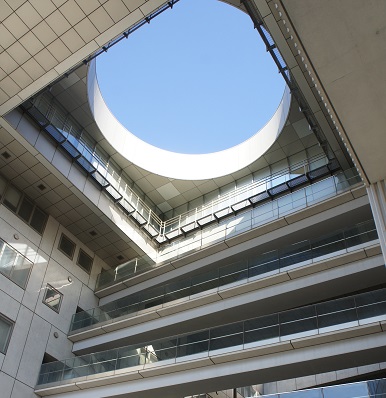 This picture shows the main building of the
Institute for Cosmic Ray Research (ICRR)
, the institute directed by Professor Takaaki Kajita. The six-story building is characterized by a unique feature that may not be noticed when looking at it from the front—a large atrium located at its center. There is a circular opening in the roof of the atrium, which allows for a view of the blue sky when seen from below. Looking down, one can find a shallow indentation on the floor filled with water which matches the opening in the roof. This pairing was designed to resemble the cylindrical water tank installed in the Super-Kamiokande detector in Kamioka, Japan (although its size is far smaller than the real water tank that is 40 meters in diameter). Another striking attribute of the atrium is the set of four raised pathways that connect the South and North Sections of the building. Taking a closer look, one can notice that the locations of the four pathways are just slightly out of alignment. The neighboring building also has similar elevated pathways, but they are in alignment. The ICRR's pathways are actually inspired by the various paths traveled by cosmic rays. Visitors can even feel the presence of cosmic ray air showers, which consist of incredibly small messengers that come from outer space one after another at every moment, from this very building.
For more details about the ICRR, see the following article:
What is the Institute for Cosmic Ray Research (ICRR)?