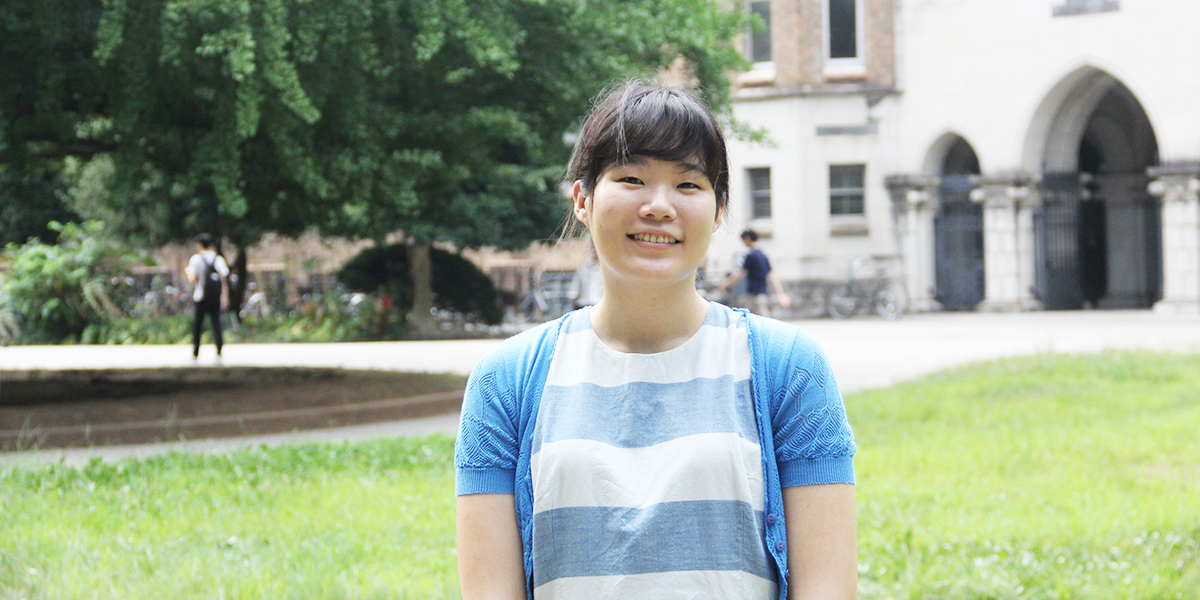 September 2, 2015
Learning about Myself while Learning about East Asian History

Ju Eun Park

Undergraduate student, Faculty of Letters
Department of Oriental History, Division of History
Country/Region of Origin: South Korea
Falling in Love with Japan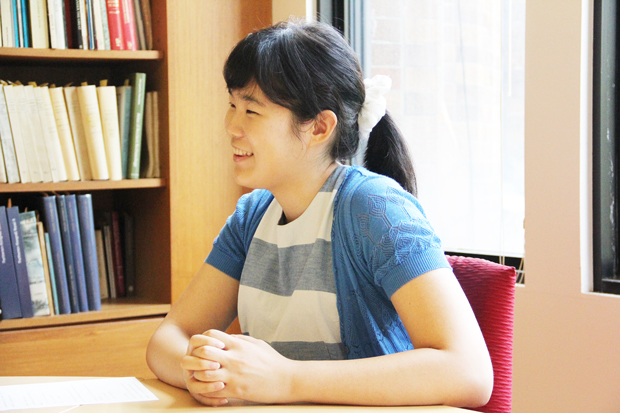 I first came to Japan on a family trip to Kyushu around when I started elementary school. Later, my father came to Japan to earn his Master's degree, so my family and I moved to Kobe when I was in the fifth grade. I spent two years in Kobe and returned to South Korea for my first year of junior high school.
Enjoying elementary school days in Kobe
I was nervous when I first came to Kobe, but I fell in love with school during my first day there. After that, my life in Kobe was wonderful. There is a great variety of club activities in Japanese schools, and students are passionate about participating in clubs. Back in South Korea, it's normal for students to just go to cram school after their regular school day ends, and there aren't really any students who actively participate in club activities like they do here. So, by going to school in Japan, I enjoyed not only my studies but also my club activities—I played the flute in the club I joined, the Wind Instrument Club. I made a lot of friends from not just Japan but also from South Korea and China, so I was very happy with my life in Japan. However, my family was able to only stay for two years because my father, who teaches Japanese language in South Korea, was on a two-year Master's degree study abroad program. When the time came to return to South Korea, I loved living in Japan so much that I wanted to stay in Japan by myself if I could while the rest of my family went back.
I was determined to go to a Japanese university
I enjoyed my time in Kobe so much that I wanted to study in Japan again. So, when the university entrance examination period came around, I decided that I would go to a Japanese university instead of a South Korean one. I applied for a MEXT scholarship and started to think about going to a Japanese university on a Japanese government-sponsored study abroad program. To become a Japanese government-sponsored exchange student, I had to take a written examination (with math, English and Japanese sections) in South Korea. Once I passed the written examination, I had to undergo an interview, and I was also able to pass that. Afterwards, I came to Japan to take preparatory educational courses for one year.

Students of these preparatory courses were dispatched to either Osaka University or the Tokyo University of Foreign Studies, and I was sent to Osaka University. At Osaka University, I took intensive Japanese language classes for a year with 30 other exchange students who came from various countries. I feel that Japanese is a language that gets harder the more you continue to learn it. Knowing how and when to use keigo (honorifics) is especially challenging, for instance. The grades we received in the preparatory courses determined which universities we could attend as full-time students, and luckily I was able to come to UTokyo.
Rediscovering the History of East Asia at UTokyo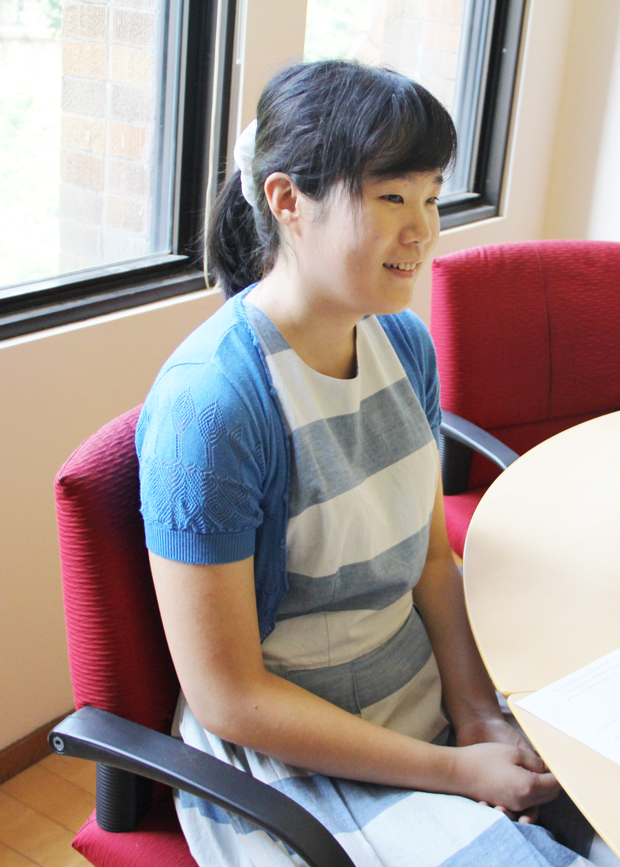 Why was I happy to come to UTokyo? Well, UTokyo is the number one university in Japan, after all, but I have a more specific reason. When I was a junior high school student, I was deeply moved by a book I read titled A Modern History for Adults: the 19th Century (Otona no Tame no Kin-gendaishi: 19-seiki Hen), which was written by a UTokyo professor. I was impressed by the new approaches this book took towards examining the modern history of East Asia.
Enamored with the History of East Asia
Interacting with many Chinese, South Korean and Japanese students at my elementary school in Kobe, I started to become aware of the region known as "East Asia." I had always liked reading historical novels and was interested in history, but I felt that history education in South Korea focuses only on wartime history, such as the colonial period and the invasion of Korea. I wanted to learn about not just these kinds of historical events, but also about the times when these three East Asian countries (Korea, China and Japan) had more peaceful and friendly relations with each other.
Researching exchanges among Japan, China and Korea from the 8th through 10th centuries
I spent my first two years at UTokyo in the Junior Division of the College of Arts and Sciences on the Komaba Campus, and then I continued on to the Department of Oriental History in the Faculty of Letters' Division of History. In my lab, I am studying the exchanges among Japan, China and Korea from the 8th through 10th centuries, the era in history during which the shift from ancient times to the medieval period was taking place. More specifically, I am researching why the locations of trade centers changed throughout this period for both Japanese governmental missions to China and for nongovernmental trade. I am examining papers and books written by my professor as well as original documents to conduct my research. Many of the original documents are in Chinese, so I have to use a dictionary and put a lot of effort into reading them. There is a large collection of these valuable original documents in the University's General Library and at the Institute for Advanced Studies on Asia, so UTokyo's facilities provide an excellent environment for the kind of research I'm doing. Right now, I'm working on my graduation thesis, which is about my research on the changes in trade center locations. My academic advisor and my senior classmates who have already graduated are giving me lots of advice as I write my thesis, but it's still difficult to complete a paper that has to be at least 50 pages long. My advisor just gave me some helpful criticism the other day and I am now in the process of revising the structure of my thesis. The research environment at UTokyo is free and unrestricted, but it also demands a high quality of work!

I want to continue on to get my Master's degree at UTokyo's Graduate School of Humanities and Sociology after I graduate, so writing a solid thesis now is a must. When I become a graduate student, I plan to further explore the topic I am currently researching. The major goal I have for myself now is to get into graduate school, and I haven't thought about what I'm going to do after that. I would rather continue with my studies as a Master's degree student than enter the job market.
A Place Called UTokyo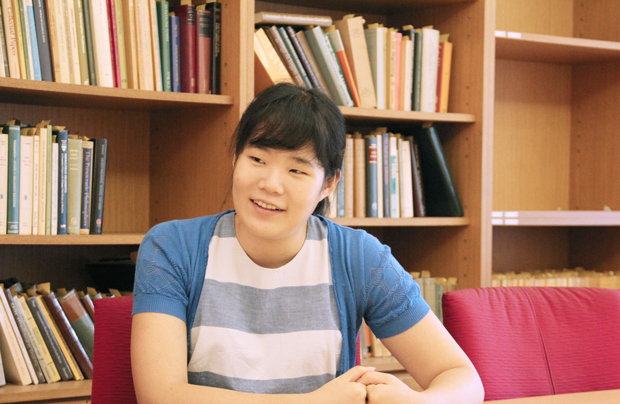 During my year at Osaka University, my classmates were all international students from various countries, and the only Japanese people that I regularly interacted with were my teachers. At UTokyo, on the other hand, all 30 or so members of my Junior Division class were Japanese, with the exception of myself. It was the first time in Japan that I realized that I was in the minority as an international student (laughs).
It took a little time to get used to things
Under these circumstances, it took a while to get used to things at first. My classmates often talked about their university entrance exams and Japanese TV shows, topics that I wasn't really familiar with so it was kind of hard for me to understand what they were saying. The first semester of my freshman year was difficult for me to get through. I hoped that my classmates would reach out and talk to me because I was the only international student, but I guess I was naïve to think that (laughs). I eventually realized that I had to be the one reaching out to them instead. I decided to proactively approach my classmates, and I invited them to cook and eat Korean food together at their houses starting that summer. Thanks to what I call my "Korean food parties," my Japanese classmates have become more interested in South Korea. Also, during the second semester of my freshman year, we had the Komaba Festival, and I worked very hard during that with my classmates. Because of my parties and hard work, I was able to get to know and fit in with my classmates better.
My friends are always there to help me out
When things got difficult for me in my life as an international student, I would often seek advice from other international students. I talked with the friends I made during my year at Osaka University, of course, but I also talked with the international students I met through a Japanese language course at Komaba. Students can select Japanese language as a primary foreign language at Komaba, and many international undergraduate students opt for Japanese language. As there are two or three Japanese language classes a week, classes serve as good opportunities for international students to meet other overseas students. When I had difficulty in getting used to the new environment at Komaba, I consulted with a friend who was quicker to adapt. She expressed sympathy for me, saying, "I experienced the same situation." I was quite relieved to hear that.

Study is a vital part of an overseas student's lifestyle, and I had some problems here too soon after I came to Komaba. For example, sometimes teachers spoke too quickly in Japanese and I had difficulty in understanding what they were saying. It also takes courage to ask questions. Also, when I had to take an essay test, I was worried if I could complete the essay within the same allocated time as Japanese students. I overcame those difficulties by using a digital voice recorder or by borrowing notes from Japanese friends. After entering the senior division (i.e. the Faculty of Letters), I struggled to read old Chinese texts using the Japanese-style reading rules called kanbun. It is easier for me to read Chinese texts with Chinese grammatical rules than with the kanbun rules. From this year, my academic advisor allows me to use kakikudashi-bun (transcription of old Chinese texts into Japanese), which helps a lot. A dictionary is essential when studying, and I always carry one with me even now. The graduate school entrance examination also requires a good command of English, so I rely on my friends who are native English speakers.

I live by myself, so it can be difficult if I fall ill. Last year, I caught norovirus and felt so powerless and alone. That time I asked one of my Korean friends to go to the hospital with me. I am very lucky to have friends who are willing to help me when I am in trouble.
And a Fulfilling Private Life, too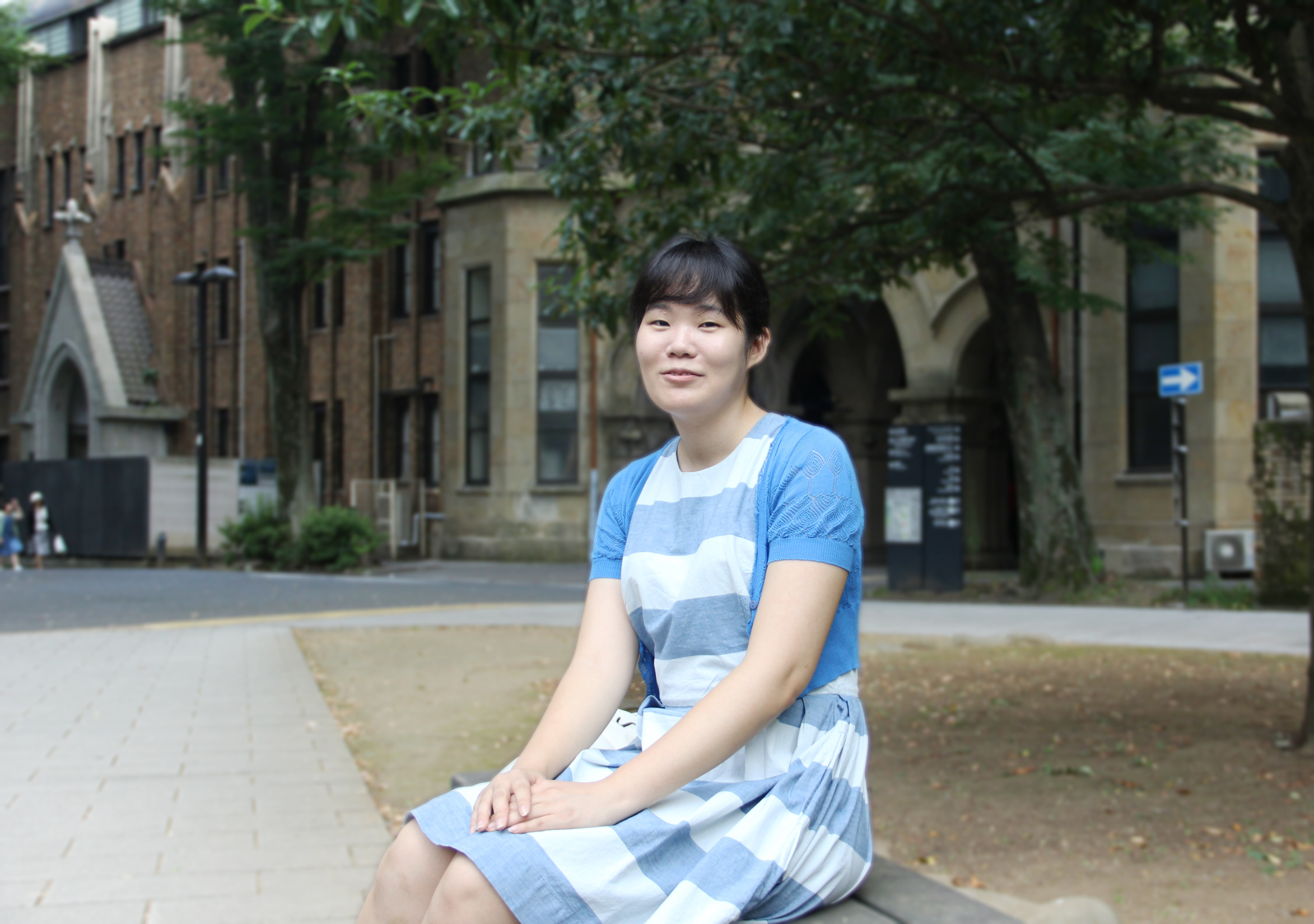 My strength is that I spare no effort to achieve my goals. My weakness is that sometimes I'm not totally optimistic. I think overall I'm an anxious sort of person.
I like going out
I prefer going out to being at home. On weekends I often go for a stroll in Ueno Park or visit art museums in Ueno and other areas, or go shopping in the Hakusan and Korakuen areas near the Hongo Campus. But recently, I am very busy writing my graduation thesis and have to study even on the weekends. I like traveling and taking pictures, and I enjoy traveling around Japan if I can take a few days off. My favorite place in Japan is Shirakawa-go, a village of Japanese traditional houses designated as a World Heritage Site. I'm fascinated by old things (laughs).

I lived in the University's Mitaka International Hall of Residence before and made a lot of Korean friends there. As most of them still study at the Hongo Campus, we often meet to have lunch at Icho Metro or one of the University's other cafeterias or sometimes visit a friend's house to cook and eat together. When I cook I usually go for Korean cuisine rather than Japanese.

Until last year, I had a part-time job as a Korean language instructor at the Center for Contemporary Korean Studies (in the Graduate School of Interdisciplinary Information Studies) on the Hongo Campus. This course was offered on a weekday afternoon once a week and was open to all members of the University community for free. The course was attended not only by Japanese but also by people of many nationalities. I was surprised and impressed to see foreigners studying abroad in Japan making the extra effort to study Korean as well. Unfortunately, the course is not offered this year.
Living in both South Korea and Japan
My lasting impression of Japan is that Japanese people are kind. They are very helpful, showing you the way when you get lost, for example. I also feel that Japan has a culture that values politeness. Japanese people try not to bother others, and while I believe this is a wonderful characteristic, I feel a little bit lonely when my Japanese friends try to take everything on themselves. Sometimes I wish that they would ask me for help more freely because we are friends. Another thing that still surprises me a bit is that in Japan, people on trains are all so quiet. I think this is also because of Japanese people trying to avoid bothering others. In Seoul, even though nobody talks in a particularly loud voice, I can at least hear people chatting on the subway (laughs).

South Korea undeniably places great emphasis on a person's educational background, so the University of Tokyo has a very strong image in Korea as the number one Asian university. Every year, around the time when world university rankings are announced, the South Korean media run a lot of articles about the number one university in the Asian region. Korean people often praise me when they discover that I am a UTokyo student. When finding a job, however, it is far more advantageous to graduate from a South Korean university. Anyway, I don't care because I want to continue my research at the University of Tokyo.

Finally, I want to offer one piece of advice to those who are planning to study abroad in Japan: don't wait for people to reach out and talk to you. You have to be the one reaching out to them instead!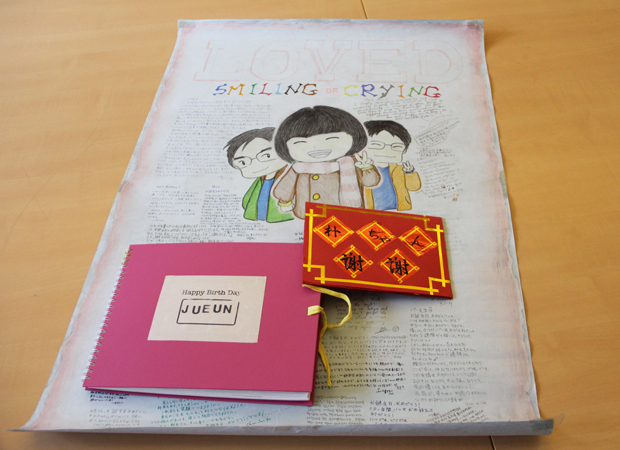 It's Always Good to Have Friends!
Yosegaki message cards and a photo album from friends
Ju Eun brought us two message cards known as yosegaki and one photo album. The large yosegaki card is a present from her fellow international students who took a preparatory course at Osaka University with her. Upon the completion of the course, her classmates wrote farewell messages mainly in Japanese for Ju Eun whom they called sensei (teacher) because she is very good at Japanese. As the title "Smiling or Crying" suggests, Ju Eun probably smiled and cried when reading these messages. The red yosegaki card features congratulatory messages from her Chinese language course classmates written when she was a sophomore and joined the May Festival (a University-wide two-day event organized by students welcoming a wide range of visitors). She was the leader of the class event for selling beef kebabs, which successfully sold out each of the two days. These yosegaki are mementos of Ju Eun's classmates. The photo album is a birthday gift from the Korean friends she made at the Mitaka International Hall of Residence. The album contains many photos of Ju Eun enjoying the company of her friends and warm messages.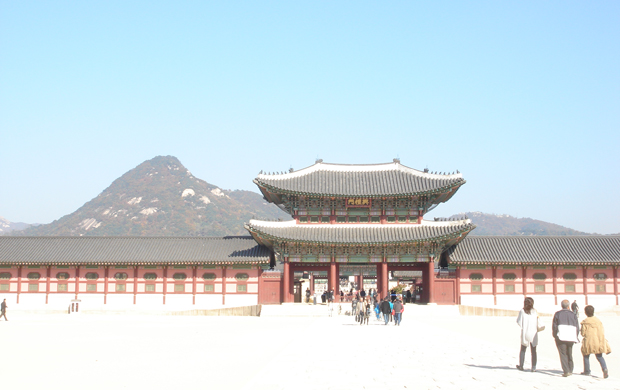 Why Don't You Visit Seoul?
The cultural heritage of the Joseon Dynasty
Ju Eun is from Seoul, South Korea. She says that Seoul is a big city but has an abundance of nature because the city is surrounded by high mountains and a large river flows through it. On the weekends, many people visit the nearby mountains to enjoy hiking. Ju Eun's favorite places in Seoul are Gyeongbokgung Palace, which was the main royal palace of the Joseon Dynasty, and the surrounding Bukchon Hanok Village, an area where many Korean traditional houses of high government officials and the nobility from the days of the Joseon Dynasty have been preserved. She says she feels relaxed when strolling around this area. This certainly suits Ju Eun, who loves history and old things.
Interview: August 07, 2015