平成27年度秋季学位記授与式・卒業式 総長告辞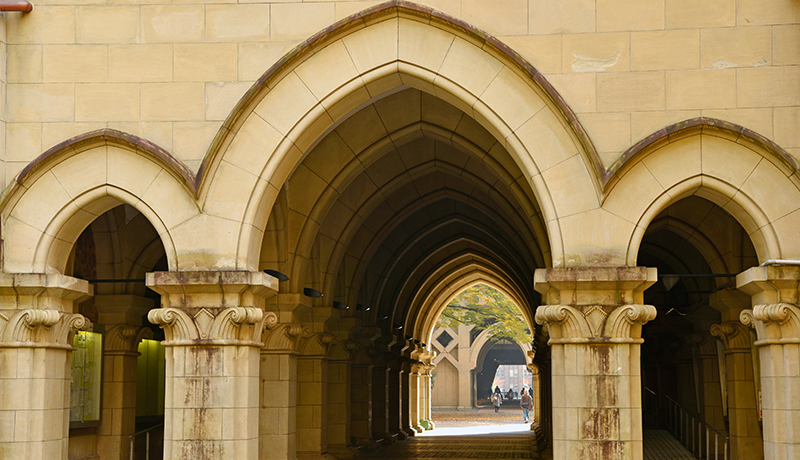 |
式辞・告辞集インデックスへ
|
式辞・告辞集 平成27年度秋季学位記授与式・卒業式 総長告辞
Address of the President of the University of Tokyo
At 2015 Autumn Semester Diploma Presentation/Graduation Ceremony
First, I would like to welcome you all. You have been awarded a doctor's, master's, professional, or bachelor's degree by the University of Tokyo. On behalf of all the staff of the University, I extend my sincere congratulations. I would also like to express my congratulations and gratitude to your families, who have supported you during your student days.
The number of students completing postgraduate courses by the autumn of this year is 536. Of which, there are 246 doctor's degree graduates, 232 master's degree graduates, and 58 professional degree graduates. 40 undergraduate students have also graduated. 332 students come from outside Japan and such students account for about 60% of the total.
You come from around the world. Of the top universities in the world, you chose to study at the University of Tokyo. Now, when you think back on your days at the University, you may have memories of both happy and difficult times. But also, there must be a great sense of achievement as you prepare to turn the page on the next chapter of your life.
I would like to talk about the connections between your academic studies and today's world. In the twentieth century, we had many epoch-making discoveries in all fields of the natural sciences. Those findings led to tremendous advances in technologies and changes in human society. For example, I am a physicist, and in physics the theory of relativity and quantum theory were established in the early 20th century. They changed the way we look at space, time, and matter, as well as the universe itself. Semiconductor electronics emerged from modern physics, leading to computers and the Internet. Humanity has used such scientific and technological innovations to change society and become a strong force for change.
Today, however, many global problems confront us. Natural resources are running out and the global environment is being damaged. We also face global financial uncertainty and aging populations, as well as epidemics and regional disparities. In recent years, serious conflicts have been increasing around the world. So, we might wonder if humanity really is heading in the right direction. Perhaps we do not know enough to control the power we have developed. No matter what we feel and no matter what our doubts are, we have to address these problems. To do so, we must share knowledge, collaborate, and find innovative solutions together with people around the world.
The University of Tokyo was established in the Meiji era to introduce Western expertise and modernize the country. This year marks our 138th anniversary. Since those early days, the University has taken a unique approach to academic studies. We place importance on pursuing universal truth in the humanities and social sciences, as well as in the natural sciences. We drew upon resources from East and West and incorporated them into the traditional culture of Japan to create new knowledge. This approach established the University's tradition of academic diversity. To find solutions to the complex and difficult problems we face today, we need to approach them from wide-ranging perspectives. In that sense, the importance of diversity in academic studies, which you learned here, continues to increase.
In April this year, I became President of the University. At that time, I talked to the new students about the three basic abilities they will need to be knowledge professionals. These are the ability to think up new ideas and concepts by oneself, the perseverance to continue thinking, and the ability to retrace one's steps and go back to the basic principles. Those still apply to all of us. Having these abilities, we must take action. In doing so, we must collaborate with other people. To have successful collaboration, you need to recognize where you stand and to respect others.
You have come to Japan from all over the world, bringing different experiences with you. By studying together, I am sure you have further accumulated experiences and made lifelong friends. Now, as you prepare to go out into the world, I urge you to continue sharing your diverse origins and cultural experiences. As a knowledge professional, you can create a community where differences in ethnic origin, nationality, gender, age, culture, and religion are recognized, respected, and celebrated.
I guarantee that all of you have acquired the intellectual abilities I have just referred to. You will continue to face many challenges. But, do not be afraid of failure. Have confidence in yourself and always look for fresh challenges.
The ties between you and the University of Tokyo will remain throughout your lives. One of our goals is to be a "global base for knowledge collaboration", which is a forum for creating values and finding solutions for the global community. I hope you and the University of Tokyo will continue to break down boundaries and make important contributions to humanity. As you seek solutions, the university will always be here to help you. And, when you face obstacles, when you want to return to basic principles, or when you want to find support from friends and colleagues, please make full use of the University of Tokyo. Our doors are always open to our alumni.
There will be no end to your search for knowledge. You must continue to take up challenges, for yourself and for the future for humankind, with pride and confidence in what you learned at the University of Tokyo. I would like to wish you all well and every success in your careers.
Makoto Gonokami
President
The University of Tokyo
カテゴリナビ