FY 2022
(July 4, 2022)
The 5th UTokyo Future Society Initiative Advisory Board Meeting Held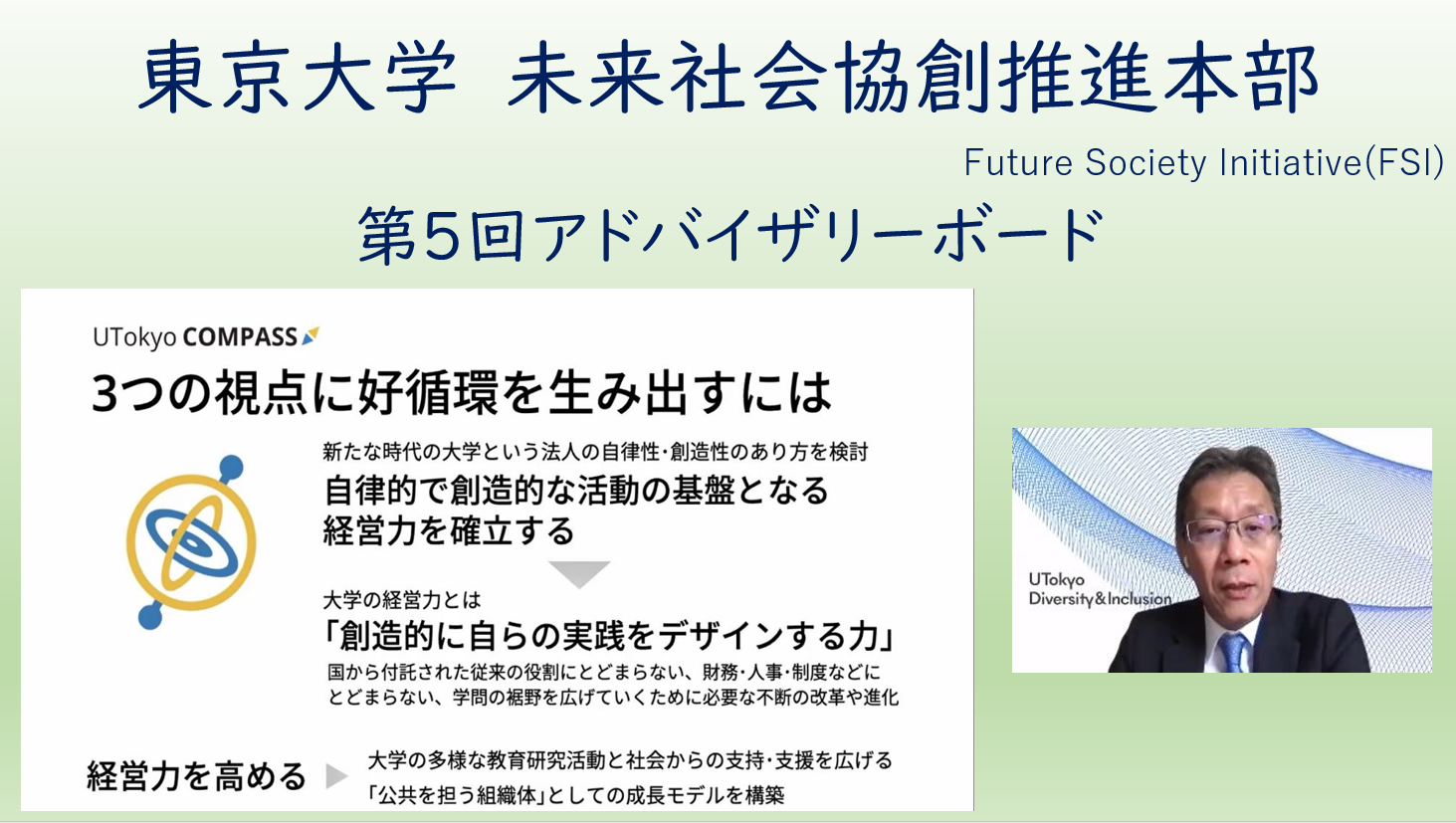 FY 2021
(November 10, 2021)
The 4th UTokyo Future Society Initiative Advisory Board Meeting Held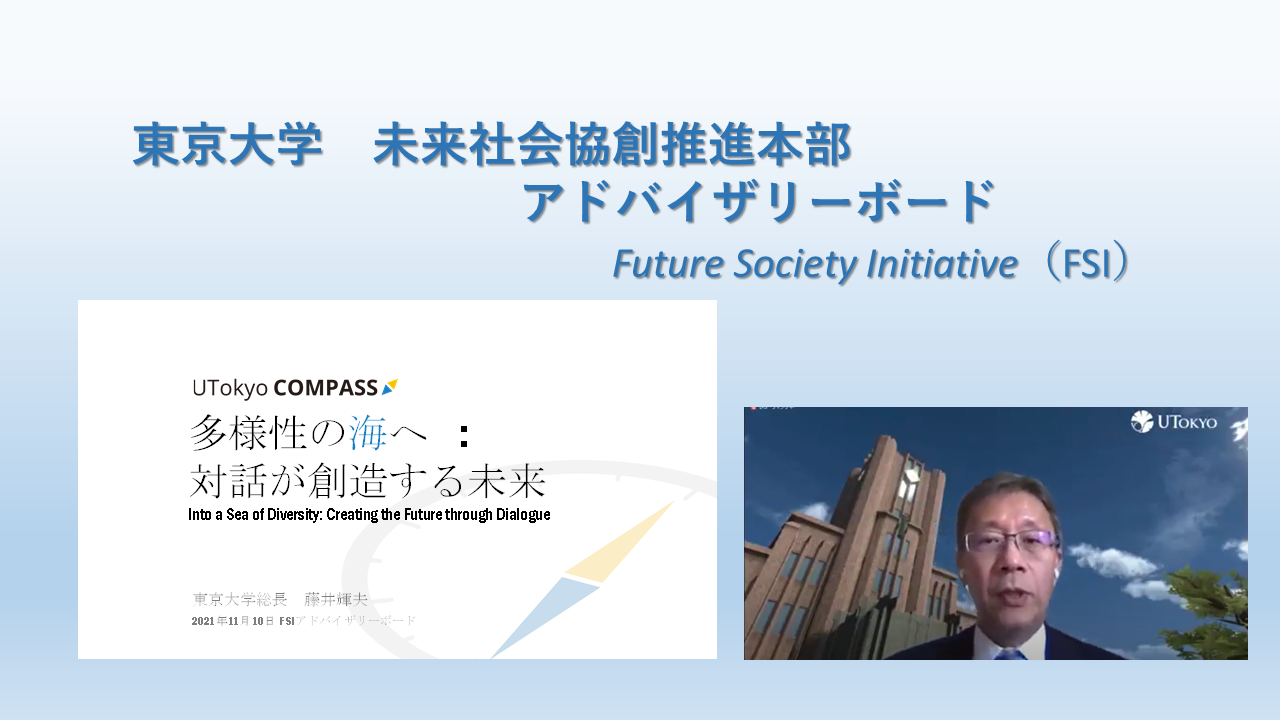 FY 2020
(February 17, 2021)
The 3rd UTokyo Future Society Initiative Advisory Board Meeting Held
FY 2019
(January 9, 2020)
The 2nd UTokyo Future Society Initiative Advisory Board Meeting Held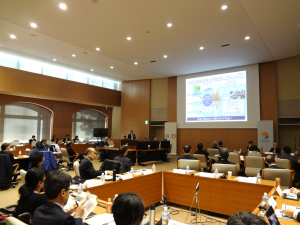 (September 2, 2019)
Symposium on Data-Driven Future Society held
(May 14, 2019)
Signing ceremony of the agreement on the "Marine Waste Management Project" held with the Nippon Foundation
FY 2018
(March 25, 2019)
UTokyo Students Participate in Japan-ASEAN Students Conference
(February 28, 2019)
Tokyo College Established
(January 21, 2019)
14th Annual IARU Presidents' Meeting Held
(January 16, 2019)
The 1st UTokyo Future Society Initiative Advisory Board Meeting Held
(December 17, 2018)
UTokyo and Daikin Conclude "University Corporate Relations Agreement"
(December 5, 2018)
UTokyo Extension Co., Ltd. Established
(November 30, 2018)
German Junior Experts Visit Advanced Mobility Innovation Project Facility
(November 27, 2018)
Symposium Marks Signing a Framework Cooperation Agreement Between the University of Tokyo and UNDP
(November 23, 2018)
Ceremony, Symposium Held for Conclusion of UTokyo's Comprehensive Partnership Agreement with Mie Prefecture
(November 19, 2018)
"Policies and Strategies for Utilizing Data – For a better Data-driven Society –" Held
(November 6, 2018)
UTokyo Publishes FSI Magazine
(September 20-21, 2018)
IARU Senior Officers' Meeting Held
(September 5, 2018)
The 1st Community Workshop for Utilizing Research Data Held
(May 5-6, 2018)
The President Gonokami Was Nominated and Confirmed as the Next Chair of the IARU for the Period 2019-2020
(April 16, 2018)
The University of Tokyo-UNIDO Joint Symposium "Young Wisdom, Innovation and SDGs" Held
(February 23, 2018)
Press Release Information: Proposal of Spin-wave-based Information Processing Chip Device and Demonstration of the Basic Principle
(February 14, 2018)
International Conference "Sustainability and International Relations: Toward the Achievement of Sustainable Development Goals" Held
(January 26, 2018)
President Gonokami Attends the 2018 Davos Forum
2017
(December 18, 2017)
The Policy Alternatives Research Institute Establishes the SDGs Collaborative Research Unit
(December 14, 2017)
"Disrupting Development through Science, Technology and Innovation" Forum Held
(October 1, 2017)
President Gonokami Co-chairs the University Presidents' Meeting of the Science and Technology in Society (STS) Forum 2017
(July 4, 2017)
Establishment of the UTokyo FSI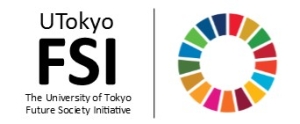 The University of Tokyo established the UTokyo Future Society Initiative (FSI). Our activities will be communicated through this website.

(June 30, 2017)
UTokyo has been Selected as a Designated National University Corporation