The 17th Homecoming Day
Save the Date: The 17th Homecoming Day to be Held on Saturday, October 20, 2018

We are pleased to announce to you that the 17th Homecoming Day will be held on Saturday, October 20th, 2018.
Main programs include the Special Forum held under a specific theme, alumni gatherings for 20th, 30th and 40th-year reunions, the Yasuda Music Festival which will be held at the Yasuda Auditorium, the kids garden "Nobi-nobi Hiroba," the Rakugo (Japanese sit-down comedy of comic story telling) Show and stalls on the Ginkgo Avenue.
All people, not just alumni, are welcome to the event.

The Special Forum 2018 "Challenge the frontier of body and mind" @Yasuda Auditorium
Three professors engaged in advanced research on the future of the body and development of the mind, namely, Prof. Naokata Ishii, Director, Sports Science Initiative, Prof. Masahiko Inami, Research Center for Advanced Science and Technology, and Prof. Kuniyoshi Sakai, Graduate School of Arts and Sciences, will give a lecture.

For alumni only
Alumni admitted to the University from 1961 to 2015 will be provided with their own data of physical strength tests conducted at the age of 20.

Tea party at Kaitokukan
Kaitokuen Garden, which is normally closed to the public, will be open for this special occasion and tea will be served at a tea room within Kaitokukan. Why not take this opportunity to look around the Garden's beautiful scenery and taste tea there on Homecoming Day?
Special events for primary school students and older
Special lectures or workshops will be conducted for primary school students and older by volunteer alumni.
Further details will be announced shortly.

*To those with disabilities:
If you need some kind of support, please let us know in advance.
Please note that we may not be able to meet your expectations because of available facilities, etc.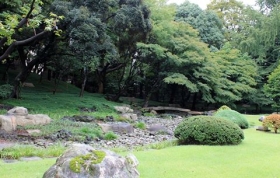 Past Homecoming Days