What is the ideal form of knowledge collaboration towards which the University should aim?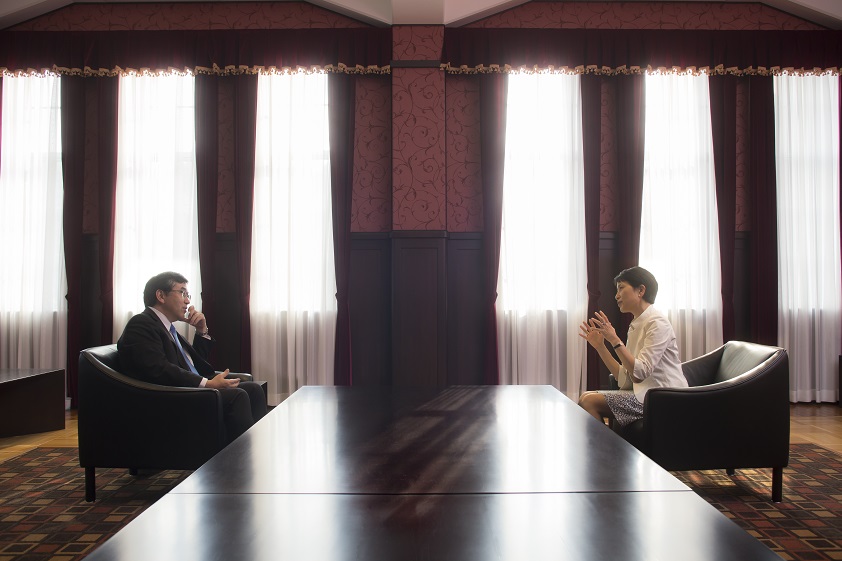 Our special guest is Ms. Naoko Ishii, a UTokyo alumna who tackles global-scale environmental issues as the first Asian CEO of the Global Environment Facility (GEF). Ms. Ishii, who traverses the globe for her work, is welcomed by President Gonokami, who is pressing forward with efforts to transform the University of Tokyo into a global base for knowledge collaboration. Time seemed to pass by quickly as they talked about a wide range of topics, including the problems humanity faces, the role of the University of Tokyo in dealing with these issues, and the significance of diversity.

Moderator: Today, we invite Ms. Ishii to be here at the earnest request of President Gonokami who aspires to make the University of Tokyo into a global base for knowledge collaboration. I imagine that GEF, of which Ms. Ishii is the CEO, must be a place where knowledge collaboration transcends the boundaries of academic disciplines, administrative sections and geographical regions. With these perspectives in mind, Ms. Ishii, could you tell us about the activities of GEF?

Ishii: Your description of GEF's essence is spot-on. GEF is an entity founded to contribute to the compliance of three international environmental agreements: the United Nations Framework Convention on Climate Change, the Convention on Biological Diversity and the United Nations Convention to Combat Desertification. In this sense, GEF is bound by treaties. Other barriers exist, too: the borders between countries and divisions between the public and private sectors. When I became CEO, I felt that GEF has been unable to fulfill its core mission of improving the global environment due to being held back by these barriers. Thinking about how to overcome these barriers, I produced my strategy document GEF 2020.

Gonokami: I am also in the middle of writing my action plan, which is called The University of Tokyo: Vision 2020.

Ishii: It made me happy to hear after I made my plan that its title was so similar to yours. As a theoretical background for GEF 2020, I used the concept of planetary boundaries1 proposed by environmental scientist Johan Rockström. The planetary boundaries concept focuses on nine important system processes that constitute the Earth system, including the climate system, aquatic environment and biodiversity, and quantifies the burden human economic activities have placed on the Earth system. The concept is based on the assumption that once passing a certain threshold, the Earth system may become unable to function normally, and unpredictable changes may take place.

The mission of GEF is, in short, to ensure that further economic growth will fall within the thresholds that the Earth system can support. That's why GEF has provided capital grants to developing nations that are implementing projects for solutions to global-scale environmental issues.
The time when universities need to take action is now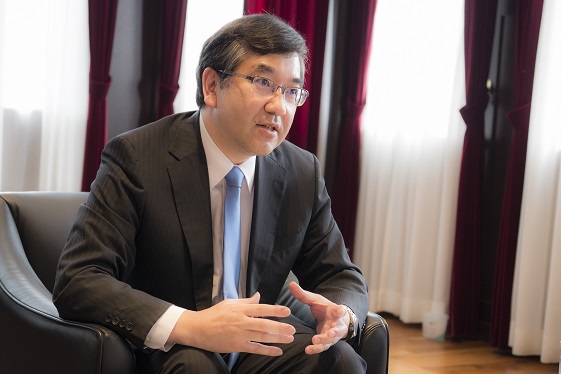 Moderator: President Gonokami, you say you will make UTokyo "a global base for knowledge collaboration." What do you mean by that?

Gonokami: First, I think that we are at the juncture at which universities should change what functions they fulfill in society. As we are at a turning point in every aspect, not only economically but also culturally and politically, I think that universities should become places of action. In the past 20 years, people have come to widely recognize that the Earth is not boundless, and globalization has come to be emphasized. The traditional stance of the University of Tokyo was that the mission of academia was to contribute to humanity. In the era of globalization, however, academia can no longer solely spend considerable time doing research as long as it serves future generations. There is now a strong expectation of universities to act. I coined the phrase "collaborative platform" with this message in mind.

How can we rein in the instability that is increasing as a result of dynamic human activities on our finite Earth? How can we come up with ideas from the viewpoint of not controlling this instability, but managing it? In this regard, I believe that a fusion of the humanities and the sciences is necessary. The recent notice from the Ministry of Education (MEXT) telling universities to review the necessity of research in the humanities and social sciences caused great controversy. However, we in academia feel that there is a great amount of potential in combining the humanities and the sciences, including from an economic perspective. I think that you work in a field in which the fusion of the humanities and the sciences matters greatly.

Ishii: I think that having the humanities and the sciences, as well as the public and private sectors, working together is precisely what we need. Taking on board the concept of planetary boundaries, we are working with not only scientists but also economists, sociologists, world leaders and policymakers.

GEF prioritizes areas in need of urgent action and makes concentrated investments in these areas. Take deforestation, for instance. To stop illegal logging, the onus is eventually on consumers to decide not to purchase items made of wood procured in this way. Although eco-conscious consumer groups have been established, there are still many people who value cheap prices over sustainability. We need to change their mindset. GEF is working to make sustainable supply chains take root by providing financial resources to producers who are switching to sustainable production methods.

In general, when considering climate change, biodiversity and similar issues, the traditional framework that uses the nation as its basic unit has become obsolete. Rather, networks of people with the courage and wisdom to contribute to humanity are of value. In this sense, universities are of great importance. I feel that our activities at GEF and the research activities conducted at universities are becoming more closely aligned with each other. The number of cases in which research technologies are directly used by communities is increasing. For example, municipalities have used high-resolution images taken by NASA's satellites to help them adapt to climate change. I would like universities to provide a "global commons" of knowledge and technology when the scale of certain issues is too large for individual economic entities to manage on their own.
Coming up with original Japanese ideas not found in western countries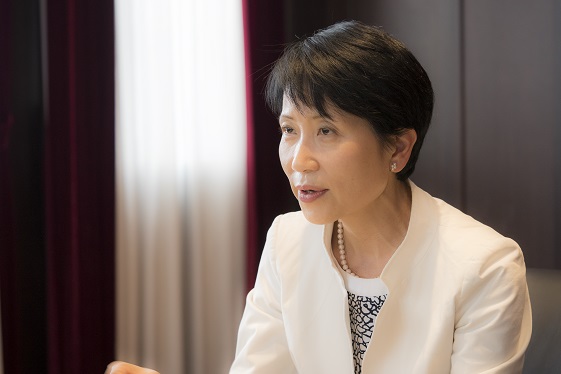 Gonokami: I agree. Technology is vital when it comes to supporting diverse lifestyles. Japan's economic growth after World War II was bolstered by the mass production of cheap but high-quality goods. In recent years, however, I believe it has become important to redirect research towards improving technologies to produce a wide range of goods using the same amount of resources. To tell you the truth, if I had not become president, I would have gone into this kind of work. (laughs)

I strongly hope that Japan can propose concepts that contribute to the stabilization of the global economy. Taking advantage of Japan's location and experience in supporting the world's diversity through our country's unique culture, I would like Japanese people to come up with ideas not found in western countries. Like Johan Rockström, the majority of those who have proposed important concepts have been westerners so far.

Moderator: Speaking of diversity, the flipside of Japan being able to contribute with ideas different from those of western countries is the aspect that Japanese society is quite homogeneous. It is said that the University of Tokyo symbolizes this kind of homogeneity. The good aspects of this kind of internal world cannot be appreciated, however, if you do not know about the outside world. On that note, could you tell us what experiences you think students should have from an educational perspective?

Gonokami: They have to understand that Japan is unique when viewed from a global perspective. In the past, I had the opportunity to study at Bell Laboratories2 in the U.S. At first, no one there took notice of me. Colleagues did not even talk to me unless they thought I was a person who deserved their time. After working with me and eventually acknowledging me to be a person with whom they could consult, everybody came to me. It was quite stimulating to find out how I was perceived by people overseas. This experience had influence on my research life, I believe.

Ishii: How old were you then?

Gonokami: I was 32 years old. I was planning to continue my research in the U.S. but was asked to manage a laboratory at the University of Tokyo. Eventually, it was decided that I would carry out joint research at Bell Labs for four three-month periods. A researcher3 who worked there at the lab next to mine won a Nobel Prize last year. Thinking back, perhaps I made the wrong life decision. (laughs)

Students really should get out of Japan and experience being in the minority at a younger age. The educational reforms initiated during the tenure of former President Junichi Hamada also focus on this point. In the programs taught entirely in English called PEAK4, which are offered on the Komaba Campus, overseas students act as a source of inspiration and stimulation to Japanese students. Even studying in the center of Japan, a nation that supports the diversity of knowledge in the world, Japanese students cannot utilize this environment to their advantage unless they know about the world outside Japan. I hope that they will go out of Japan instinctively as you did.

Ishii: To tell you the truth, the first time I spoke to a non-Japanese person was when I was 25 years old and working at Harvard University. I had a hard time then because I did not have a good understanding of the English language and the local customs. Also, I felt the same as you did when I worked at the World Bank. In Japanese organizations, if you have an executive post, people will naturally follow you. In international organizations, though, you are completely ignored until you are acknowledged to be a person who can contribute to the organization. That was a source of daily stress for me.

Gonokami: Seeing that you were able to overcome those difficulties, I guess UTokyo must have trained you well. (laughs) If you don't have anything to show for yourself, nobody will pay attention to you. I think that there are areas of Japanese education which have succeeded in having students develop points through which they can prove themselves to others.

I spoke with PEAK students the other day and felt that their communication skills are far superior to those of Japanese students; on the other hand, they said that they cannot catch up to the level of mathematics taught in Japan. In other words, this is proof that Japan's mathematics education has been successful. I am planning to launch projects that will introduce UTokyo's mathematics education to other countries, including those in the Asian region.
Academia can lead collaboration between China, South Korea and Japan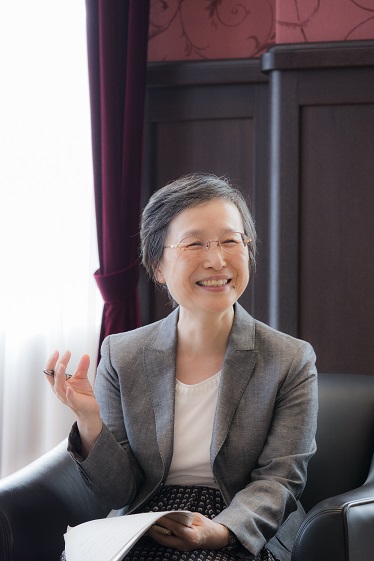 Ishii: For Asia to become the third center in the present world where basic solutions to problems, including environmental issues, have been proposed mainly by Europe and America, I believe that China, South Korea and Japan have to cooperate with each other. Although political difficulties exist, from a business aspect, the three countries often need each other. In the academic world, do you think progress will be made in collaborative efforts between China, South Korea and Japan?

Gonokami: Japan shares many cultural similarities with China and South Korea. Also, science is universal, so I think that academic collaboration between the three countries should be straightforward. We have to make society in general recognize that that this kind of synergetic effect can be seen in the academic domain.

Ishii: China, whose rapid economic growth has resulted in a wide range of social and environmental issues, introduced a new concept called "生態文明 (seitai bunmei, literally meaning "ecological civilization")" in its Five-Year Plan. Japanese people can understand the gist of this phrase because it's written using kanji (Chinese characters). On the contrary, when westerners hear the phrase "ecological civilization," they might not be able to come up with an idea of what it means. Thanks to the common use of kanji, the Japanese can understand what the Chinese are trying to convey. Having this in mind, I feel that if academic collaboration between China and Japan does not make progress, it would be a loss of many good opportunities.

Gonokami: I recall now that the visibility of Japan has declined on America's East Coast. I often hear this from my friends living in the U.S. When I worked at Bell Labs in the early 1990s, Japan enjoyed a higher level of presence; for example, Japan-related articles were often featured in American newspapers. Recently, however, they say that Japan is not attracting even the slightest bit of interest.

Ishii: I feel that Japan's presence has been fading not only on America's East Coast but also in the international community. At a variety of international conferences I have attended, I have felt a strong sense of crisis because Japan often fails to clearly voice its opinions. I want you to train students using a collaborative platform so that they become people who can voice the opinions of Japan in areas that transcend regional boundaries.

Gonokami: Current political discussion in Japan tends to reach the conclusion that everything should be downsized because the population is decreasing. However, if you consider that Japan has entered a phase in which the Japanese have come to understand the value of country's cumulative experiences and are communicating them to the world, you can draw a positive scenario of Japan. I think that presenting a negative scenario to young people who are responsible for creating the knowledge of the next generation is not good idea. In this sense, science is very effective at keeping things positive because the possibilities for academic exploration are endless.

Ishii: Planetary boundaries is a forward-looking concept in which scientific attempts are made to investigate how the Earth can continue to grow for many years to come. This is not about downsizing, but rather about changing systems. For example, if the production of palm oil is destroying forests, how can we add this cost to the price of palm oil? A system has not yet been well established for suggesting the monetary value of natural resources, such as forests. With regards to coffee, however, consumers are coming to appreciate the value of socially-conscious or eco-friendly products and pay a little bit more money for those products through systems like fair-trade certification5 or the Rainforest Alliance Certified seal6. GEF will continue to support these and similar movements.

Gonokami: I want to promote the strengthening of human networks. What the University has traditionally done is prepare a "launch pad" for its students and then simply tell them to "do their best" out in the real world. I don't think that that is enough. A collaborative platform would provide a space for people of all ages to come in and out, serving as an "engine" for social change. For example, about 100 students have graduated from my laboratory. We all know about each other's research, so I can get an idea of what results they can achieve by combining their expertise with one another. If we can expand these kinds of mutual linkages to the University level, we can create large networks. In the same way, I want to utilize the power of our alumni who work successfully in the international arena, as you do.

Ishii: I would be delighted to cooperate. Reading your Policy Declaration7 left a profound impression on me. I felt that if we do not take the kinds of actions stated in it, Japan will disappear from the face of the earth in a figurative sense.

Gonokami: Thank you very much. Availing of your kind offer, I want to ask for your advice right away on the topic of diversity. It is obvious that women should play more active roles in business and research, but the reality is not as it should be either in Japan or in UTokyo. What do you think would be effective solutions to this issue?

Ishii: The key is changing how men work. If that changes, then progress will be made. Another major problem is workers being evaluated based mainly on how long they have worked in the same place. Evaluations should instead be made based on what kind of output they have produced. If that happens, mobility within the entire labor market will increase.

Gonokami: The other day, I heard from my Russian friend who became a lecturer at a university in the U.K. that they are very careful there about how late they work. If they work late at night, English colleagues tell them that they're being "unfair." My friend said that it's normal to work late in Russia just like it is in Japan, but English society doesn't condone working late.

Ishii: The word "unfair" seems to be extreme, although at GEF, we definitely don't consider overtime work to be a smart thing to do. As GEF is an international organization, our evaluation system is well established. We implement staff surveys where the CEO is evaluated in all aspects—questions such as "Are the CEO's visions clear or not?" and "Does the CEO communicate effectively with staff?" The results of the survey are submitted to the board of directors. Sometimes, I receive critical comments about my performance...

Gonokami: Evaluation systems are very important. I want to gain a better understanding of them and implement changes to the evaluation systems used at the University.
Having a Ph.D. is particularly vital in the international community
Ishii: I got a Ph.D. from the Graduate School of Frontier Sciences of the University of Tokyo in 2006. The degree was of great help when I ran in the election to become the CEO of GEF. For those who want to work at international organizations, a Doctoral degree is vital.

Gonokami: Many graduates of my laboratory have found employment after obtaining only Master's degrees. I want to make the collaborative platform a space that brings them together back at the University and enables them to naturally obtain Doctoral degrees.

Ishii: Restarting research activities after working outside the University for a while is very meaningful. You can understand things you didn't understand as a student.

Gonokami: The presence of adult students really motivates regular students. When regular students have people who are very willing to learn around them, it acts as a positive influence.

Moderator: We will never run out of topics to discuss, but the time has come to conclude the interview. Today's meeting marks the beginning of our friendship, so let us look forward to when we can see each other again. Thank you very much.


*This interview took place on July 29, 2015.
~Extra Talk~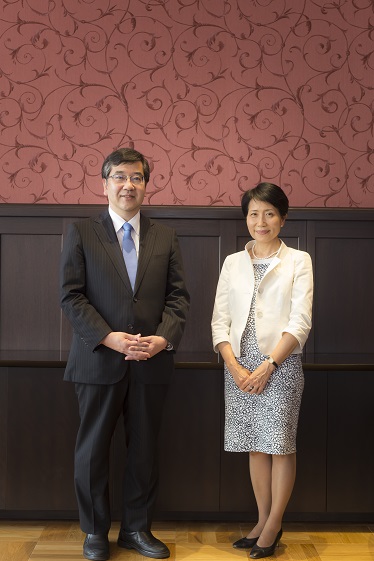 Ishii: Next time, how about bringing your wife along and the three of us having a drink together?

Gonokami: Sounds nice. Do you like drinking?

Ishii: Yes. When I worked as the director of a tax office, going out drinking was almost part of my work routine.

Gonokami: I see.

Ishii: The important thing is to not get drunk to the point of collapsing; you want to hang with the others until the end. If you choose warmed sake (it comes with a very small cup called o-choko), it is very dangerous because you are asked to drink one new o-choko after another. So, I opt for cold sake, which comes with a regular cup. There are not that many people who would ask you to completely down a regular cup of sake.

Gonokami: ...Don't be too hard on me, please. (laughs)
Notes
1. Planetary boundaries: The concept that humanity has to avoid causing calamitous changes to the Earth by quantitatively understanding the thresholds (boundaries) at which continued existence as a species would become difficult. Data estimates in the fields of the nine boundaries show that humanity has already passed thresholds in two of them: the biogeochemical flow of nitrogen and phosphorus and biosphere integrity (genetic diversity). Humanity also appears to be close to crossing over the climate change boundary threshold.
2. Bell Laboratories: A research company named after Alexander Graham Bell, the inventor of the first practical telephone. The company has promoted a variety of research projects related to innovative technologies, with seven people affiliated with the Labs winning Nobel Prizes so far.
3. A researcher who worked in the neighboring lab: Dr. Eric Betzig, who was a co-recipient of the 2014 Nobel Prize in Chemistry for "the development of super-resolved fluorescence microscopy."
4. PEAK (Programs in English at Komaba): Undergraduate degree programs started in autumn 2012 at the College of Arts and Sciences on the Komaba Campus that are taught entirely in English. They are divided into the Junior Division program (the International General Education Program) and the Senior Division programs (the International Program on Japan in East Asia and the International Program on Environmental Sciences).
5. Fair trade: A social movement that tries to help producers become independent and improve their quality of life through by promoting the continuous purchase of their products at appropriate prices.
6. Rainforest Alliance Certified seal: Commodities with this seal are produced using methods that do not cause deforestation. The seal is characterized by a green frog.
7.
Policy Declaration
: President Gonokami announced his
Policy Declaration
at the press conference marking his inauguration. In the
Policy Declaration
, President Gonokami summarizes in ten goals what the University of Tokyo should do to become a stronger university (see
https://www.u-tokyo.ac.jp/en/about/policy_declaration.html
for the full text).
About the Participants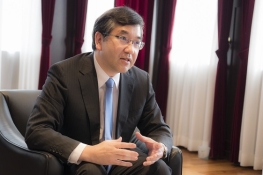 Makoto Gonokami, President of the University of Tokyo
Born in 1957. Graduated from the Faculty of Science of the University of Tokyo in 1980. Took a leave of absence after the completion of the Doctoral course of the Graduate School of Science at the University of Tokyo in 1983. Became a research assistant in 1983 and a lecturer in 1988 at the University's Faculty of Science and Faculty of Engineering, respectively. Took the position of associate professor at the University's Faculty of Engineering in 1990 and the Graduate School of Engineering in 1995. Became a professor at the University's Graduate School of Engineering in 1998. Appointed to be a Special Advisor to the President in 2005. Became a professor of the University's Graduate School of Science and of the Photon Science Center at the University of Tokyo in 2010. Appointed as a vice president of the University of Tokyo in 2012. Became the dean of the University's Faculty of Science/Graduate School of Science in 2014. Became the 30th president of the University of Tokyo in April 2015. Area of specialization: quantum optical physics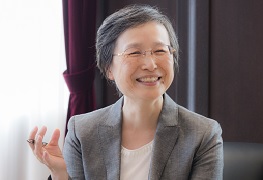 Moderator: Professor Takane Ito
Born in 1955. Graduated from the University of Tokyo's Faculty of Letters in 1978. Took a leave of absence after the completion of the Doctoral course of the Graduate School of Humanities and Sociology at the University in 1984. Became an associate professor of the University's Graduate School of Arts and Sciences in 1989 and a professor of the same in 1999. Coauthored books include
The Structure and Formation of Words
(
Go no Shikumi to Go Keisei
) (Kenkyusha Publishing) and others. Area of specialization: linguistics (particularly English linguistics)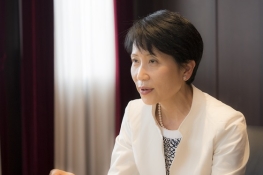 Naoko Ishii, Chief Executive Officer of the Global Environment Facility
Born in 1959. Graduated from the Faculty of Economics at the University of Tokyo in 1981. Received a Doctoral degree from the Graduate School of Frontier Sciences in 2006. Joined the Ministry of Finance in 1981 and worked mainly in the Ministry's international sections. Worked at both Harvard University's Center for International Affairs and the Harvard Institute for International Development. After working at the World Bank in its East Asia and Pacific regional unit and as the Country Director for Sri Lanka and the Maldives, as well as serving as Japan's Deputy Vice Minister of Finance, she became the CEO of the Global Environment Facility. Has authored two books titled
The Economics of Policy Coordination
(
Seisaku Kyocho no Keizaigaku
) and
An Empirical Analysis of Long-term Economic Development
(
Choki Keizai Hatten no Jissho Bunseki
) (Nikkei Inc.).
Photos:
Junichi Kaizuka
* This interview was originally printed in
Tansei 31
(Japanese language only).