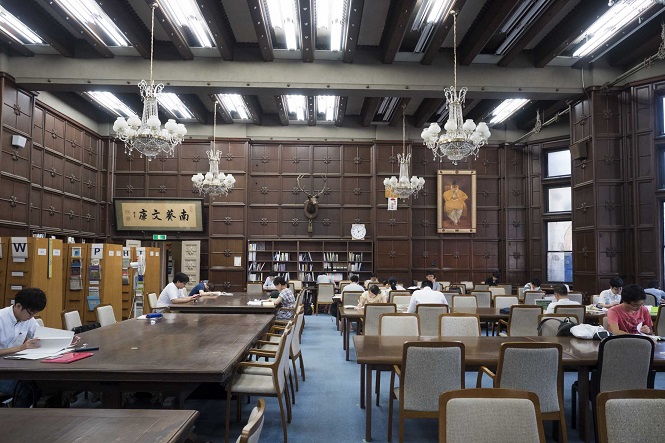 In 1928, when the Library was first established, this room was called the Memorial Room in commemoration of the Library's reconstruction following the Great Kanto Earthquake in 1923. Later it was also called the VIP Room, becoming solely for the use of special guests and off-limits to ordinary users. In 1963, when the Library was completely renovated, the room was opened to the public and renamed the Free Reading Room, later changed to its current name, the Western Journal Reading Room. It is known that Shigeru Nanbara, the dean (later University president) of the Faculty of Law, came to this room in 1945 with six other professors in the Faculty to lobby the Japanese government to end the War.
The stuffed deer head on the wall was a gift from King George V of Britain in 1913. To the right is a portrait of Tagore, the Indian poet and thinker, and on the left is the calligraphy piece "Nankibunko," drawn by Yoshinobu Tokugawa. The Nankibunko collection comprises a set of about 100,000 books originally owned by the Tokugawa family in the Kishu (Wakayama) area that was given to the Library, which lost many of its books in the Great Kanto Earthquake.
With the new library building plan currently in the works, changes are in store for this room once again. This room, with its long history and tradition, is going to be rechristened the Memorial Room, receiving the same name it had when it was first established; additional plans are to also use it as a venue for lectures and other events. As soon as the work is completed, you are welcome to come and sample 90 years of accumulated knowledge at the University of Tokyo General Library.
* The Japanese version of this text was originally printed in
Tansei 33
(Japanese language only).