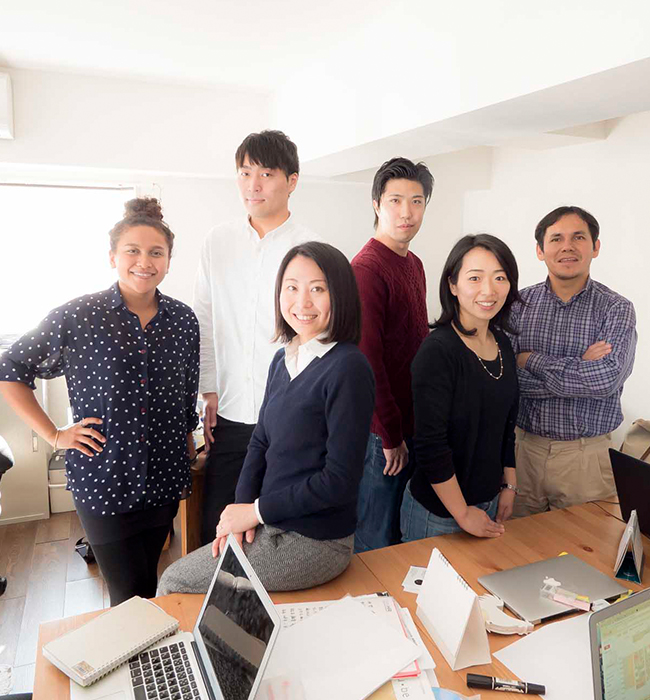 Ms. Matsumoto and the other members of her company serve as a bridge between international students who want to find work in Japan and Japanese companies searching for global talent. With more than 120 introductions under its belt so far, the company also provides corporate employees and international students with networking spaces, with an eye to creating a society where everyone has the chance to exercise their capabilities to the fullest, transcending differences in nationality, cultural background and other areas. Motivating this goal is Ms. Matsumoto's view that Japan is a country that is not quick to embrace such differences. "Our aim isn't simply to try to enlighten people, however," she explains. "Instead, we're trying to demonstrate that behind all sorts of interesting products and ideas are diverse groups of people. If we can create and showcase enough real-life examples of this, Japanese society will change naturally on its own. I want to be one of the people behind the scenes making this happen."

Ms. Matsumoto, who speaks passionately and quickly, is definitely a person of international caliber. On a scholarship from Keidanren (the Japan Business Federation), she went from a prestigious high school in Tokyo to an international high school in the United Kingdom. Subsequently, she studied at McGill University in Canada and was then admitted to the University of Tokyo. While she was a student of the University, she did an internship in the Ghana office of UNICEF, and then worked in a frontline role at an overseas-based financial firm after graduating. She later devoted herself to giving development support to Pakistan as a member of the Japan International Cooperation Agency (JICA).

"When I was 13 years old, I decided I wanted join the United Nations so I could help less fortunate children across the world," she says. "So, I consulted relevant guidebooks and made a to-do list. Then I followed through with accomplishing the things on the list. I enrolled in a university in the French-speaking world because French was an official language of the United Nations, for example. To be honest, studying at the University of Tokyo was not on my list!"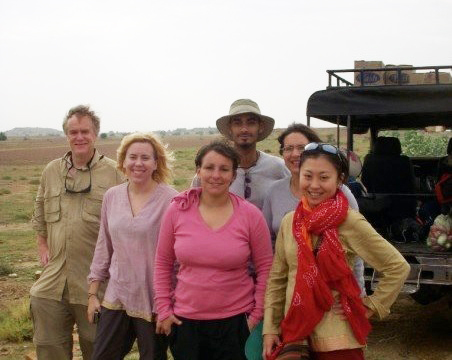 Ms. Matsumoto nonetheless had important experiences in India and Ghana, where she went on the advice of her instructor at the Graduate School of Education. Specifically, it was in those countries that she realized that the two things that she had been attributing special importance to—school education and the United Nations—did not cover everything that was needed to attain her goal of helping others.

"Developing countries located outside the West have different cultures from that of the United Nations, which is heavily influenced by the West. Also, modern school education can be said to be derived from Western culture. I recognized that for two cultures to work together to achieve something, it is necessary for people who have knowledge of both cultures to proactively serve as hubs and connect them."

She therefore established Active Connector to be that kind of hub. She got the name from a conversation with a teacher who had guided her at the University of Tokyo. As CEO of the company, Ms. Matsumoto continues to actively connect Japan and the rest of the world from her office in Hongo.
Q&A Extras
What initially made you decide that you wanted to join the United Nations?
"The book Not Without My Daughter, which I read at a time when I felt that I was the most unfortunate person in the world."
Did you have any favorite places on the University of Tokyo campuses?
"Professor Saya Shiraishi's laboratory. I'm sad that it no longer exists."
What do you enjoy outside of work?
"Visiting bakeries. I'm an active member of the 'Bread-lovers' Club' during the weekends.
What goal do you want to achieve by 2020?
"Getting 50% of all international students in Japan signed up for our service would be nice."
Note: This article was originally printed in
Tansei 34
(Japanese language only). All information in this article is as of March 2017.