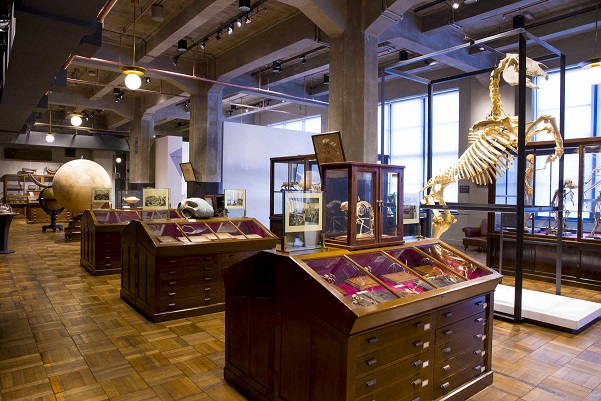 Tokyo Imperial University suffered devastating damage from the Great Kanto Earthquake of 1923, including the loss of 500,000 or more books due to fire. Seeing the terrible impact of this disaster, various countries, including Belgium, provided assistance to the University. Previously, Tokyo Imperial University had donated a total of 14,000 valuable books to the University of Leuven in Belgium, which had as many as 300,000 of its books burned in the German invasion during World War I.
As a symbol of its long-standing exchange with Belgium, the University placed an order with the country for a large globe to be housed at its library. However, the delivery of the globe was delayed for unknown reasons. When the globe, which has a diameter of 159 cm, finally arrived at the University in 1937, immediately before the outbreak of the Sino-Japanese War, it was uncolored. According to contemporaneous records, the globe was not colored in Belgium so that it could be colored later according to Japanese tastes. However, Hisayo Susuki, in her book
Iro no Nai Chikyuugi
(
The Colorless Globe
; published by Doujidaisya) which she wrote after she retired from her job at the University's library, said, "People who saw the uncolored globe at the time might have felt that it was a silent warning to Japan, which was heading into war."
The globe was eventually colored by the University and now stands quietly, surrounded by an abundance of other academic heritage items.
* The Japanese version of this text was originally printed in
Tansei 34
(Japanese language only). All information in this article is as of March 2017.
** A public facility jointly operated by Japan Post Co. Ltd. and the University Museum, the University of Tokyo (UMUT), the Intermediatheque (IMT) opened in 2013 within the JP Tower in the Marunouchi district. For more on the museum including opening hours, access and exhibition information, please visit its website at
http://www.intermediatheque.jp/en
.