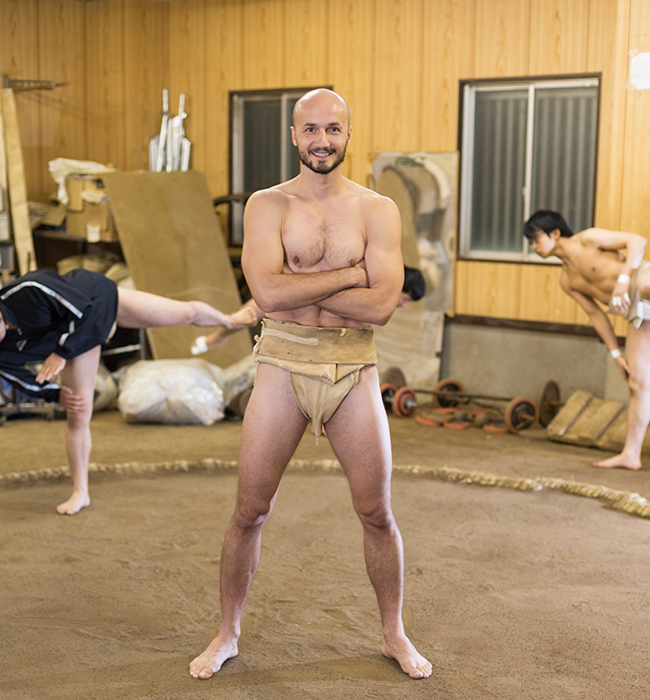 An all-around nice guy from the Czech Republic, Mr. Matous is a former captain of the University of Tokyo Sumo Club who earned himself the nickname "The Kotooshu of UTokyo." Although his long locks have since been replaced with a shaved head, he still sports an impressive muscular physique. Watching him in his timeworn, dirt-and sweat-stained mawashi belt fiercely engaging in butsukari-geiko (collision practice) with junior wrestlers, it is easy to imagine how formidable he was back in the day, having placed fifth at the Sumo World Championships and third in the East Japan Student Competition (by weight). Hearing younger members of the Sumo Club describe him as "outstanding" and "relentless" only reinforces this impression. Up through high school, however, Mr. Matous had been a volleyball player and had no particular interest in Japan's national sport.

"Back when I was a university student in the Czech Republic, I happened to see a poster put up in a hallway inviting international students to study at the University of Tokyo," he recalls. "A senior colleague of mine who had previously studied at the University recommended it and advised me to go to Japan, and I thought it might be interesting to study in a country that has a different culture."

Accepted into the University, he began living in the now-defunct Yayoi Dormitory. One of the older students residing in the dormitory was a member of the Sumo Club, and he invited Mr. Matous to join, since it needed members. Mr. Matous gave it a try by taking part in a sumo competition, where he experienced the joy of victory. He then decided to join the Club and practiced diligently to refine his already sharp tachiai and tsuppari skills. As a result, he developed a six-pack and became the first non-Japanese person to lead the Club as its captain.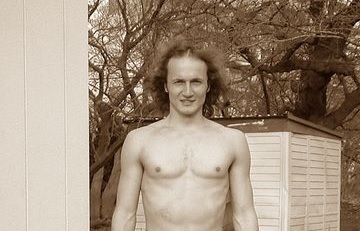 "It was because nobody else wanted to be captain," he says with a laugh. "Sumo is interesting in that by honing your skills you can defeat an opponent who is bigger than you. Unlike other sports, you are not allowed to hurt the opponent in sumo, which also appealed to me."

As a member of the Sumo Club, he was able to do things he could not have done in any other country, and also "wrestle with" a Japan that most international students do not get to experience. Now working as a senior lecturer at the University of Sydney, the former captain is still a passionate sumo wrestler, last year winning in the Oceania Sumo Championships. However, he confesses that he feels different about mawashi these days. "In Japan," he says, "it felt natural for a sumo wrestler to be almost naked, wearing only a mawashi belt, but outside the country it is a bit embarrassing. That's why for the Oceania competition, I wore leggings under my belt."

Participating in Sumo Club drills for the first time in many years must have taken the former captain back to his UTokyo days. We hope that his students in Sydney will become just as formidable as their instructor.
Q&A Extras
What was your best match while you were at UTokyo?
"The one where I defeated the reigning European champion via the tsuppari technique in the 2006 Sumo World Championships."
Which teachers at the University influenced you the most?
"In research, Professor Kazumasa Ozawa. In sumo, Professor Ichiro Nitta, who excels at the art of sumo."
What are you currently researching?
"I am using social network theory to analyze infrastructure operation in developing countries."
What is unique about the University of Tokyo in comparison with the University of Sydney?
"UTokyo's administration is not heavily centralized, allowing individual professors and laboratories to conduct research freely."
Note: This article was originally printed in
Tansei 34
(Japanese language only). All information in this article is as of March 2017.