Emi Tamaki
Founder, H2L Inc.
Assistant Professor, Faculty of Human Sciences, Waseda University
Class of 2011, Doctoral degree, Graduate School of Interdisciplinary Information Studies
(Received a President's Award in AY 2011)
http://h2l.jp/en/
---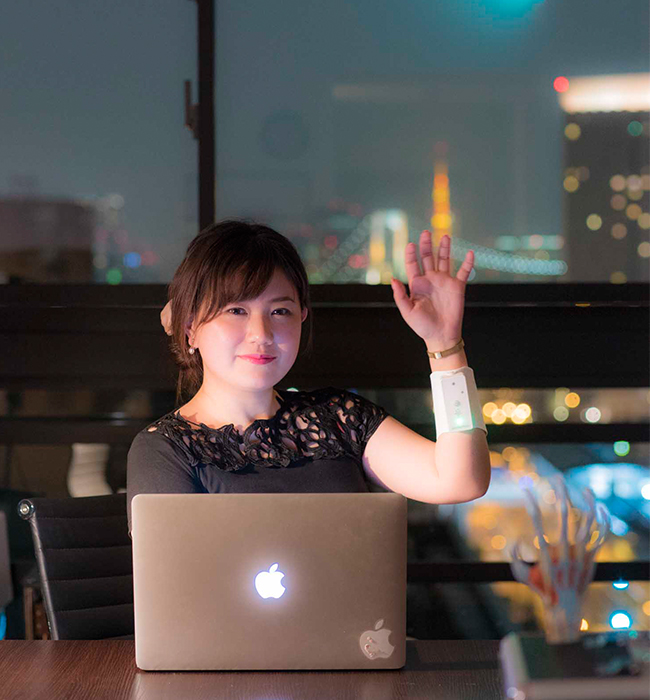 "Human Computer Interaction" (HCI) is a field of research that focuses on the interactive relationships between humans and computers. In September 2011, a piece of HCI technology developed by Ms. Tamaki, a UTokyo graduate student at the time, was named one of The 50 Best Inventions by TIME magazine in the US.

Called "PossessedHand," the invention is a device that attaches to your arm via a wristband and can electrically stimulate your arm muscles to autonomously move your finger joints. Regardless of your intention, your fingers will move mechanically in accordance with the electrical stimulation. This curious device, which somewhat resembles electrotherapy equipment used by osteopathic clinics, was developed based on Ms. Tamaki's experience of being hospitalized during her high school days.

"I stayed in the hospital due to a heart-related issue I had," she explains. "Being cooped up in a hospital room, you get bored because you're shut out from the rest of the world. So, I began to think about how I could experience the outside world while being confined to my room."

For instance, if we are in Japan, we cannot directly experience what people in Africa are actually seeing or hearing. However, if people in Africa use smartphones and other technologies to livestream what is going on around them, we can share in their experiences. The invention of the PossessedHand came about as a result of Ms. Tamaki's idea that what could be shared audiovisually could also be shared by the sense of touch. As it turned out, the device did more than just stimulate muscles; it also ended up stimulating research in a range of fields, including medicine, engineering and neuroscience.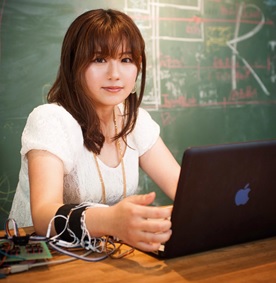 "At the time, some of my colleagues at the laboratory were interning at The University of Tokyo Edge Capital (UTEC)," Ms. Tamaki recalls. "Their influence led me to also do an internship there, which became a major stimulating experience in my life. Thanks to my time at UTEC, I realized that in order to accelerate research, having venture companies disseminate that research is critical."

Subsequently, in 2012, she founded H2L, which stands for Happy Hacking Life. Although the word "hacking" may conjure up images of the illegal accessing of computer systems, the original concept behind the word does not have such negative connotations.

"Getting the idea from the term 'life hack,' I gave the company this playful name to reflect my desire to help people lead happy lives by using technologies that might be a bit out of the ordinary," she explains.

Some people might feel uncomfortable with technology that would make it possible for an outside force to control their body, but by helping to enhance people's sensory functions and thereby increase their happiness, the technology will provide more than enough benefits to cancel out this initial unease. This belief causes Ms. Tamaki's hands to continue moving towards a brighter future.
Q&A Extras
What words from your lab's professor, Professor Jun Rekimoto (Graduate School of Interdisciplinary Information Studies) left a particularly profound impression on you?
"'Make what you don't have' and 'Look one step ahead, not 10 steps ahead.'"
What was good about studying at UTokyo?
"The fact that I was surrounded by researchers engaged in many different fields."
Do you have a message you would like to share with current UTokyo students?
"I think they should experience fields outside their own discipline."
What is "UnlimitedHand," which was developed from "PossessedHand"?
"It is a haptic game controller sold on Amazon and at other stores."
Note: This article was originally printed in
Tansei 34
(Japanese language only). All information in this article is as of March 2017.