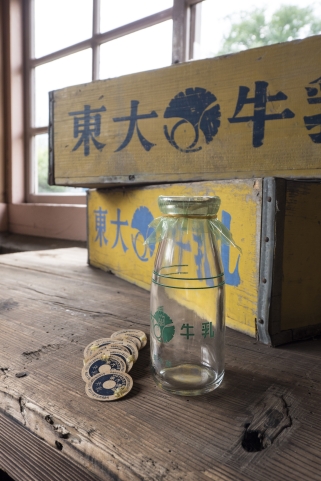 The Institute for Sustainable Agro-ecosystem Services runs the Farm Museum, and has long been known as the University of Tokyo Farm. With its cattle barns and silo standing against a backdrop of rows of poplar trees, the property has been described as reminiscent of scenery in Hokkaido.
The farm began raising about 60 dairy cows in 1968, and distributed bottled "University of Tokyo Milk" to its neighbors. The production quantity reached 946,116 bottles in 1971, with each being sold at a unit price of 16 yen. They were not delivered directly to individual homes; instead, they were packed in wooden cases and distributed every day to residential complexes, including Yato Housing, Nikko Apartments, Tanashi Hospital, the former residence for UTokyo's Institute for Nuclear Study (currently the Inter-University Research Institute Corporation High Energy Accelerator Research Organization), and the University dormitory in Tanashi.
At the end of 1975, however, due to cuts introduced by the government that led to a decrease in the number of faculty and staff working at the farm, together with the effort to enhance practical education for students, the sale of bottled milk was discontinued. In 1988, the farm stopped raising dairy cows altogether. The milk bottles and wooden cases displayed at the Farm Museum convey the atmosphere that once was—a time when the farm was a part of the daily lives of the local people.
One year before the University became a national university corporation, the decision was made to relocate the farm to Kemigawa. However, partly thanks to action by local people who wanted the farm to stay in the area, this plan was canceled and the farm remained in Tanashi. Although it is now officially called the Institute for Sustainable Agro-ecosystem Services, the property endures, firmly rooted in the local community.
Farm Museum: Open every Tuesday and Friday (from 10:15 to 14:45)
www.isas.a.u-tokyo.ac.jp/museum/
(Japanese language only)
Note: This article was originally printed in
Tansei 35
(Japanese language only). All information in this article is as of September 2017.